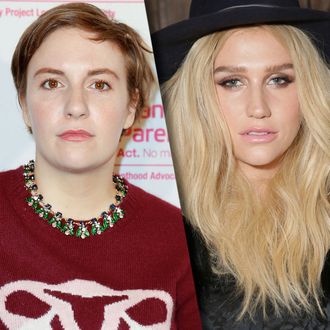 Lena Dunham and Kesha.
Photo: Getty Images
Last Friday, a judge rejected Kesha's request to be released from her recording contract with producer Dr. Luke, whom she claims sexually assaulted and abused her over the course of the pair's ten years working together. In a piece for her Lenny Letter newsletter, Lena Dunham has taken a stand in defense of Kesha while also elaborating why these sorts of cases affect the way we discuss sexual abuse in general. "What's happening to Kesha," Dunham writes, "highlights the way that the American legal system continues to hurt women by failing to protect them from the men they identify as their abusers."
Dunham's letter goes into great detail on the case and specifically targets some of the claims made by Dr. Luke's camp, such as Sony's assertion that Kesha could record music without collaborating with Dr. Luke (né Lukasz Gottwald). As Dunham points out, the singer could record without the producer's direct involvement, but contractually, he and Sony would still have a hand in her career. (Kesha's lawyers have similarly referred to Sony's defense here as an "illusory promise," as Kesha could record without Luke's involvement, but the label would still be able to decide how to promote her music.) The label is ignoring, Dunham argues, how the producer's continued involvement would affect Kesha's "physical well-being and psychological safety."
Imagine someone really hurt you, physically and emotionally. Scared you and abused you, threatened your family. The judge says that you don't have to see them again, BUT they still own your house. So they can decide when to turn the heat on and off, whether they'll pay the telephone bill or fix the roof when it leaks. After everything you've been through, do you feel safe living in that house? Do you trust them to protect you?
The letter concludes as Dunham extends her argument to the way society works against women who try to escape their abusers anywhere. She points to the plight of rape victims fighting for custody of their children, and of those who risk everything only to face assertions that their claims are fake — as Kesha has, when Gottwald recently took to Twitter to brand her and her lawyer as a liars. She says the legal system works against those who identify their abusers. "What if we realize that the women who come forward have everything to lose," Dunham writes, "whether they're pop stars or single mothers?" Coming forward, she argues, means the possibility of changing the perspective on this key issue for the better: "Soon, no one will accept shame and fear as the status quo. And so, while Kesha is indefinitely silenced, her voice has never been louder."
Yesterday Dunham's boyfriend, musician Jack Antonoff, offered to produce music with Kesha and called Dr. Luke a "creep." Taylor Swift has donated $250,000 to help with her legal fees, while numerous fans and fellow musicians have taken to social media to send the message to #FreeKesha.
Read Dunham's letter in full here.