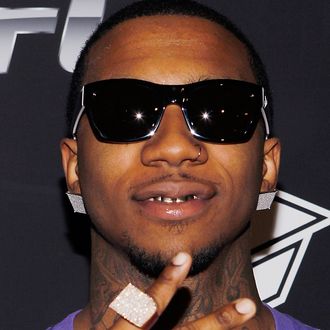 Lil B.
Photo: Isaac Brekken/2011 Getty Images
Noted deity Lil B will head to the Sunshine State next week to share his vast stores of wisdom with the University of Florida. The rapper, on Wednesday, revealed he's doing so in lecture form, adding via social media that prospective attendees will be a part of history. Event posters unfortunately don't add much in the way of details (or a lesson plan), but a Q&A session will likely be included. Though his speaking circuit might be touted as "extremely rare," the rapper has given similar talks on such campuses as UCLA, Carnegie Mellon, NYU, and MIT. This lecture, like some of his others, will probably underline the importance of loving, pursuing happiness, and not making the same mistakes as James Harden. (All valuable concepts.)
Real logistical details can be found on the event's promotional flyers. Which, yes, are already collectors' items. So collect them all:
And hurry to Florida so you can say, Thanks, Based.