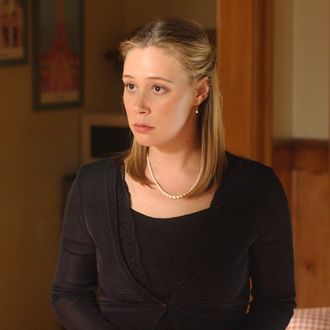 Paris Geller is not here for your enthusiasm.
Photo: Patrick Ecclesine
Paris Geller will indeed be back in Stars Hollow for Netflix's Gilmore Girls revival, because she couldn't escape Rory Gilmore if she tried (and she has tried). While Amy Sherman-Palladino had reportedly developed a plot line for Paris in the revival, Liza Weil's participation was up in the air, given that she's currently busy getting away with pearl necklaces on How to Get Away With Murder. But at the aTVfest in Atlanta last night, Weil said that she would indeed return to the show, though she did not specify for how long — this could well be a Bradley Cooper in Wet Hot situation. Confirmed cast members now include: Weil, Yanic Truesdale (Michel), Scott Patterson (Luke), Lauren Graham (Lorelai), Alexis Bledel (Rory), Kelly Bishop (Emily), Matt Czuchry (Logan), Sean Gunn (Kirk), and Keiko Agena (Lane). According to Kelly Bishop, "It's unbelievable what Amy has written for Paris. People are going to have so much fun with it." Let's hope that means she gets a monologue to rival Paris's first speech as editor of the Yale Daily News.