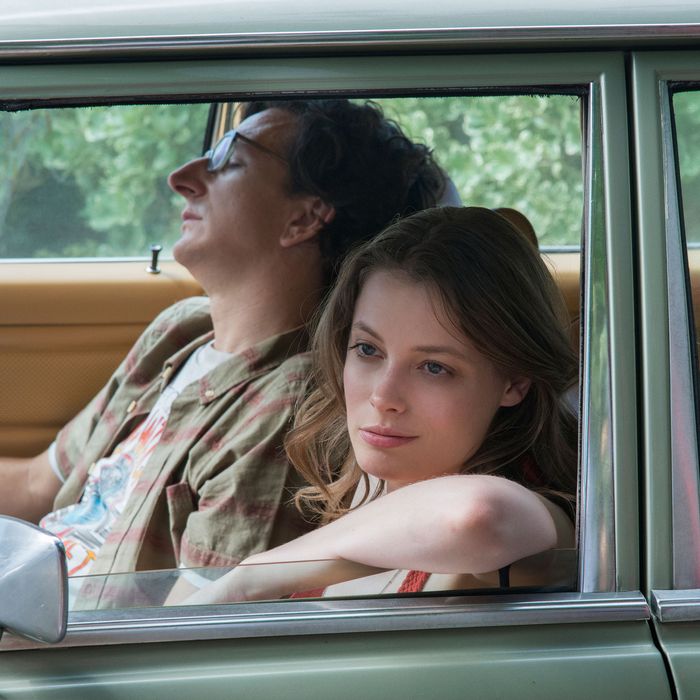 Paul Rust as Gus and Gillian Jacobs as Mickey.
Photo: Suzanne Hanover/Netflix
A party in Echo Park attended by a weird dude/goofball, a spiraling addict, a couple of her exes, and a bunch of aging extras from Kids? That sounds like a recipe for the perrrfeeect stooorm … the p-p-p-p-perfect storm!
Sorry, but Gus and his friends crafted a hell of an earworm with their made-up theme song for the Clooney/Wahlberg "classic." Gus's casual but well-attended hang sesh represents all the best parts of his personality: He's approachable, friendly, creative, and, yes, a goofball. He's even capable of attracting a dozen or so people to a social gathering centered around inventing novelty songs. (I suspect the idea for this party comes more or less straight from Paul Rust's life. Among Gus's party attendees is keyboardist Michael Cassady, Rust's former bandmate in the comedy-music trio Don't Stop or We'll Die, which also included Harris Wittels before his untimely death last year.)
In other words, Gus is "fun at a party," which is Mickey's stated reasoning for inviting him to a hip housewarming thrown by one of her reformed-wild-child friends. It's certainly not because she likes him, which she makes clear to both Bertie and said reformed wild child, Shauna. And despite turning up way too early — though technically on time — and pissing off a weird collector of dumb tattoos and future regrets, Gus is fun at this party. He settles into his comfort zone, then kicks off a jam session. Good thing this crew is musically inclined! (They should be, given that Shauna is played by Morningwood singer Chantal Claret, her husband is played by Eels singer Mark Oliver Everett, and together, they've invited roughly 80 percent of L.A.'s population of singer-songwriters and UCB graduates to their party.)
The irony here is that Mickey turns out to be terrible at parties, or at least she is at this one. The fact that it's populated by two of her exes and a bunch of friends who don't seem to like her is partially to blame for Mickey's behavior, as is Gus's immediate connection with another pretty blonde (played by singer-songwriter Binki Shapiro). But her frequent trips to the bar throughout the night certainly don't help.
Mickey's issues with drugs and alcohol have been alluded through the first few episodes of Love, but "Party in the Hills" makes explicit that her behavior is beyond that of a "free spirit." She's an addict, she lies about going to AA, and tonight, at this party, she's spiraling in front of Gus.
I've already mentioned this series' similarity to You're the Worst, at least in terms of their lead female characters. Just as the revelation midway through YTW's second season that Gretchen (Aya Cash) was struggling with clinical depression imbued that series with a deep emotional complexity, Love really finds its groove when it starts engaging with Mickey's addiction issues. It recolors all of her interactions with Gus up until this point, and will continue to play a big role in their relationship going forward — first implicitly, then explicitly.
It's tough not to draw parallels between this aspect of Love and co-creator Judd Apatow's recent work on Trainwreck and Girls, two other projects centered on so-called "difficult women" juggling mental illness and/or addiction with romance. A part of me wonders if Apatow's recent involvement with so many stories in this vein is a reaction to the charges leveled against him earlier in his career, when he was criticized for being overly concerned with so-called "man-children." A bigger part of me, however, realizes Apatow also has a wife and two daughters, and has collaborated with many talented women, all of whom likely helped draw him to this type of story. Plus, as with those other projects, Love is a collaboration between him and another strong creative voice — or two, in this case. His co-creators, Paul Rust and Lesley Arfin, are a married couple with established comedic voices of their own, and that makes Love distinctive enough to avoid the obvious "Apatowian" label. (Though the series does feature occasional appearances, including in this episode, from Dave "Gruber" Allen, an Apatow favorite who goes back all the way to Freaks and Geeks.)
Back to the party. It's such a well-realized staging ground for Mickey's collapse, both narratively and formally. Props must be given to director John Slattery — yes, that John Slattery — for capturing the way a party can sprawl out and create dozens of little dramas within its ecosystem. There's a great shot of Mickey stalking to the bar while behind her, in another room, Bertie can be seen conducting her tequila "focus group" with a couple of ambiguously gay guys (played by Joe Mande and John Early). They're enthralled by her — and rightly so! Bertie is a delight, even if she's a little overly focused on getting wasted. She is Australian, though, which means she's just respecting her cultural heritage of getting drunk and singing when she shouldn't.
Despite her enthusiasm for inebriation, Bertie does seem to implicitly recognize that this is a "grown-up party" and behaves accordingly, something Mickey struggles with throughout the evening. Though Shauna and her husband and friends aren't quite what most people would call "traditional," there is something very settled about her life, while Mickey is at loose ends. The addition of Mickey's still-angry ex Dustin (Rich Sommer) and newly sober ex Eric (Kyle Kinane) only exacerbates her violent restlessness, particularly once they start fighting over Mickey's questionable virtue. The fight is technically kicked off by the revelation that Mickey did cheat on Dustin (with Jesse Bradford, who appears via FaceTime, funnily enough), but it's really the physical culmination of Mickey's many bad choices.
So, hell, why not throw a couple more bad ones on the pile? After a drunken rant about how everyone is boring and a belly-flop from the roof into the pool, Mickey is finally humbled. But one gets the sense this isn't the first time she's been humbled in such a manner, and her next move confirms that she hasn't lost her appetite for self-destructive behavior. "You're both so nice," she croons to Bertie and Gus — though, given that he abandoned his other friends to go to a cooler party and tattooed "sarcoma" on that dude's back, Gus isn't really that nice. Nonetheless, he's nicer than Mickey, or at least better-equipped to deal with other humans, which means he's the perfect guy to date Bertie, according to Mickey's clouded judgement.
Suggesting her roommate date a guy who's clearly into her is a power move on Mickey's part, albeit one rooted in destructive tendencies. The immediate effects of this move will play out in the next episode, which is my favorite of the season. But the p-p-p-p-perfect storm of booze, boys, and bad decisions that Mickey creates in "Party in the Hills" will ripple throughout the rest of Love.