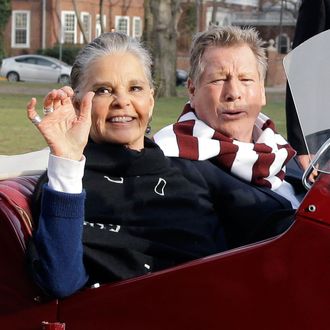 Is this all an elaborate dig at Charlotte Rampling, star of 45 Years?
Photo: Elise Amendola/AP
Ali MacGraw and Ryan O'Neal, the stars of Love Story (which came out in December 1970), have reunited at the setting of the original movie 45 years after the fact. The pair drove a vintage MG convertible, much like the one in the film, to Harvard, where Love Story was shot and set, for a discussion of their careers and lifelong friendship. Because you can't let chemistry that good go to waste, the two are also starring together in Love Letters, a traveling play about a man and a woman who stay in touch through 50 years of letters, which plays Boston this week. "It feels so great to be reunited," MacGraw told People while discussing the play last year. "Our chemistry has not changed. We still feel the same about each other." We were just listening to the Love Story theme music, and would also like to note that it's suddenly really dusty in here, just around the eye area. Also, someone nearby must be cutting a ton of onions? Weird.