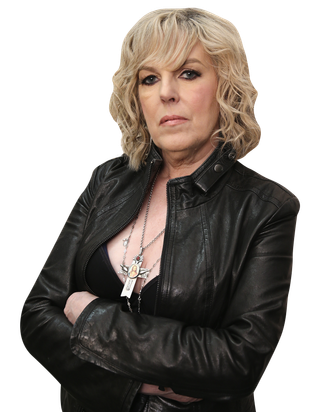 After more than a decade of record-label drama that saw her bouncing from one to the next, Lucinda Williams has finally settled down. The result? The 63-year-old roots-music icon is on something of a creative hot streak. In late 2014, after inking a deal with Thirty Tigers and forming her own record label, Highway 20, Williams promptly released a superb double-album, Down Where the Spirit Meets the Bone. Now, less than 18 months later, she's set to unveil another batch of songs culled from those very same sessions this week. For a singer long known for peppering her songs with vivid autobiographical detail, The Ghosts of Highway 20 might very well be her most personal work yet. Vulture rang up Williams, who was in London promoting the album, to chat about her creative gold rush, why she often feels like a character in a Flannery O'Connor story, and how she differs as a songwriter from someone like Bob Dylan.
You cut 40 tracks for your new album — and then narrowed it down, of course — which is a remarkable feat, considering these songs were recorded during the same sessions as Down Where the Spirit Meets the Bone.
With the exception of a few of them, which were recorded after that because I wrote some of these songs after we were in the studio. But yeah, the majority of them were cut at the same time.
What facilitated such creative output?
It's just one of those things. It's not normal for me. I think it was really the opportunity presenting itself. Where we were recording even mattered, which was this small studio called Dave's Room. It's in North Hollywood, and it's close enough to our house. It's comfortable, and [engineer] David Bianco gives us a good rate, so we had that opportunity that we might not have had we recorded at a bigger, more expensive studio where we've done a couple of the albums before that. So we were just kind of on a roll, and we had that extra time. We were enjoying it and just getting great musicians to come in. It was kind of like, "Well, let's cut this, let's cut that." We also covered some songs; we didn't even release everything. Like, for example, we did a cover of the Velvet Underground song "Pale Blue Eyes."
Oh yeah? How did that one come together?
We went in one day, and it was the same week that Lou Reed passed away. I'd always loved that song. [My husband-manager] Tom [Overby] said, "Well, let's cut it." So it was kind of like that. A very spontaneous and organic process.
And you also cover Bruce Springsteen's "Factory" from Darkness on the Edge of Town.
Tom introduced me to it a few years ago, when we were playing the Fillmore in San Francisco a couple nights. It was during the Occupy Wall Street movement, and we decided to work on some songs as tributes that have to do with the working class and workers and all that. He had introduced me to "Factory," and I just loved the song when I first heard it. So we played it. It's also a tribute to Tom's dad, who worked at a factory in southern Minnesota for 30-plus years, and who passed away a few months before my dad did. It's been a rough few years here. So besides the fact that I love the song, it was personal. There's that line: "Men walk through these gates with death in their eyes." And Tom said to me once, "I've seen those men walk through those gates."
You've mentioned that the circumstances surrounding the sessions led to the recent prolific streak, but now, with your own label, I also imagine you have the freedom to record and release music more at your own pace.
Everybody thinks this is the first time I've had that many songs at once, but it actually started sometime over the last ten years. When I look back on it, I lost my mother in 2004, and right after that, I was writing the songs for the West album, and I was on this really big roll, just writing and writing and writing. I remember going into the studio and doing the demos of all those songs. I'd get up and finish another song and take it in that day. When the West album came out [in 2007], I wanted that to be a double album; I actually had enough songs then for that. But I wasn't able to do it because the label [Lost Highway] didn't want to do it for business reasons, which was frustrating because I just wanted to get them all out. So I had to wait and put some of them out on the next album — the [2008] Little Honey album.
The Ghosts of Highway 20 references the road that ran through your hometown, and the album — like much of your work — clearly pays tribute to your southern roots. What's always fascinated me about the South is that almost mythical quality attached to it.
That's a good word for it, actually. I think there is that, that whole mythical thing. I think it's because of that Southern Gothic thing, and that weird, twisted, dark aspect. When you see movies like Sling Blade and Deliverance, those kinds of films, people just go, "Oh my God! Is it really like that down there?" And actually, yes, it is. That's the thing. I remember when I first read Flannery O'Connor, when I was 15 or 16, and it just drew me in because I identified with it. Some of the characters in her stories reminded me of some of my relatives on my mother's side of the family. So I've been trying to write about that since I started writing, but I just kind of learned how recently. It's not easy to use the imagery in songs without sounding kind of corny, or without stereotyping things. It's really challenging.
You took the homage a step further by naming your label Highway 20 Records.
I wanted to call it Gravel Road Records, after [1998's] Car Wheels on a Gravel Road. That made me think of highways and movement. The whole highway-road thing is such an integral part of the American culture, when you think about it. Route 66 and Highway 61 Revisited and [Jack] Kerouac's On the Road and Woody Guthrie and hobos hopping the freight trains and all that. So I said, "I've got to find a highway. And I was looking on a map, and there was Highway 20. And I thought, Wow, it runs through all these towns I grew up in in the '50s and '60s. It runs through Vicksburg, Mississippi, where my brother was born, and Jackson, where my sister was born, and Macon, Georgia, where I started school, which is also where my father [lauded Arkansas poet Miller Williams] took me when he went to visit Flannery O'Connor in Milledgeville, Georgia, about an hour away from Macon.
Was that a formative experience?
That was real significant even though I was only about 5 years old. It still sank into my 5-year-old psyche. And he also took me to downtown Macon during that same period of time, to see this blind-preacher-street-singer-Delta-blues guy by the name of Blind Pearly Brown. He didn't achieve notoriety like some of the other blues guys did, but he did this one album that I loved. He was my first exposure to Delta blues. And again, I was only 5 or 6, but that sank into my psyche also. So it started a long time ago, and I was just trying to connect all those things. I sat and worked with it, and I came up with something that looks back from where I am now. Highway 20's kind of like an extension of Car Wheels, in a way.
It's not all that surprising: You've always drawn from your personal experiences in your music. Though where someone like, say, Bob Dylan could probably look at any inordinate object and make a song about it, I get the sense you're far more drawn to peeling back your own layers.
I actually always wanted to be able to do what Dylan did. I was always impressed how he could write songs like "Hurricane," about the boxer [Rubin "Hurricane" Carter], and some of the other characters and real people he wrote about. It's funny because people sometimes say I'm like the female Bob Dylan. But Bob Dylan doesn't really write very personal songs in the way I do. I guess some of them have been in the past, like "Sara." It's funny, though: When you think about other songwriters and their songs, many are really good as songwriters, but at the end of the day, you really don't know about that person. It's just a different kind of thing.
The Ghosts of Highway 20 feels even more personal for you, with songs like "Dust" and "Louisiana Story" being adapted from your late father's poems.
Very deep, very dark stuff. I was actually concerned about putting "Louisiana Story" on there at one point because it just got so dark. I just felt like it was something I wanted to say, and I have to be brave about it. People are just going to have to deal with it. [Laughs.]
I mean, it's an affecting, if not disturbing, nine-minute meditation on growing up southern.
It's kind of like a little short story. I think it's because my writing really comes from that literary world. Like, discovering Flannery O'Connor and Eudora Welty and those southern short-story writers, it really informed my writing. As I've gotten older, I've gotten braver and more confident in my writing.
How do you feel about there being such a strong and prominent contingent of female songwriting talent in music right now?
My favorites are Sharon Van Etten and Courtney Barnett. Really impressive, both of them.
Have things changed in this regard?
When I was trying to get a record deal back in the '80s, there was no Americana market or anything. And then, all of a sudden, these different female songwriters were popping up … like Mary Chapin Carpenter and Tracy Chapman. Labels used to say to me, "Oh, where have you been all this time?" I said, "Look, there's more where I came from. It's not a new thing!" But yeah, I get excited when I hear an artist who can actually write. You just don't hear that that often. I forget sometimes how old I am, and the distance between myself and how young these new singers are. Probably because I'm still out here doing it.