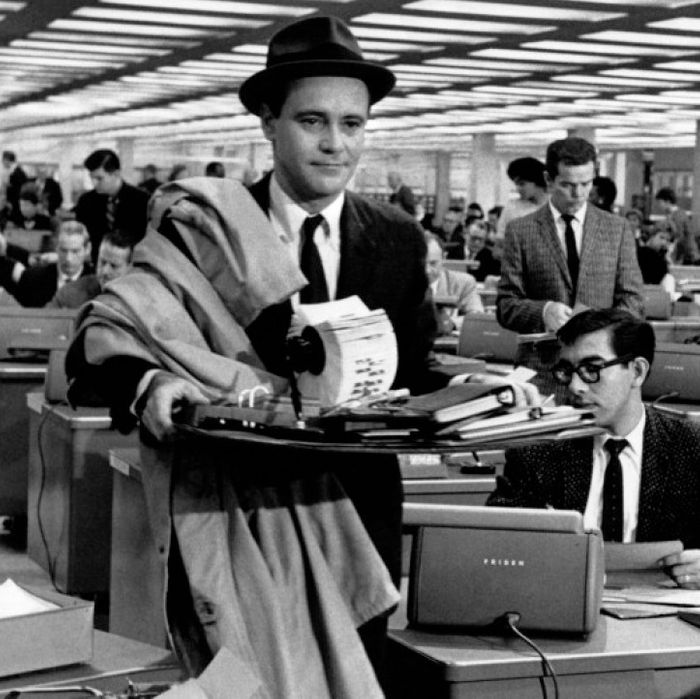 Jack Lemmon in The Apartment.
Matthew Weiner's Mad Men draws inspiration from many cinematic sources, ranging from The Best of Everything and The Americanization of Emily to La Notte and Carnal Knowledge. I'm spotlighting four of my favorites this weekend at the Roxie Theater in San Francisco, as part of a miniature film festival titled Mad Men Weekend. (For dates and showtimes, click here.)
I wrote and narrated four video essays, presented below, about the films on the schedule: Sweet Smell of Success (1957), The Apartment (1960), Seconds (1966), and Swimmer (1968). (The latter was cut by Nelson Carvajal, while Serena Bramble put together the rest.) I'll be at each screening, signing copies of my Mad Men book, and because I like to overcomplicate everything, "performing" the narration of each video live. This will, I hope, add another layer of interest to the proceedings. Even if audiences could not care less what I have to say about these films, they will at least have the modest excitement of seeing if I can get through the whole thing without messing up.
Friday, February 5
Sweet Smell of Success (1957)
"I'd hate to take a bite out of you, Sidney," powerful New York gossip columnist J.J. Hunsecker (Burt Lancaster) tells toadying press agent Sidney Falco (Tony Curtis) in Sweet Smell of Success. "You're a cookie full of arsenic." Many of the scandals, power plays, and rivalries on Mad Men echo scenes from Success, in particular any confrontation between Don Draper or Roger Sterling (John Slattery) and their ambitious and sometimes treacherous underling, Pete Campbell (Vincent Kartheiser).
Alexander MacKendrick, a veteran of Ealing Studio comedies, directed most of the film on location in New York after sundown, which made it one of the more expensive films released by United Artists in the 1950s; it was a box-office flop that badly damaged the star's boutique production company, Hecht-Hill-Lancaster, but it made a deep impact on several generations of movie buffs, and its reputation continues to grow. Based on Ernest Lehman's novella, and adapted by Lehman and playwright Clifford Odets (who supplied many of the more corrosive and baroque insults), Sweet Smell of Success is one of the ultimate New York night films, and a study in power. Weiner and his writers had it in the backs of their minds throughout the show's run. The dialogue's bowstring snap and the story's fascination with how images can be shaped or shattered are very Mad Men. Ditto the film's vision of New York as, to quote Bert Cooper, "a marvelous machine filled with a mesh of levers and gears and springs, like a fine watch, wound tight, always ticking."
Saturday, February 6
The Apartment (1960)
Directed by Billy Wilder from a script by Wilder and I.A.L. Diamond, this groundbreaking comedy-drama about the power dynamics in the Manhattan offices of an insurance company is still startling and moving, thanks mainly to its grasp of just how cruel and deluded people can be when sex, love, and approval are at stake. Jack Lemmon plays C.C. "Bud" Baxter, an office drone who lets executives use his apartment for extramarital dalliances; Fred MacMurray is Jeff Sheldrake, a top boss who promises to promote Bud in exchange for the exclusive use of his flat; Shirley MacLaine is Fran Kubelik, who becomes the latest of Sheldrake's conquests, with disastrous results. The film is filled with situations familiar to Mad Men fans, including an office Christmas party that becomes an emotional disaster area, the use of Broadway show tickets to curry favor, and the institutionalized practice of treating female office workers as playthings or prizes. Edie Adams co-stars as a secretary whose last name is "Olsen." The film holds the distinction of being the first work of preexisting popular culture to serve as an anchor for a whole episode of Mad Men, season one's "The Long Weekend," in which Joan sees herself in Wilder's movie and is so shaken that she puts the brakes on her relationship with the married Roger.
The Swimmer (1968)
Frank Perry directed this suburban drama; his wife, screenwriter Eleanor Perry, adapted the original 1964 short story by John Cheever, about a man named Ned Merrill (Burt Lancaster) who acts out his midlife crisis like so: returning home from a cocktail party by "swimming" through every pool in his neighborhood, believing that together they form a "river" back to his house. Essentially a depressive 1960s Connecticut cousin of The Odyssey, this film and Cheever's original short story were cited often by TV critics writing about Mad Men, especially in conjunction with season four's "The Summer Man," in which Don Draper tries to pull himself out of an alcoholic tailspin through a regimen of journal writing and swimming laps at the YMCA pool. But the film resonates with the series in more general ways. Like much of Mad Men, The Swimmer is concerned with upper-middle-class East Coast suburbanites who fancy themselves sophisticated but who seem dissatisfied and depressed, and whose misadventures with sex and alcohol make messes of their home lives. Also like Mad Men, its tone is at once realistic and curiously dreamlike, and the characters' specific actions could be interpreted as metaphors if the viewer chose to go that route.
Sunday, February 7
Seconds (1966)
See if this sounds familiar: A New York executive with a beautiful home and a beautiful wife and a regular routine that includes taking the train into Grand Central Terminal decides one day that he's had enough of his supposedly perfect life, adopts a new identity, and goes off to California to become somebody else. That's not too far from Don Draper's story on Mad Men (though with a lot more complications and a Dickensian backstory), but this film from director John Frankenheimer (The Manchurian Candidate) and screenwriter Lewis John Carlino adds a Twilight Zone atmosphere and dashes of science-fiction allegory. The hero, initially played by John Randolph, gets plastic surgery that gives him Rock Hudson's face, plus a new career as an up-and-coming gallery artist, and the people who hook him up are part of a bizarre, Amway-like organization based around "referrals." Shot in monochrome and occasionally fish-eye by James Wong Howe (who also shot Sweet Smell of Success), Seconds is one of the oddest studio films of the 1960s, and one of the most haunting.