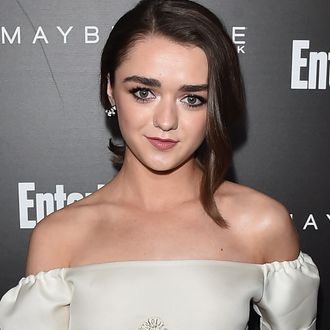 Maisie Williams, with normal eyes.
Photo: Alberto E. Rodriguez/2016 Getty Images
Game of Thrones spoilers are as scarce as dragon-glass, but there's one thing we know for sure about the upcoming season (ahem, spoiler alert): Arya Stark will still be without sight, and because of her blindness, she'll have to learn to depend on other senses. Last we saw the vengeful young swordswoman, her satisfaction over the gruesome slaying of Meryn Trant was cut short when she returned to the Hall of Many Faces only to lose her mentor, possibly-not-Jaqen, as well as her vision. Which means Maisie Williams, the 18-year-old who plays Arya, has spent quality time with those super creepy contacts filming new episodes — and copped to being "a bit of a wimp" in the process.
To be fair, they did necessitate cooling pads:
(Caption: "aftermath of blind contacts.")
"I was so confident at the end of the last [season], like, Oh, [wearing them] was fine, I can't wait, but it's been actually a bit of a task," she told Vulture at Entertainment Weekly's SAG Awards party Friday night, at L.A.'s Chateau Marmont. "They're very painful, they're like huge and they're very thick." The contacts are also painted, which means she literally can't see when wearing them. But as irritating as that might be, Williams admits they help get her into Arya's mindset. "Pretending to be blind is much easier when you actually can't see anything. So I did actually love them. For close-ups and stuff it was great, but for wide shots I was like, 'Can we take them out? Is that okay?'" she said, adopting a whiny voice. Lucky for her, it's nothing a little CG can't fix, though we're not sure Arya would be so forgiving.