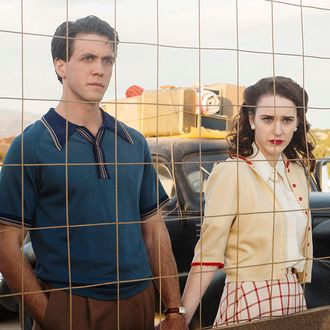 Goodbye, geniuses. Goodbye, period outfits.
Photo: Greg Peters/WGN
Manhattan, one of WGN America's first scripted series, has ended with a slightly smaller bang. The show, which presented a fictionalized history of America's attempts to build an atomic bomb in Los Alamos, New Mexico, during World War II, has been cancelled after its second season, which came to a close last December. The now-final season ended with the first test of an atomic weapon. We've seen the potential in the scientists' work, but we'll never see their project come to its devastating fruition.
The news isn't exactly a surprise. Manhattan aired on a little-known cable network and was not widely available online (the first season streamed on Hulu; the second is only on iTunes). Its structure was resolutely old-fashioned, slow, and heavy on exposition. The first few episodes introduce a mess of characters, from John Benjamin Hickey's world-weary genius to Ashley Zukerman's upstart genius (there are a lot of geniuses) — only later do they start to ping pong together, like isotopes fueling a chain reaction. There's Thomas Schlamme's direction (The West Wing and The Americans), which unfolded in simple, gorgeous patterns, and a cast full of delights: Hickey, both ambitious and angry at the project; Olivia Williams, stealing scenes left and right as his botanist wife; Mamie Gummer, a late addition, in a honeypot scheme; and a cadre of charming scientists who split up into charming couples.
If Manhattan started off like Star Trek — look at this team of smart, noble people solving problems — it ended up somewhere between Mad Men and Battlestar Galactica. The problem these people are solving, of course, is how to kill tens of thousands of people. And, in the riptide of history, each jealousy and squabble takes on lasting geopolitical significance. In an interview with Vox last fall, creator Sam Shaw said he had plans to continue the show after the bombing of Hiroshima and Nagasaki, taking inspiration from the fact that many of America's postwar suburban developments were modeled after the security-heavy Los Alamos. As the show's title sequence (which won WGN America its first Emmy) illustrates, the hubristic idea that you can control physics goes hand in hand with the hubristic idea you can control people.
So goodbye, Manhattan, you curious TV show — not quite a historical record or (with its cancellation) a complete historical reenactment. But its 23 episodes can still be mined for smaller truths about human existence. In season two, as the town ramps up for a nuclear test, they also stage a production of Gilbert and Sullivan's The Mikado. It's a reminder that even when we're dreaming up new ways to annihilate each other, we're still stupidly, ridiculously, alive.