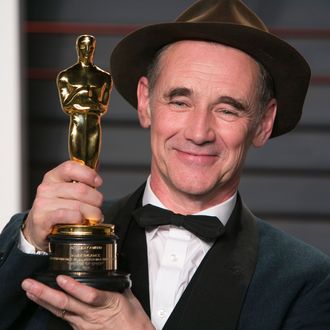 Mark Rylance celebrates his Oscar win.
Photo: ADRIAN SANCHEZ-GONZALEZ/AFP/Getty Images
Technically, everyone who won an Oscar Sunday night got one step closer to an EGOT, but none of them got closer than the three men who were picking up their second award in the entertainment industry's holy quadrality. Mark Rylance, Sam Smith, and Ennio Morricone are each now halfway to an EGOT, and their future career arcs must be carefully groomed if they stand any chance at all at achieving Hollywood's grand slam. Will any of them be able to complete the cycle before Lin-Manuel Miranda does? They can — if they follow our advice.
Mark Rylance
Rylance's Best Supporting Actor trophy for Bridge of Spies joins his trio of Tonys, and if it weren't for Richard Jenkins, the veteran theater actor would be even farther along the EGOT path: Five months ago, Rylance went home empty-handed on Emmys night after Olive Kitteridge absolutely steamrolled Wolf Hall in the Limited Series categories. No matter: He'll likely get another crack at the Emmy in a few years, once Hilary Mantel finishes up The Mirror and the Light, the final part of her Thomas Cromwell trilogy, and BBC Two gets around to filming it. The Grammy is going to be a little bit harder, but speaking of Mantel, why not follow in the footsteps of talented actors of yesteryear and record the Mirror and the Light audio book? In the words of James Bainham, "Boom."
Sam Smith
With his Oscar win for writing and performing a James Bond theme song, Smith continues to follow Adele's career path to the letter. Now, just like her, he's currently an Emmy and a Tony away from an EGOT. Unfortunately for both of them, their most logical path to the Emmy, the award for Individual Performance in a Variety or Music Program, was retired after 2008. Perhaps their next-best hope would be to win a Creative Arts Emmy, as their colleague Taylor Swift did just last year. Swift won in the interactive-media category, for an app; if Smith doesn't want to do that, he can always create a web series to compete in Outstanding Short-Format Live-Action Entertainment. We're not sure what it should be about, but maybe he'd be well-served imitating past winner "Between Two Ferns." After all, if Oscars night is any indication, awkward improv comedy is Smith's specialty. The Tony will be easier: Just whip up a Boy George jukebox musical and watch the trophies roll in.
Ennio Morricone
Yes, Ennio Morricone already had an honorary Oscar, but for an EGOT to count, they've got to be competitive. Morricone won the Grammy for his Untouchables score, and now, like Smith, he's looking for his first Emmy and Tony. The Creative Arts shortcut should work here, too: Morricone could win an Emmy for writing a musical score for a show, limited series, or TV movie, and if that's too much for the 87-year-old composer, he could also just write a show's main-title theme music and call it day. Surely there's some serious drama in development that would be thrilled to have a Morricone theme song. The Tonys, too, have a Best Original Score category — will Tarantino make good on his promise to write a Hateful Eight play?