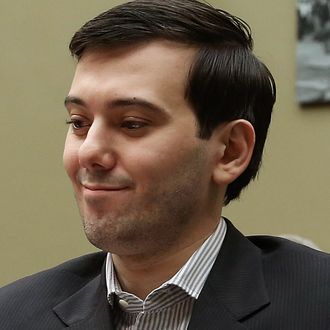 Shkreli.
Photo: Mark Wilson/2016 Getty Images
In an effort to cement his public perception as the Cruella de Vil of hip-hop, Martin Shkreli has offered Kanye West $10 million for The Life of Pablo. The embattled pharma bro pitched via Twitter on Thursday, making his deal coincide with the Yeezy Season 3 event at Madison Square Garden. (See all the looks from the Yeezy Season Three show here.)"Instead of releasing this product for your millions of fans, I ask you to sell [TLOP] solely to me," Shkreli wrote in an initial letter. "I believe you (and your partners) will find this financial arrangement more attractive than your current course of action." Well, well, well:
If it isn't the businessman with a black belt in trolling:
Shkreli justified all this by claiming he's a "tremendous fan" of Ye's music — so much so that The College Dropout inspired him to succeed at a young age. Read his full note, which may or may not be another very early April Fool's joke, below:
Shkreli is already the sole owner of Wu-Tang's special Shaolin album, a possession that has led to beef with Ghostface Killah and other drama. Though Kanye might be looking for extra pocket change, Shkreli's questionable ploy to expand his music library seems a little low — especially for a release that was once touted as "album of the life" and features at least one Ray J reference. At time of first publication, Yeezy had not yet responded to the offer, but was instead DJ Khaled'ing artwork for TLOP:
Update: As the night wore on, Kanye tweeted more Yeezy-related pics, Shkreli encountered some technical difficulties, and others grew restless.
This post has been updated throughout.