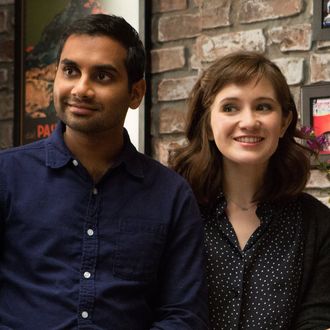 We're going to text someone a turtle coming out of a briefcase!
Photo: K.C. Bailey/Netflix
It's a go! Aziz Ansari and Alan Yang's beloved Netflix sitcom Master of None will return for a second season in 2017 on Netflix. Vulture's Margaret Lyons called the first season "your next great TV love," and the show has been a critical and popular hit, striking a chord with people who have immigrant parents and also people who like pasta. The first season was warm and topical, exploring a range of ideas and characters like the characterization of Indian-Americans in the media and the elderly. At first there was some worry that the second season wouldn't happen for a while. "Alan and I were like, 'We're not holding anything back, any idea we have we've got to put it in, we don't know if we'll have this opportunity again,'" Ansari said at the Television Critics Association. "We really dumped everything we had, all our best stuff, so the well is kind of empty now." An official date hasn't been announced yet (Ansari just tweeted the news), but don't worry, we'll wait.