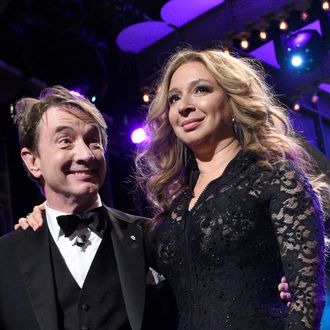 Your friends Marty and Maya.
Photo: NBC/2015 NBCUniversal Media, LLC
The long development history of Maya Rudolph's variety show, which was first tested with an hour-long special way back in 2014, and then, nearly a year later, added Martin Short as a co-host, is finally coming to a close. Variety reports that NBC has greenlit Rudolph and Short's show, which is tentatively titled Maya and Marty in Manhattan. Episodes will air live from a set in NBC's 30 Rock headquarters with a premiere planned for late May. SNL's Lorne Michaels is producing the series, which will include sketches, musical numbers, and celebrity guests. For a moment of zen, watch Short and Rudolph (as Beyoncé) reminisce about SNL's history.