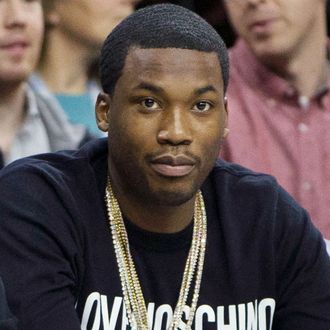 You can breathe now, Meek.
Photo: Mitchell Leff/Getty Images
Looks like Meek Mill and Nicki Minaj won't have to worry about conjugal visits: A judge has sentenced the rapper to 90 days of house arrest for violating his probation, avoiding more jail time. WHYY's Bobby Allyn reports that Meek will have to turn himself in by March 1 and wear an ankle monitor for 90 days, during which he is not allowed to work beyond community service — meaning he can't respond to a single thing Drake says about him on Views From the 6 until June. Ouch. Following the 90 days, a judge will then decide whether his house arrest should be extended; he'll also have six years of probation. In the lead-up to the decision, Mill's been seen on his best behavior, donating to Flint and even enrolling in college, while his girlfriend Nicki Minaj testified on his behalf in a bizarre day in court. (Nicki was also present at his sentencing.) So, how long until we get Love & Hip Hop: Philly?