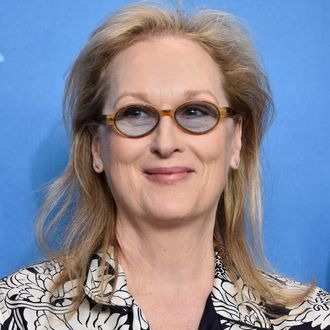 Meryl Streep.
Photo: Pascal Le Segretain/Getty Images
It wasn't so long ago that Meryl Streep caught flak for wearing a T-shirt that read "I'd rather be a rebel than a slave" while promoting her film Suffragette, and it seems that Streep was challenged again during a press conference at the Berlin Film Festival. She's the president of an all-white jury, which includes fellow actors Clive Owen, Alba Rohrwacher, and Lars Eidinger, British film critic Nick James, French photographer Brigitte Lacombe, and Polish director Malgorzata Szumowska. Awards Daily reports that a reporter asked Lars Eidinger why there hasn't been a black person or person of color on the Berlinale panel for the past five years. He brushes off the question, and another reporter asks Streep about the Berlinale's history of feminism. She replies:
Well, I'm very committed to equality and inclusion of people of all genders, races, ethnicities, religions; there should be inclusion and this jury is evidence that at least women are included–and in fact dominate–in this jury, and that's an unusual situation in bodies of people who make decisions, so I think that the Berlinale is ahead of the game.
Then, in response to a question from an Egyptian reporter about whether it's easy for her to understand films from the Arab world and if she is following any of them. Streep replies:

Yes, in fact I've just seen a film called Theeb, which I loved. I saw Timbuktu recently, but I don't know very much about the Middle East, and yet I've played a lot of different people from a lot of different cultures. The thing that I've noticed is that there is a core of humanity that travels right through every culture. And, after all, we're all from Africa originally; we're all Berliners, we're all Africans, really. We have critic on our jury, we have a director on our jury, we have actors, a photographer, cinematographer; people will be looking at different things in these films, but we're human beings, and film is an emotional experience. We're going to make these decisions based on what our head wants to say, but we're first attacked in the heart.
* This post has been updated to include more context.