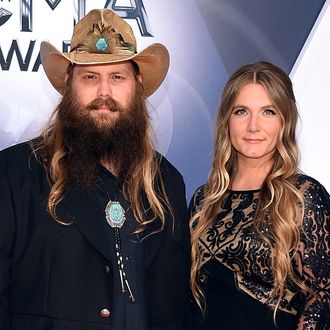 Take notes, Blake and Gwen.
Photo: Michael Loccisano/Getty Images
Chris Stapleton's Grammy wins on Monday belong just as much to his wife, Morgane, as they do to him: She was a crucial contributor to Stapleton's debut album, Traveller, providing background vocals on several songs, and she joins him live for all of them. (And, like Chris, she's a longtime trusted songwriter in Nashville.) Morgane's not quite ready to have a go at a solo career of her own just yet, but she will appear on producer Dave Cobb's new compilation, Southern Family, covering the timeless country classic "You Are My Sunshine" as a duet with — who else? — her husband. They've been performing the song together for years, but now they've finally put their bluesy cover, premiered by NPR, on wax. It's a lot of pressure, given the song was once covered by country's greatest couple, Johnny Cash and June Carter, but, man, does it stir up similar feelings. Now that Miranda Lambert and Blake Shelton are no more, we need a new country couple's relationship to live vicariously through. (Not that we ever stopped doing that for Faith and Tim — c'mon now.) Morgane and Chris, may we please have your blessing to obsess over your lives? Because, uh, we already are.