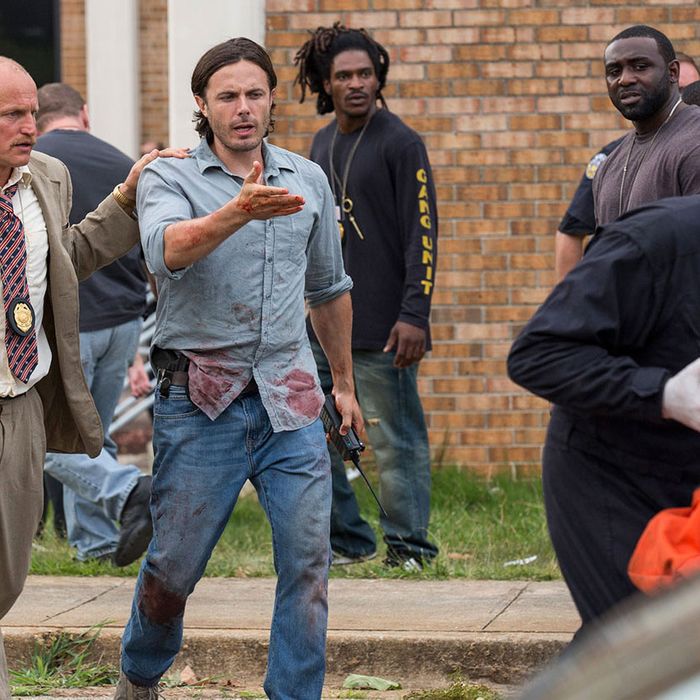 Woody Harrelson and Casey Affleck in Triple 9.
Photo: Courtesy of Open Road Films
In our brutal, unjust world, perhaps the most honestly hopeful message that a movie (or book or TV show) can deliver is that evil will ultimately consume itself. The idea has been the basis for a host of effectively nasty crime thrillers, and it works again like, well, gangbusters in Triple 9, in which a group of five thieves — two are cops — begins to disintegrate before the good guys even have a clue what the hell is going on. I wouldn't say that watching said disintegration is fun. But given the movie's bloody stew of greed and sadism, its unbalanced frames and ear-scraping soundscape, its moral tidiness can bring a smile to your otherwise appalled face.
The title is the key to the gang's deeply cynical plot. It's the code for when an officer is injured or killed — three numbers that, when broadcast over a police radio, make even the drowsiest cops snap to attention and take off for the crime scene. Which is just what the criminals are counting on. They want to drive the entire Atlanta police force in the opposite direction of the Homeland Security facility that they plan to rob — an arduous operation ordered by a coolly vicious crime lord. You'd think the two bad cops would hesitate over a plan that involves murdering one of their own, but they claim to have no problem with it — at first. Then things get weird. Nothing screws up a clockwork conspiracy faster than stray jitters, divided loyalties, and a tragi-farcical act of conscience.
Triple 9 has a bizarrely great cast for what's basically a B movie. Anthony Mackie and Clifton Collins Jr. are the rotten cops who work outside the law alongside Chiwetel Ejiofor and brothers played by Norman Reedus and Aaron Paul. Kate Winslet (!) is the casually homicidal mob boss, a Russian Jew (!) whose flibbertigibbet sister (the mother of Ejiofor's child) is Wonder Woman Gal Gadot (!). Casey Affleck is the good cop who gets paired with Mackie, to the latter's consternation. Woody Harrelson is Affleck's eccentric, alcoholic, top-cop uncle. That's a lot of A-list blood being spilled.
The director is the Australian bad-vibe specialist John Hillcoat of The Proposition and The Road, whose sanguineness in the face of extreme cruelty — and refusal to let it interfere with his clean palette — has always put me off. (Photos showing his cue-ball dome confirm his taste for the stark.) But I like his refusal in Triple 9 to make anything clean. There isn't a single symmetrical image or stable frame. An early assault on a bank feels horrifically violent with barely a drop of blood, the robbers always seeming on the brink of blowing every­one away. The relationships — apart from the siblings, one of whom departs early under duress — are just as unsteady.
As an ex-crackhead, Paul is already coming apart in his first scene, while Reedus is movingly thrown off his rhythm keeping his brother from hurtling back to the netherworld of drugs and self-loathing. (Shades of Paul's performance in Breaking Bad? Yes, but he does druggy anguish peerlessly.) Collins's detective is one-dimensional, but that dimension is blood-freezing, while Mackie keeps you guessing — he has a gift, largely unused since Half Nelson and The Hurt Locker, for suggesting intense deliberation under his hard shell. Ejiofor is — as he often is — remarkable, grappling with so many conflicting emotions that he transforms melodrama into tragedy. He's a major actor.
Affleck, though likable, doesn't have a lot of variety and resorts to chewing gum to give his character a through line. Perhaps we should blame his inconsistency on Matt Cook's otherwise good screenplay, which maintains its briskness even when its characters become garrulous. As for Winslet, she's … scary. I don't quite know how to judge her imperiously sneering Russian-Israeli accent or her troupe of yarmulked hit men, who congregate around her while kosher butchers hack up carcasses. I've never seen anything like her. But there's no question that Russian Jewish women have been underrepresented in the psycho-gangster department, so hurrah for inclusion.
*This article appears in the February 22, 2016 issue of New York Magazine.