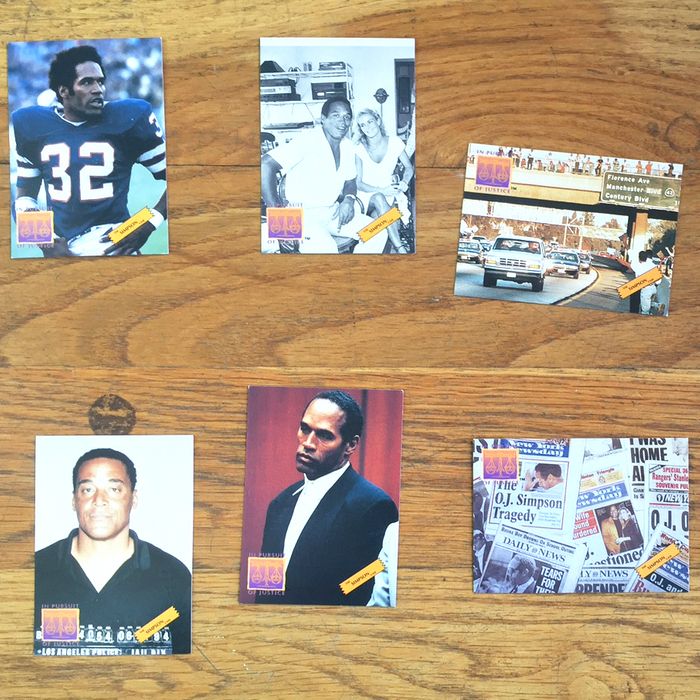 The trading cards.
Photo: Rembert Brown
Breaking: The first half of 2016 will henceforth always be known as "O.J."
Seriously, we're in a moment. Through June, it will be nearly impossible to keep O.J. Simpson (and the murder, and his days as an athlete, and his rise to Hollywood stardom, and the conspiracies, and the Bronco, and the Kardashians) far from mind. The immediate reason for this: The People v. O.J. Simpson: American Crime Story, the FX mini-series that debuted on February 2 to considerable acclaim. Beyond the subject matter, the original hype was largely due to producer-director Ryan Murphy and his star-studded cast. In the first episode alone, you meet Cuba Gooding Jr., acting almost too naturally as broken man O.J. Simpson; Courtney B. Vance as a pitch-perfect Johnnie Cochran; Sarah Paulson as the chain-smoking Marcia Clark; John Travolta as the comically incompetent Robert Shapiro; and, of course, His Holiness David Schwimmer as Robert Kardashian. Cochran, Clark, Shapiro, and Kardashian are among the most well-known faces involved in the O.J. Simpson case, so it's pretty obvious who they are as soon as their characters appear. But then you see Connie Britton. And Selma Blair. And Malcolm-Jamal Warner. And Double Jeopardy's Bruce Greenwood. To those unfamiliar with the inner workings of the case, it takes some time to place everyone in this New Year's Eve of true-crime anthologies. You soon learn that Tami Taylor is Faye Resnick, Cecile Caldwell is Kris Jenner, Theo is Al Cowlings, and Double Jeopardy's Bruce Greenwood is Gil Garcetti.
For those who stayed glued to the television for the duration of the O.J. Simpson extravaganza, these names are probably as familiar as a string of old high-school classmates. But the interesting (and captivating) aspect of this O.J. déjà vu is that a new generation — one that only knows about the Bronco, the chase, the glove, and the fact that he didn't do it but if he would have done it this is how he probably would have done it — will be learning the nuts and bolts of the story for the first time. It's like what they did with the new Point Break film, except not utterly sacrilegious.
And the FX mini-series is just one of this year's big O.J. moments (don't forget: January to June is now "O.J."). The ten-episode run of American Crime Story almost acts as a rigorous warm-up to ESPN's seven-and-a-half-hour documentary about O.J. Simpson, set to air in June. Split into five parts, O.J.: Made in America is easily the most ambitious film the 30 for 30 series has ever produced, an opus of a documentary that showed at Sundance last month and was met with rave reviews, verging on instant classic.
Yet that still isn't the wildest thing to make its way into the public consciousness during "O.J." That would this very blog post, because as I remembered this morning, two years ago I attended a collectors' convention in Cleveland, where I purchased (and now own) a full set of O.J. Simpson–trial trading cards that were produced in 1994. And they really tell you everything you need to know about the O.J. circus.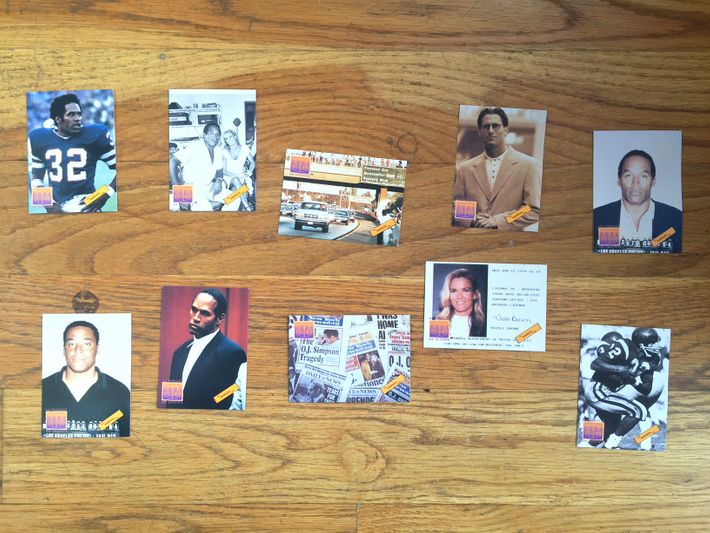 For only $5, this ten-pack became my creepiest, most shameful collectible. I bought them, in large part, because they were $5, but also because it felt like owning a strange slice of American history. They've long been a fixture in my room, but not until the reemergence of all things O.J. did their existence (and backstory) seem meaningful. When you're not in an "O.J." half-year, your initial reaction is, Why were these made? But since it's "O.J.," it's more, Of course these were made, and I can't believe there were only ten?
The set is titled In Pursuit of Justice, because these trading cards weren't about capitalizing financially on a moment. They were about justice.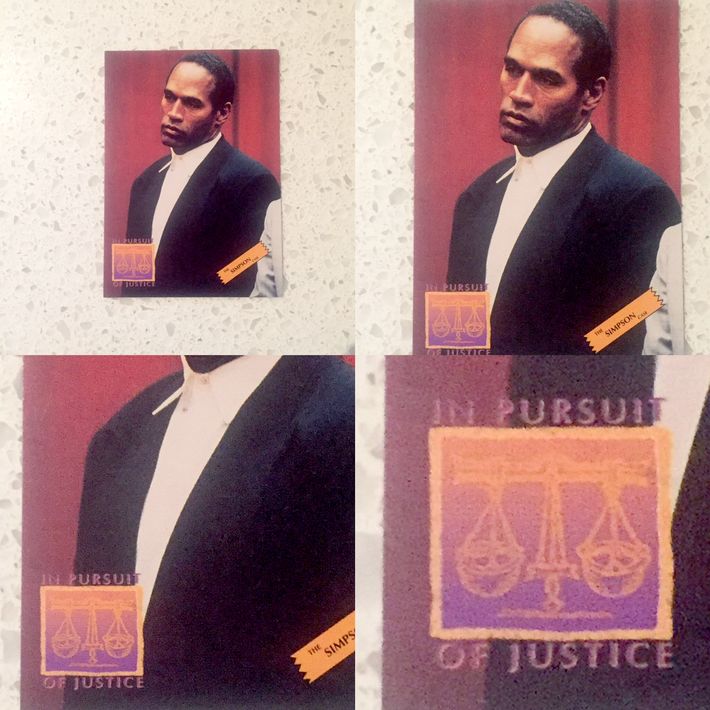 It was produced by a Phoenix-based company called Interlink News Service. Google searches of that company really only take you back to the existence of these cards, suggesting it was the Entertainment 720 of its day. Each card is a doozy, but perhaps the only thing better than the cards themselves is the one major news clip on the existence of the set, in the Los Angeles Times.
The set premiered at a collectors' convention at the Anaheim Convention Center on July 3, 1994, approximately two weeks after the Bronco car chase. A true champion of capitalistic opportunism, a dealer by the name of David Guisande purchased 8,000 packs of the cards from Interlink, which were shipped from Phoenix on the eve of the convention. By 2 p.m. the next day, Guisande had sold 3,000 packs at $8 to $10 each.
Because they are trading cards, please believe there are stats on the back. Please believe it. Some remind you of trading cards you're familiar with, like card P10, "O.J. in USC Uniform." You know, numbers and words and what not.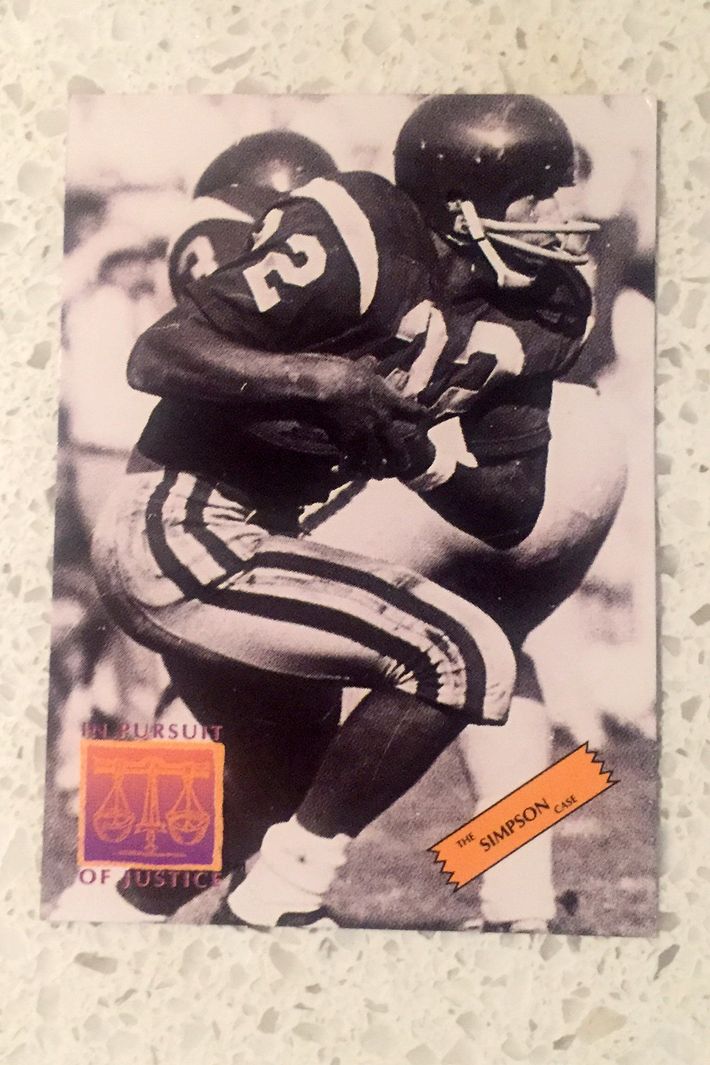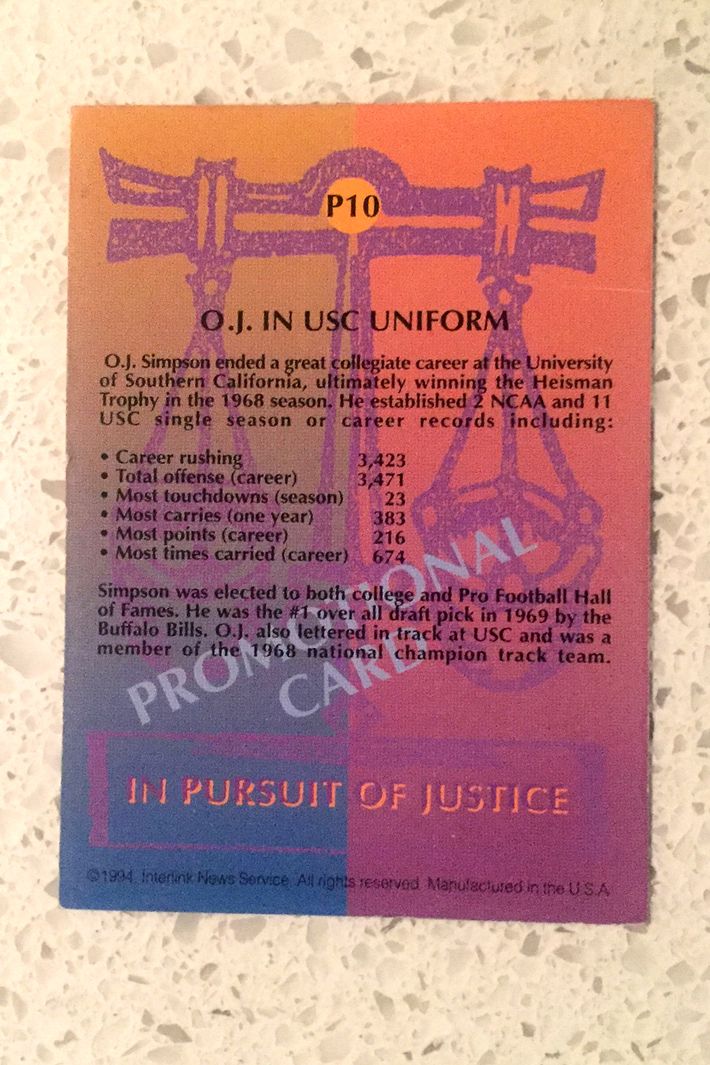 Others, like P2, "O.J. and Nicole," most certainly do not.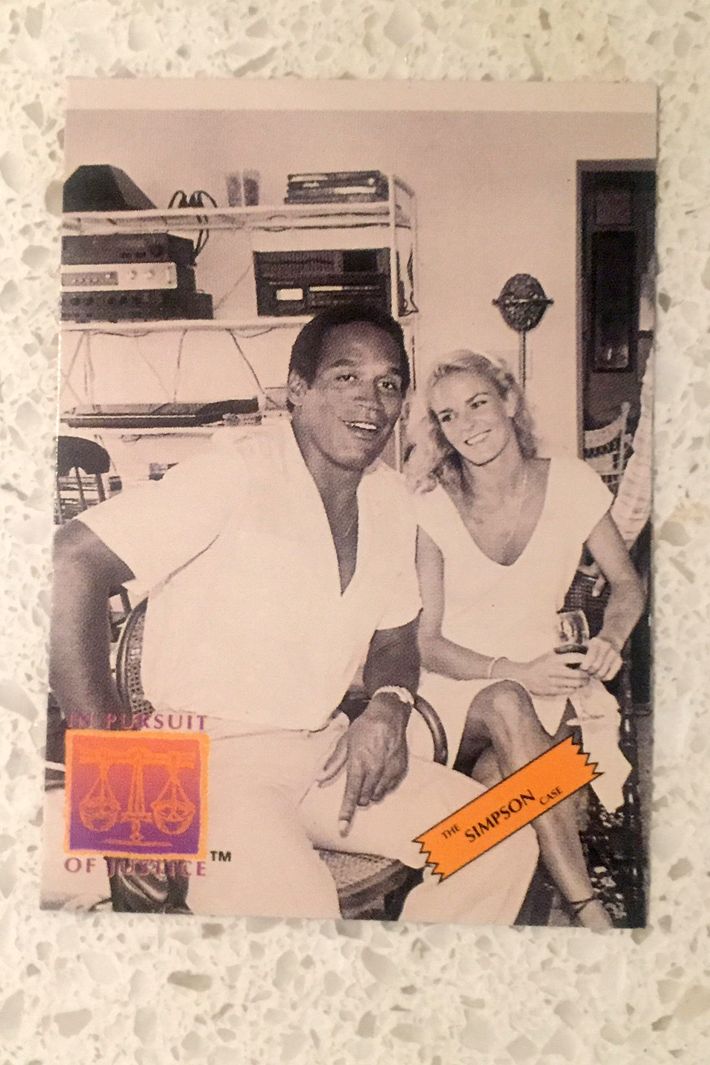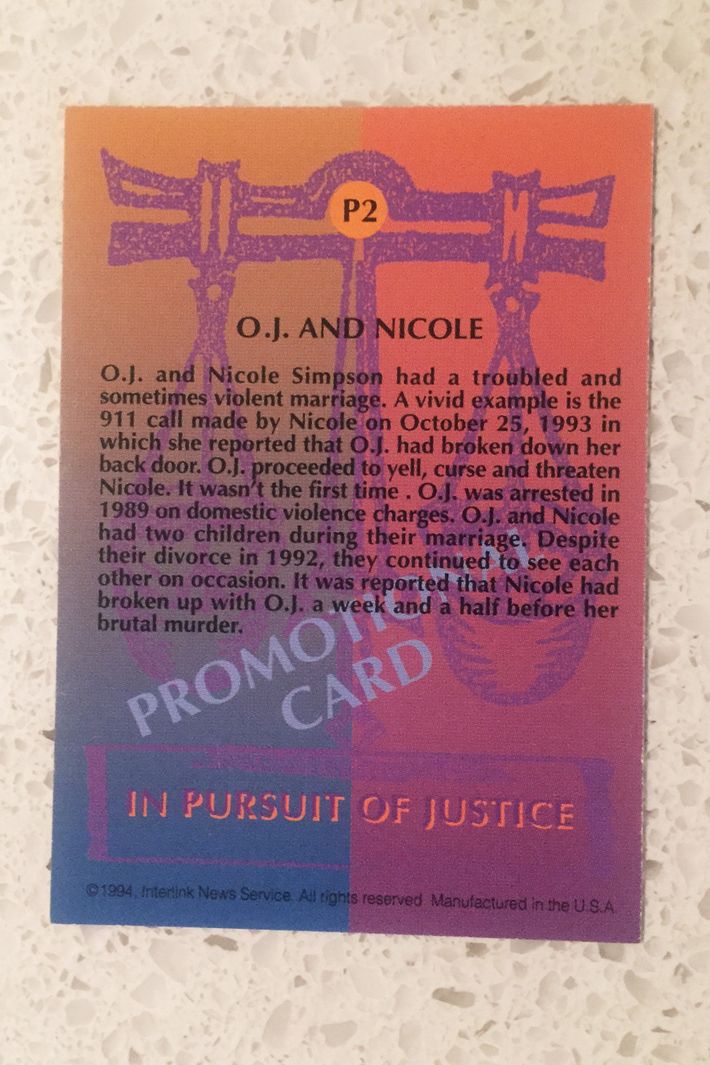 Times reporter Phyllis Jordan interviewed people at the convention, where these cards were flying off the shelves, and, thankfully, each person gave the best possible answer that could have been given.
"I've only got 200 sets, so I imagine they'll go pretty quickly." —Rick Hamilton, dealer from Minneapolis

"I think it's really sleazy, but if I don't sell it someone else will …  I might as well make money while I can." —Lowell Katz, dealer from Long Beach

"It's just exploiting a tragedy … Who knows if he's guilty or innocent." —an anonymous attendee who claimed to be one of Simpson's neighbors
The third quote is a reminder of the timeline in which these cards were released. This was the first week in July of 1994, less than a month after the murders. To put that in perspective, cards had been cranked out and distributed, sold, and then sold again, days before the California superior court judge ruled there was enough evidence for the case to go to trial, and months before the actual trial even began.
That's how big this thing was. And no matter how much you learn about it after the fact, you can never really "get it" unless it was part of your daily routine. It's like Bo Jackson in the '80s — I get it, but I don't really get it. I've read the stories, seen the big plays, watched the films, heard the tall tales, but I don't understand it as intimately as someone who came of age during peak Bo. What I do get, however, are trading cards. And even more than the renewed interest in O.J., something about these ten cards really captures how insane this moment in American history was.
Following the immediate success of the ten-card set, it's no surprise Interlink News Service ran with the idea, attempting to extend the life of this company through Labor Day. From the Times piece: "Guisande said Interlink News Service is planning to produce a 50-card set, complete with portraits of Los Angeles County Dist. Atty. Gil Garcetti, defense lawyer Robert Shapiro and the bloodstained sidewalk outside Nicole Simpson's townhouse." It's such an absurd idea, you could rest easy assuming it never left the ideas stage, until you learn they actually made them. I do not own the 50-card boxed set, mostly for my own conscience. But it's out there. And it's no wonder the demand was so high — it really looked like O.J. would be found guilty, and as one entrepreneur mentioned to the Times, "If someone is found guilty, the price goes up."
We live in a weird, creepy world. I hope this was a good reminder of that. And if you're interested in O.J. trading cards of your own, an opened box (with unopened packs) is going for $20 on MurderAuction.com.