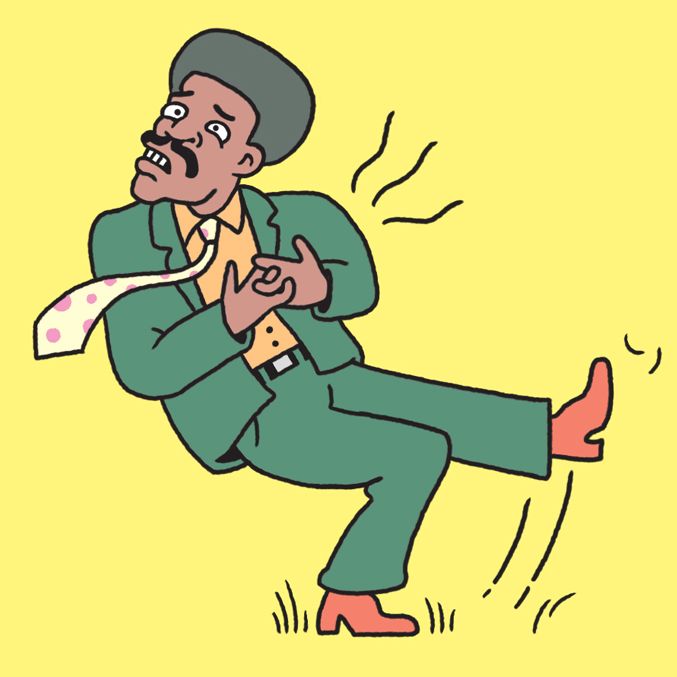 Illustration: Giacomo Gambineri
Comedy is generational. It's always changing and adapting. What made your great-grandmother laugh will probably be a bit different from what tickles you. More fans today are listening to Jim Gaffigan than Will Rogers. Does that mean Gaffigan is funnier than Rogers? Not necessarily. Usually, after a couple generations, most comedy loses a good deal of its bite. So, in an ever-changing art form, what passes as modern and edgy can slowly turn old-fashioned. The bar for what constitutes modern keeps moving.

The evolution of comedy is evident in Vulture's 100 Jokes That Shaped Modern Comedy (disclosure: I helped compile that list), with each comic standing on the shoulders of comics standing on the shoulders of comics, and so on. Similarly, one can see exactly how game-changing technology modernized and transformed comedy: feature-length films (1914), sound films (1927), network radio (1928), network television (1947), the LP record (1948), HBO comedy specials (1975), YouTube (2004), and podcasting (2005). But what about the title of Vulture's 100 Jokes mega-list: When did comedy finally became modern?

If there was such a date, I would humbly argue for February 2, 1979. The comedian was Richard Pryor, and the event was the release of the motion picture Richard Pryor: Live in Concert. The importance of that special cannot be overstated. As Chris Rock told EW: "Every comedian will tell you that it is, by far, the greatest piece of stand-up ever done."
Before Richard Pryor could usher in our modern era, he had to become Richard Pryor. The story of how he became, as Jerry Seinfeld put it, "the Picasso of our profession" is a uniquely American journey. Pryor was born December 1, 1940, in Peoria, Illinois, and raised in the middle of a thriving red-light district. Selling sex was the family business. His grandmother owned and ran a brothel. Pryor's mom was a prostitute, and his dad, Buck, was a pimp, bouncer, and bartender. Throughout his childhood, Pryor was the subject of vicious and brutal beatings. "I'm a criminal. I come from criminal people," he once confessed in an interview.

As a child, Pryor found refuge at the movies, especially cartoons and Westerns. He also loved Red Skelton's radio show. A breakthrough moment occurred at age 12, when he saw the Martin-and-Lewis feature Sailor Beware at the Rialto Theater. Jerry Lewis immediately jumped to the top of his list of comedy heroes. Years later, he called Lewis "the God of comedy."

Luckily, young Pryor found a couple teachers who recognized his array of special comedic talents: pantomime, imitation, characterization, and physical silliness. One teacher even bartered good behavior in exchange for a weekly ten-minute slot to perform for his class. But Pryor was a bad student, and eventually got kicked out of both high school and the U.S. Army, freeing him up to try performing full-time.

After working a couple years in black-only clubs and bars. he emigrated to Greenwich Village in 1963. His dream was the same as every other comedian of that time: to get on The Ed Sullivan Show. In New York, he shamelessly adopted the style and rhythms (and, at times, material) of his new comedy idol, Bill Cosby. The college-graduated Cosby was everything the 22-year-old "Richie" (as he was known at the time) Pryor wasn't: smooth, confident, and urbane.

Channeling Cosby, Pryor progressed quickly. Young comedians of the day were trying to create television-friendly routines. Fellow Greenwich Village comic George Carlin, for example, found his golden ticket to prime-time television with a routine called the Indian Sergeant. For Pryor, it was Rumpelstiltskin, a collage of characters from a kindergarten production of the show. And just two years after landing in NYC, Pryor got booked on Ed Sullivan and immediately became a regular. He signed an exclusive contract with The Merv Griffin Show for multiple shots (that he quickly broke), and also landed on The Tonight Show starring Johnny Carson. He had become a rising star and working road comic.

In the spring of 1966, Pryor jumped at the chance to move to L.A. He was offered a job to write and appear on The Kraft Music Summer Show, hosted by John Davidson. Besides his growing repertoire of stand-up bits, Pryor sang and even tap-danced on this white-bread summer replacement show. From there, he got booked in Las Vegas, opening for Bobby Darin at the Flamingo and then, later, Steve Lawrence and Eydie Gormé at the Sands. It was in Vegas that a career-defining moment occurred onstage. The story goes that in September 1967, during his show at the Aladdin Hotel, Pryor saw Dean Martin in the crowd and said, "What the fuck am I doing here?" and walked off the stage. Though Pryor returned to Vegas and continued to appear on mainstream programs like Ed Sullivan, The Tonight Show, The Joey Bishop Show, and The Pat Boone Show (despite legend to the contrary), this meltdown was the beginning of Pryor showing overt signs of a growing tension between what he wanted to be doing and what was expected of him.

In turn, there was no question that Pryor was evolving. He grew facial hair and drew new inspiration from comedian Redd Foxx and his raucous L.A. nightclub, where liberal use of profanity added a certain racial authenticity to material. He discovered the recordings of Lenny Bruce and, luckily, found a reliable sounding board in fellow comedian and writer Paul Mooney.

Pryor lived a fascinating dual-track professional life. He embarked on a journey of artistic self-discovery, often fueled by cocaine and alcohol consumption, that eventually redefined stand-up comedy. He was developing searingly honest, profane, and confessional material that could never be performed on Merv. On those early albums, listeners were treated to characters from his youth in Peoria: winos, hustlers, junkies, pimps, prostitutes, cops, gold-diggers, preachers, and, eventually, an aging philosopher/fabulist named Mudbone. He talked about race in America with an unflinching honesty.

Some fans of "Richie" Pryor, however, couldn't get past his now-incessant profanity. It was like he purposely didn't want approval from the industry. He was volatile and self-destructive, which was surprising since he was also involved in mainstream entertainment, guest-starring on The Wild, Wild West, The Mod Squad, and The Partridge Family, and appearing multiple times on middle-of-the-road fare like The Mike Douglas Show, Dinah, Sammy and Company, and The Midnight Special.

Lucky for Pryor, his artistic development paralleled the final crumbling of speech restrictions for comics. In the 1960s, Lenny Bruce had greatly expanded the boundaries of both acceptable language and subject matter, metaphorically parting the sea for comedic expression. In 1972, George Carlin was pulled offstage and arrested for using lewd language. In 1974, Pryor himself was arrested in Richmond, Virginia, for violating a "foul language" ordinance. But despite objections from the Catholic league, the MPAA, and local "obscenity" laws, comedians were finally beginning to enjoy actual freedom of speech. This is the world where modern comedy resides, one that was still taking shape when Pryor readied to film his special.

In 1978, Pryor appeared in three studio films — Blue Collar, California Suite, and The Wiz — and began developing new material (what he called "woodshedding") at the Comedy Store for an upcoming national stand-up tour. He hadn't toured in three years, and his celebrity had grown significantly. Pryor was no longer a club comedian. He could now sell out large theaters, like D.C.'s Kennedy Center, NYC's City Center, and L.A.'s Pantages Theater.

On December 28 and 29, 1978, at the 3,100-seat Terrace Theater in Long Beach, Pryor filmed his new act. Amazingly, the unrated film, Richard Pryor: Live in Concert, debuted in movie theaters just 35 days after it was shot. It was the first-ever motion picture of a comedian's act. Andrew Sarris, the legendary Village Voice film critic, called Live in Concert "One of the most exhilarating experiences of my movie-going life."

"It was the way he'd give the wind a personality, or a dog a personality, or a car he was shooting with a gun a personality," Patton Oswalt explained to Rolling Stone. And he brought this same humanity to his more personal material. Like the time he recalls his grandmother ordering him to select a tree branch ("switch") that will be used to beat him. He delicately portrays both the terrified child and the bemused adult trying to make sense of it all. Then, as a capper, he becomes his own grandmother whipping the young Richard — and then consoling him afterwards. These were some of Pryor's most painful experiences, repurposed and spun into comedy gold.

One dazzling highlight, in an evening of highlights, was an exacting two-minute re-creation of his recent heart attack. Pryor sets it up as though he was walking down the street (in actuality, he was having sex) when his heart grabs his chest and talks to Pryor, like a street thug:

"Don't breathe," his heart commands, as it tightens its grip.

"Huh?"

"You heard me, motherfucker, I said don't breathe." More tightening.

"Okay, I won't breathe, I won't breathe."

"Then shut the fuck up, then."

"Okay. I'll shut up. Don't kill me, Don't kill me."
Pryor desperately bargains with his own heart as it methodically attempts to end his life. He ends up on on the ground — writhing in pain. It's horrifying and hilarious.

"No one has ever been that good on a stage. Nobody," said comedian Dana Gould. "It's a symphony."

Director Jeff Margolis caught lightening in a bottle that night in Long Beach: Pryor, at his creative peak, brimming with confidence, demonstrating the immense power and possibility of a live solo performance. This was something way beyond great jokes. As Margaret Cho put it to me, "That film is the dream of stand-up comedy realized."

Modern stand-up exists in its shadow.