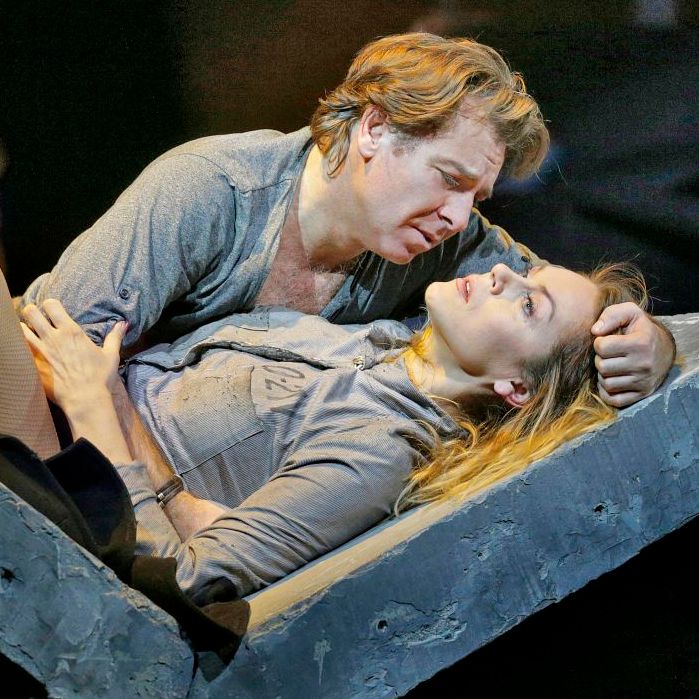 From the Met's new Manon Lescaut.
Photo: Ken Howard/Metropolitan Opera
The beauty of certain sturdy operas is that they can survive just about any directorial manhandling if the singing is good enough. The Met's new production of Manon Lescaut, directed by Richard Eyre, is a closed-eyes special. Roberto Alagna swooped in for an indisposed tenor Jonas Kaufmann, singing for the first time a role that came off sounding like an old, dear friend. Kristine Opolais makes the title character's brain-melting magnetism easy to understand: If you were in love with someone who could sing like that, you too might follow her from provincial France to the Louisiana, um, desert.
Look at the stage, though, and geographical ineptitude becomes one of the opera's less preposterous faults. Immense staircases dominate most scenes, as if to bridge levels that had been sundered by an earthquake. (Why else would the door to a lady's boudoir be two stories above the bed?) Rob Howell's huge cylindrical set metamorphoses from a scarred train station in Amiens into a grotesque Parisian villa, then makes way for the prow of a German warship with an oddly spiraling gangplank.
All this gigantism attempts to serve a rickety story of blind passion, social class, and the empty allure of the good life. In 1893, when Puccini's opera had its premiere, the popular 1731 novella by Abbé Prévost was an artifact from the picturesque past, which was probably part of its appeal. Neither the perfectionistic composer nor his gaggle of exasperated librettists managed to sketch any three-dimensional characters or human motivations. The music carries all the weight here, floating the plot on warm waves of melody, palpitating orchestration, and irresistible surges like des Grieux's "Donna non vidi mai."
Determined to make the opera less teary and more trenchant, Eyre moved the action to that tapped-out wellspring of relevance, World War II. The benefits of this move include Wehrmacht helmets, clingy dresses, and automatic weapons, and costume designer Fotini Dimou responded to the challenge with panache. The drawbacks of switching eras, though, are that it substitutes one set of clichés for another and makes distracting nonsense of the plot. Maybe the imagination can supply a reason for why German soldiers would arrest a rich Frenchman's fleeing mistress, but not why a wartime German prison ship would deport her … to the United States. Or how, having sailed off across the Atlantic, she should wind up not in that wild and ruthless land, but in the blasted ruins of the once-pretty French town we recognize from Act I. Manon sings her final spasms of self-pity, "Sola, perduta, abbandonata," wearing a concentration-camp smock and writhing amid crumpled concrete walls, thereby making her a victim of global trauma rather than her own shallow desires.
Maybe none of this matters. Opolais's vocal glamour shines through the dinginess and gloom; Alagna's warm, quivering voice tempers the disappointment over Kaufmann's withdrawal; conductor Fabio Luisi keeps the score at a brisk boil; and the two supporting men, Brindley Sherratt as the wealthy Geronte and Massimo Cavalletti as Manon's brother, give their scenes some fine baritonal vigor. But you have to wonder, when Eyre first floated the idea of hauling a tale of chevaliers and courtesans to 1941, didn't anyone raise a hand and say huh?
Manon Lescaut is at the Metropolitan Opera through March 11.