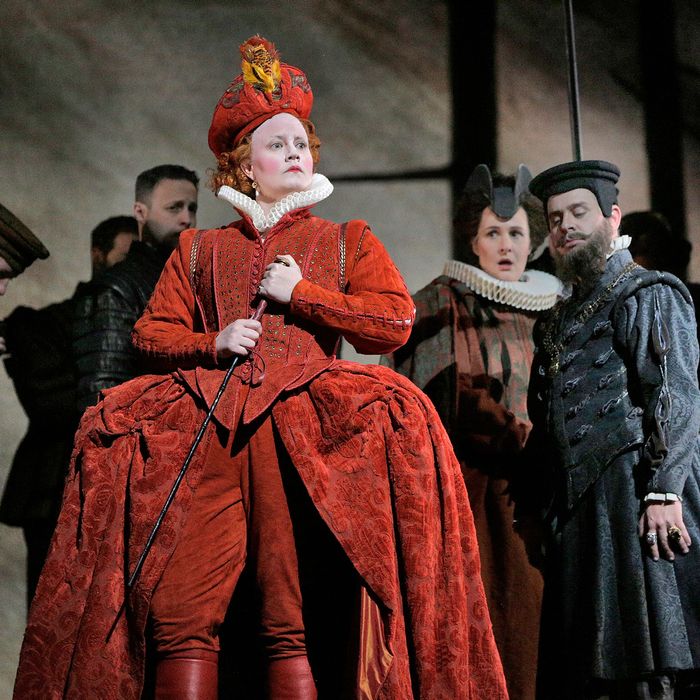 Elza van den Heever in the Met's Maria Stuarda.
Photo: Ken Howard/Metropolitan Opera
This a banner year for Donizetti at the Metropolitan Opera, propelled by soprano Sondra Radvanovsky's ambition to perform all three of his Tudor queens (Anne Boleyn; Mary, Queen of Scots; and Elizabeth I) in a single season. That urge to turn opera into an extreme sport seems misplaced, or did until Radvanovsky scorched the curtains with her high-temperature performance in Maria Stuarda. In her incarnation, Mary seemed like a thoroughly modern monarch, a highborn refugee boiling with resentment.
Honor, virtue, piety, pride, and purity — these are values that artists rarely invoke today. In Donizetti's time, though, there were dangerous currents running through those themes, and he sheathed them in brilliant music. He made sure that in the lethal clash between the Catholic Mary and the Protestant Elizabeth, the audience's sympathies would slide subliminally toward the first, drawn by her magnetic melodies. "Deh! Tu di un umile preghiera," the pensive aria that Mary sings before mounting the scaffold, is a masterpiece of tender dignity, and Radvanovsky floated her prayer on updrafts from a seraphic harp and plangent chorus.
The hot core of the opera is the showdown between the two queens that brings down the first-act curtain. Elizabeth holds the power, but Mary wins the scene, spitting sizzling insults even at the cost of her life. This is the kind of moment that bel canto sopranos live for, and are judged by. Can she keep each note locked on its laser-guided beam, skip into thin-air altitudes without shrillness or a hooting vibrato, spin out technically impeccable filigree, and yet supercharge the whole aria with thrilling rage? Devotees have long memories, and the habit of consulting the archives that have been uploaded to YouTube, so today's artists have to contend with Sutherland, Sills, and Callas. Radvanovsky can hold her own in this perpetual game of fantasy opera. Though on opening night, the audience was warned she had a cold, her ailments seemed to melt in the heat of the music, and Donizetti's lines emerged as tempered filaments. She sang Mary as a hypercontrolled but vulnerable victim of historic forces, her sense of injustice arcing toward fury and subsiding into resignation.
If Donizetti used music to tilt the opera towards his fellow Catholic, director David McVicar and costume designer John Macfarlane gave it a visual shove, clothing Mary in a soft black gown and caging Elizabeth in a farthingale and scarlet skirts, like the Red Queen from Alice in Wonderland. Starched, stiff, limping and masculine, soprano Elza van den Heever nevertheless sang with fluid grace and unforced power, resisting director McVicar's attempts to turn Elizabeth into a caricature of authoritarianism. The men in the opera — Kwangchul Youn as Talbot, Celso Albelo as Leicester, and Patrick Carfizzi as the implacable Burghley — circled beguilingly around the strong women, trying to get them to behave. The conductor, Riccardo Frizza, had no need to persuade; he doled out excitement and reined in excess with idiomatic grace, and the singers gratefully joined him. McVicar and Radvanovsky team up again for a new production of Roberto Devereux, the last opera of the Tudor Trifecta. I can't wait.
Maria Stuarda is at the Metropolitan Opera through February 20.