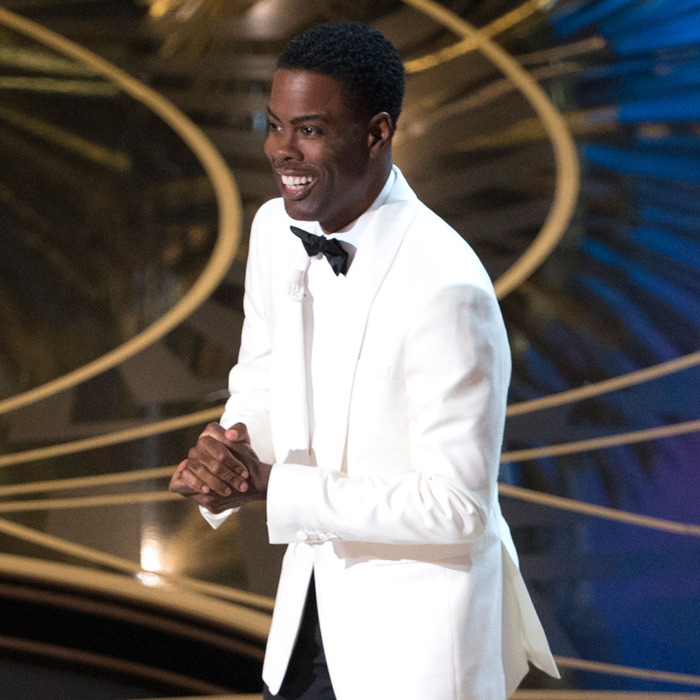 Chris Rock hosts the 88th Annual Academy Awards.
The 2016 Academy Awards will forever be known as the "Race Oscars." Thanks to the #OscarsSoWhite protests, this was the year the Academy of Motion Pictures Arts and Sciences tried to treat their issues with diversity the same way Donald Trump deals with baldness — by taking the few wispy strands that they have and positioning them in an awkward fashion in vain attempt to disguise what is a significant and glaring problem.
What else would you call presenters like Sofia Vergara, the star of Hot Pursuit, and a Korean actor who wasn't on Lost? Vergara, more famous for her role on Modern Family, and her ABC sisters, Quantico star Priyanka Chopra and Scandal's Kerry Washington, were some examples of how far the Academy would stretch to get as many people of color on the telecast as they could. It also seemed like ABC was saying, "Suck on this diversity, movies," proving yet again that television is leaps and bounds ahead in casting minorities in their stories. But, hey, at least we got to get Lou Gossett Jr. off whatever shelf he's been collecting dust on for the past two decades.
We also had Chris Rock to get us through the evening. No comedian better dissects the intersection of race and culture in America, and his monologue dealt almost entirely with the problem of institutionalized racism — and yes, "racism" is what he called it — but was funny to boot. It was almost enough to make us forget that ridiculous opening animated perfume commercial where bottles of "courage," "passion," and "imagination" spilled themselves out into a projector and made a movie — but not quite.
It was the perfect monologue for this so, so, so incredibly white Oscars. Seriously, this Oscars was so white that it gave trophies to Leonardo DiCaprio, a bunch of Bostonian journalists in bad Dockers, a baker's dozen of Australians, Starbucks, SoulCycle, doing the chicken dance at weddings, telling racist jokes, and overpriced cupcakes. Still, the telecast was obsessed with race. You could almost hear the director of the telecast telling everyone, "No matter what happens, show lots of white people laughing at these jokes," as if Cate Blanchett's smooth forehead could calm the masses from revolting.
Rock didn't contain the race talk only to the monologue; there was also a taped segment he made with the help of Whoopi Goldberg showing how hard it is to get black characters into movies. That was good for a laugh, especially thanks to some excellent work from Tracy Morgan (Jordan?) as a Danish girl who likes to eat danish, girl. Even more effective was a clip in which he interviewed moviegoers in Compton who not only hadn't seen most of the nominated films, but didn't even think they were real movies. They had all seen Straight Out of Compton though. Maybe that gave the establishment, all sitting in the same room on this night, an idea or two.
Rock's one bit that didn't focus on race was about letting his daughters make money selling Girl Scout cookies, which included some real Girl Scouts canvassing the audience with the world's hardest job: trying to get Harvey Weinstein to part with some money that isn't for one of his movie's Oscar campaigns. The bit felt like it was lifted right out of Ellen DeGeneres's most recent hosting stint where she had pizza delivered to the audience. This is cute, but none of the people in this auditorium have eaten carbohydrates since the first Bush administration.
Emily Blunt and Charlize Theron then walked onto the stage to announce that the awards this year were going to be presented in an order that reflects how films are made from start to finish. That means the awards for screenwriting, obviously the first step in the process, would kick off the show. But then the next award was for Best Supporting Actress. Does that mean, immediately after the script is written, the small female role is cast? And the editing and sound mixing are done before the director is chosen? This announcement makes no sense whatsoever. If you want to move the writing awards to the top of the show, just move them, don't make a big freaking stink about it.
We also got to see little boxes underneath Blunt and Theron explaining to the public who these ladies are. Yes, this was officially the Pop-up Oscars, with a screen busier than CNN when there is simultaneously a disappearing airline flight, a GOP debate, and some kind of emergency that involves a missing blonde mother. We don't really need it for Blunt and Theron, but these little boxes were especially necessary when we got to the presenters of color whose credits are a little bit more obscure. They weren't descriptions as much as justifications. I really wish they had listed an actor's worst movies, like "Emily Blunt is the star of Gulliver's Travels and The Jane Austen Book Club."
Adding to the Pop-up Oscars was the scroll of thank-yous that ran below each winner as they walked up to the stage. If I had to write my scroll for a potential Oscar win it would read, "Meryl Streep, Meryl Streep, Adderall, the composer of 'Thank You for Being a Friend,' Meryl Streep." This was supposed to get the winners to give short, inspirational speeches instead of thanking a litany of unfamous agents and producers that bores the audience. This was an attempt to make the show livelier. Trying to make the Oscar telecast livelier is the entertainment industry's version of trying to forge peace in the Middle East: plenty of good and talented people have had theories on how to make it happen, but no matter what they do it always fails.
Needless to say, the scroll was immediately a waste of time. The first winner of the night, Spotlight's John Singer and Tom McCarthy, got up there and said, "We've got to thank [a bunch of boring producers]. We've got to thank [a bunch of boring film executives]. We've got to thank [some boring studios]." Somewhere, in a control booth, a bald white guy with a set of headphones around his neck just threw a stack of index cards in the air in a fit of exasperation, and the Gaza strip rumbled once again.
Rock introduced us to the new director of the Academy's minority outreach program, Stacey Dash, best known as Dionne from Clueless. She came out looking like a Bratz doll with a Dorothy Dandridge haircut and wished everyone a happy Black History Month, gave a silly giggle and then, like a fart in an elevator, dissipated, leaving a bad taste in everyone's mouths. It was the strangest bit of the night, sort of like making pasta on Ambien, something you're not sure happened the next day until you think about it really hard and notice that there is some marinara sauce on your PJs.
Sarah Silverman, a national treasure, washed the bad taste right out of our mouth by letting us know James Bond is neither a grower nor a shower. She introduced Sam Smith, the only gay in the village, to sing "The Writing's on the Wall," the most recent Bond song, in front of an onion so large that it could eat all of the American Idol winners with its rapturous jaws.
I am now going to say something controversial: I was not stunned by Lady Gaga's performance of "Til It Happens to You." It was sort of like she was singing into Barbra Streisand's bejeweled microphone, wearing Jennifer Lawrence's wig, sporting late-career Elvis's jumpsuits, and playing the piano like she was auditioning for the Tori Amos biopic that is going to lead to her inevitable EGOT. Yes, the song is good (not great, but good) and the message she delivered about sexual violence is a very important one, but everything about her performance was so over-the-top that even Anne Hathaway thought it was a little much.
The Weeknd performed "Earned It," which, whatever. Sam Smith ended up taking home the trophy and then declared himself the first openly gay man to ever win an Oscar, which is sort of like Rudy Giuliani taking credit for discovering Manhattan. He's not even the first person to win in his category, as Elton John reminded everyone within spitting distance of him at his AIDS fund-raiser across town, where he instantly stitched Sam Smith's face on the Madonna voodoo doll he carries in his spangly jacket pocket.
What Smith meant was that Ian McKellen said no openly gay man had ever won an Oscar for Best Actor, which is totally different, but in a night that was full of discussion about race, diversity, and inclusion, I'm glad Sam Smith got up there and gave a shout-out to the LGBT community. Everyone in West Hollywood actually listened now that Smith is nice and skinny because he got sick of all of them shaming him on Instagram for being 6.5 pounds overweight.
Next, Mad Max: Fury Road won all the technical awards. This is the biggest thing to happen to Australia since sheep. The only memorable winner was Jenny Beavan, the costume designer who got up onstage wearing jeans and a bedazzled leather jacket because she doesn't care what you think. She's got style and you are just a fat slob in a slanket sitting at home spouting barbs on social media and she is taking home a mother-fraking Oscar. Also she gets to sit next to Jacob Tremblay at the Governor's Ball and eat shrimp cocktail and talk to him about Ben 10. Who's laughing now?
Jared Leto presented the award for Best Makeup and Hairstyling and won for best-dressed male of the night. He was wearing a black tux with red piping along the lapel and around the cuffs and, instead of a bow tie, this maroon flower thing. Is it a neck corsage? I don't know. What I do know is, much like his man-bun from previous years, this is not something everyone needs to try. Just because it looks good on Jared Leto does not mean it would look good on anyone else. Seriously. This man should walk around wearing a "Do not try this at home" sign around his neck at all times.
Editing, sound, cinematography, blah, blah, blah, there's nothing to see here except for Michael B. Jordan, the world's hottest man, at least until Dev Patel came onscreen and took the crown with his long hair and scruffy face that made us all question where he had been for the past few years and forget that he once played a character who literally fell into a pile of shit.
Andy Serkis got his own little montage, which is nice since he is the only cartoon character currently acting in Hollywood. Speaking of cartoon characters, we had to endure the indignity of watching the Minions try to present an award. Then Woody and Buzz Lightyear from Toy Story celebrated their 20th anniversary and made everyone old enough to have seen it in the theater commit seppuku because we are all getting old and the night is dark and full of terrors.
Have we talked about women wearing glasses? It's a thing. Kate Winslet was wearing hers, so was Patricia Arquette. Where did they put the teleprompter? Pasadena? Arquette gave the award to Mark Rylance, who is sort of like soccer — one of those great British things that, no matter how hard they try, will just never quite happen in the States. He also ruined every single Oscar pool in America, so thanks for that.
Louis C.K., more of a TV guy for sure, presented the award for Best Documentary Short while dressed like a Denny's manager on his wedding day. (Sorry, Louis, I love you.) He did give a great populist speech about how this award would change the filmmaker's life because she would probably be driving home from the ceremony in a Honda Civic. That puts Leonardo DiCaprio's losing streak into perspective, doesn't it?
The job of introducing Price Waterhouse Cooper is always one of the low points in the broadcast. How do you make a bunch of accountants interesting? How about by getting three adorable Asian tykes, putting them in tuxedos, and giving them briefcases. Extra points for the one who couldn't find his mark and wandered about the stage like a Real Housewife searching for her next glass of rosé.
The previously mentioned Lou Gossett Jr. introduced the "In Memoriam" segment to remind people he wasn't dead. Dave Grohl played the world's longest cover of "Blackbird," and somewhere in a drafty castle, Sir Paul McCartney reenacted that famous Monty Python sketch and drawled, "I'm not dead yet!" Leonard Nimoy beat out David Bowie as the last person mentioned in the parade of the dead. In heaven there were cheers all around, as Alan Rickman pulled at the Spock ears he is forced to wear for all eternity because St. Peter is a huge Trekkie.
Ugh, guys, we need to talk about Sacha Baron Cohen, who is obviously a very talented actor and comedian whose talents are being severely wasted. He came out as his character Ali G and made a joke about the Minions' "dongs" and we all pretended to laugh, even Olivia Wilde who stood there in a choker she found on the floor of the Haunted Mansion at Disney World and recited a list of people whom she was going to kill for talking her into this gig, like Arya Stark in a white, pleated gown.
J.J. Abrams gave Alejandro G. Iñárritu his second Best Director trophy in two years. The director celebrated by rambling on about all the "talented and crazy cast and crew who made this movie possible," even as the band tried to play him off with Wagner. He soldiered on as local ABC newscasters around the country said, "Jesus, hurry it up!" And then the music quit, and we all sighed and America lost $8 billion in productivity for Monday morning and the armies of darkness won.
Eddie Redmayne welcomed Brie Larson to the Best Actress club and the band played a giddy rendition of "Big Rock Candy Mountain" as she walked up to the stage. Yes, it is a song from the movie Room, which she won for, but did they have to choose that song? After all, this is a movie about a mother who is abducted, raped, and forced to raise her son in a tiny shed in a disgusting man's backyard. They're playing a song that sounded like she should have been skipping up to that stage.
The next thing that happened, well, I can't really talk about it. A man with the body of a Circus Peanut candy and the talent of a scarecrow left out in the rain won an award for going to the Arctic and shivering in the cold. It was a fait accompli.  Like getting your wisdom teeth removed it was sad and painful and we'll all be digging around the furrow in our collective jaw wondering why we feel so bad about the gap of what was never really there in the first place.  The less said about it the better. It certainly won't be as bad as when Jonah Hill eventually gets his. Just remember that no matter what this man does, no one will ever forget the Pussy Posse.
For the final surprise of the evening, Spotlight bested both The Revenant and The Big Short, which led to a collective gasp at the gay Oscar party I was attending that is usually reserved for Naomi Campbell sightings and people who speak ill of Robyn. When walking up to the stage to collect the award, Michael Keaton gave himself a triumphant fist pump, and I felt similarly, to live in a world where an excellent movie about the terrors of child abuse can win over a movie about a bear dragging around a big, fat star in his attempt to right the wrongs of a career that earned him millions of dollars but not enough recognition from his peers. The only injustice is that no one thanked the truck full of ugly Dockers it took to make that movie a reality.
Then it dawned on me that Michael Keaton has been in the past two Oscar-winning Best Pictures, two years in a row, and this is a crazy world that we live in. It is a world where a man who played Batman and then took several decades off can have a career resurgence in late middle age. It is a year when no African-Americans can be nominated, but race played a bigger part than ever at the ceremony. It is a world where a long, boring, and otherwise predictable awards show can still conclude with a surprise.
Because that's what the Oscars are, really: boring. Every year we pay so much attention to them, spending hours trying to prognosticate and assess the outcome, only to yawn our way through the final hour, looking at our watches and thinking about the long commute the next day. Honestly, that will be the real triumph of change and progress. The marker won't be when there are several nominees of different colors, genders, and sexual orientations in any category (though Sam Smith will always be the only gay person to win an Oscar). The real testament to change, the real promise of what Chris Rock talked about in his monologue, will be when black people at the Oscars are just as boring as everything else.