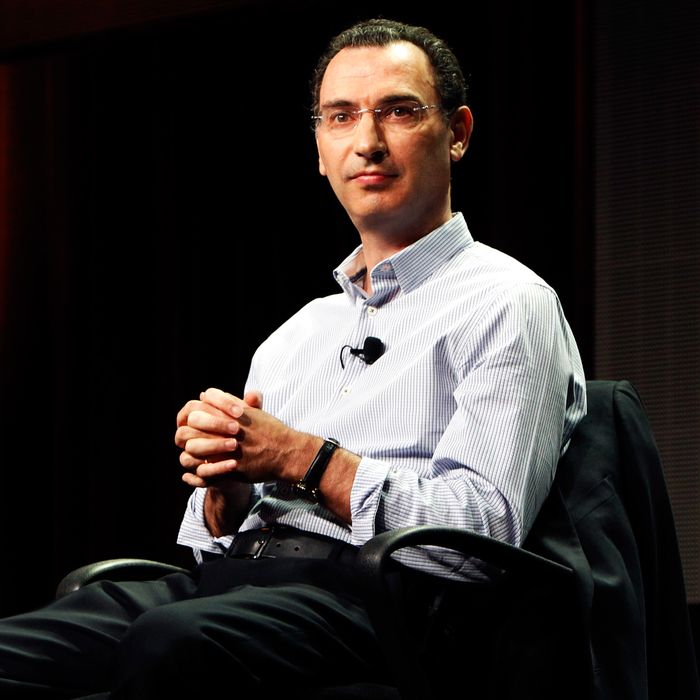 Paul Lee.
Photo: ABC/Getty
Just-ousted ABC Entertainment chief Paul Lee spent much of his nearly six years at the network preaching the gospel of "sticky" programming — shows that permeate the pop culture past prime time, generating viewer loyalty and engagement not fully measured by their overnight Nielsen numbers. It's not that Lee (who was replaced by  Channing Dungey, previously ABC's drama chief) gave up looking for big audiences; he just argued that broadcast networks needed to be more cablelike in choosing series with the ability to resonate beyond any given time slot. For much of his reign, the strategy worked: Factoring out sports and focusing just on scripted series, Lee's ABC — with buzzy fare such as Scandal, Once Upon a Time, and Black-ish — regularly competed for first in prime time among key demographics and boasted a heavy concentration of the upscale (read: rich) viewers advertisers love. ABC seemed to be a model for how a broadcast network could shine in a world of 400-plus scripted shows. And then came the season from hell.
It can't be overstated just how much has gone wrong for ABC since the 2015–16 TV season began last September. Save for Sunday freshman Quantico, the Disney-owned network struck out with its new series orders. Subpar Dallas karaoke Blood & Oil lasted just a few weeks before getting the hook. After big-budget biblical epic Of Kings and Prophets was mysteriously pushed from its planned fall launch, the network had to scramble to get serial-murderer mystery Wicked City on the air; it promptly flopped. ABC also (intentionally) rushed its promising reboot of The Muppets, moving from pitch to series in barely six months. The result: After a huge premiere, ratings dropped as audiences rejected a show whose producers clearly hadn't had the time to fix a number of inherent flaws. ABC then doubled down on the dumb by hiring a new showrunner for Muppets and making her rush a reboot of the reboot earlier this month. Viewers didn't even show up to check out the changes. Lee was no doubt under enormous pressure to make a big Disney property work, particularly since the presence of The Muppets on ABC's fourth-quarter schedule helped build advertiser buzz for the network's fall schedule. But rushing was ultimately a big mistake.
Beyond a weak crop of new development, this season has also been a hellscape of disturbing declines in ratings for a slew of established ABC hits. While the Rhimes-produced TGIT block still works as a whole, Scandal and How to Get Away With Murder are down 15 percent and 27 percent, respectively, this season. These declines aren't disastrous — particularly given the nearly universal declines hitting network TV of late — but they're a sign that even the mighty Rhimes isn't immune to the forces of gravity. More worrisome is the big year-to-year drop for long-reliable procedural Castle: After finally hitching its two leads, the show has lost nearly one-third of its under-50 audience this season. And ABC can't be happy about the unexpectedly large viewership dive for the usually stable Sunday night anchor America's Funniest Home Videos, which has shed a quarter of its young-adult audience since replacing longtime host Tom Bergeron. Once Upon a Time has also taken a massive hit, though that's partially because last year's numbers were inflated by a hugely popular Frozen-related story line.
Then, most recently, there's been the audience reaction to three sophomore series Lee optimistically renewed last spring with the hope they'd be able to build viewership with a little more time: Marvel's Agent Carter, Galavant, and American Crime. Rather than grow or at least stabilize, Carter and Galavant have lost fully half of the already small number of viewers they averaged a year ago, and are also certainly destined for cancellation. And while Crime is doing a bit better — it's down 25 percent, with some of that erosion due to no longer having the advantage of a Scandal lead-in— it hasn't (yet) capitalized on rhapsodic reviews and its season-one Emmy wins.
All three shows have been hurt by the fact that they returned in January, when ABC was in the middle of what it calls its "gap" months — that time when big guns such as the TGIT dramas and Dancing With the Stars are off the air. Overall ratings for ABC plunged in December and January, which meant many viewers probably had no idea the sophomore shows were back. Lee can be criticized for not having a good plan in place for managing these gap months, but, really, all networks are struggling to make sense of the new realities of scheduling. Reruns don't work anymore, shows are producing fewer original episodes, and audiences like to binge-watch some shows. A bigger, more valid critique of Lee was that he renewed perhaps one too many of his favorite low-rated shows. The auspices and reviews for American Crime made a second season a smart choice, but bringing back both Galavant and Agent Carter when neither did all that well last year? That seemed … odd.
The New York Times, which broke the news of Lee's departure, reported that he and his boss, Disney-ABC TV group chairman Ben Sherwood, clashed over Sherwood's desire to see ABC program fewer "sticky" shows and a few more meat-and-potatoes hours. (The Wall Street Journal hinted at a similar struggle last month.) And indeed, ABC's biggest shortcoming right now is the lack of even a single hit procedural drama, along the lines of NBC's Chicago hours or CBS's multiple cop franchises. Castle filled this role ably for many years but clearly is coming to the end of its natural life. ABC actually had a promising procedural last season — Forever — but it killed it mostly because the show was produced by a non-Disney studio (which means the Alphabet didn't stand to share in any long-term profits). It's completely understandable that ABC has been focused on duplicating the Rhimes-perfected formula of sexy, serialized, and, yes, "sticky" storytelling with shows such as Quantico, Secrets and Lies, and, possibly, the upcoming thriller The Family. But there's also something to be said for the more traditional case-of-the-week form of TV, particularly since such shows don't have to take off months at a time and can draw in viewers who haven't seen every single episode. If Sherwood really did make this case, it's hard not to agree with him.
Still, despite being hit by a perfect storm of awfulness since the fall, there's also a very strong argument to be made that ABC under Lee has actually performed very well, particularly in this era of audience erosion and the shift to nonlinear viewing via streaming and DVRs. Thanks to Lee, ABC either established or improved upon several major centers of strength in its schedule:
• Shonda Rhimes's Thursday dramas, despite experiencing some turbulence of late, remain a collective juggernaut among younger women. Scheduling them together under the TGIT banner was a genius move, and the marketing of the night has been brilliant.
• ABC retains what is by far the most successful night of broad-appeal comedy on TV with its Wednesday block of half-hours. Its family-comedy brand has only gotten stronger with 2015 mid-season addition Fresh Off the Boat, which has established a beachhead on Tuesday nights. True, Modern Family continues to fade, but like CBS's The Big Bang Theory, it's still a huge hit. And, unlike the Eye's non-TBBT comedies, the rest of ABC's Wednesday comedies are all big, healthy hits that make sense together. Lee pushed to make ABC's comedies reflect America's diversity, and it has paid off handsomely. (Of course, he also killed Cristela, Happy Endings, and Don't Trust the B—- in Apartment 23 way too soon. #NeverForget.)
• Sunday night's Quantico was arguably the most successful new series launch last fall, rocketing into Nielsen's top 20 among adults under 50 without the benefit of a big lead-in. (NBC's Blindspot has a bigger audience, but it's also gotten a boost from following The Voice.)
• On Mondays, Dancing With Stars draws big (albeit older) audiences in the fall, while The Bachelor attracts millennial eyeballs in droves. Both franchises predate Lee, of course. But he and his team have arguably helped strengthen them and extended their runs.
• And over the summer, ABC shocked the TV industry with the massive success of the Steve Harvey–hosted Celebrity Family Feud, one of the few new unscripted hits to be launched by a broadcast network in recent years. After a misguided attempt to rebrand ABC's reality division by bringing in a former E! network executive, Lee deserves credit for giving current ABC unscripted boss Robert Mills the freedom to go after broader audiences. It's worked.
Given the many positive accomplishments that can be credited to Lee over his five-and-a-half-year run at the network, his ouster Wednesday seems likely to end being seen as less about his record at producing results and more about a personality clash with Sherwood. Disney in general, and the ABC TV Group in particular, are known for their incredibly cutthroat corporate cultures. The man Lee replaced, former ABC boss Steve McPherson, was forever battling his boss, Anne Sweeney, who herself ended up "resigning" and was replaced by … Sherwood. While ABC's recent bad run of luck can't be entirely dismissed, it seems Lee's ultimate undoing was the result not of a bad development season, but rather an inability to manage up.