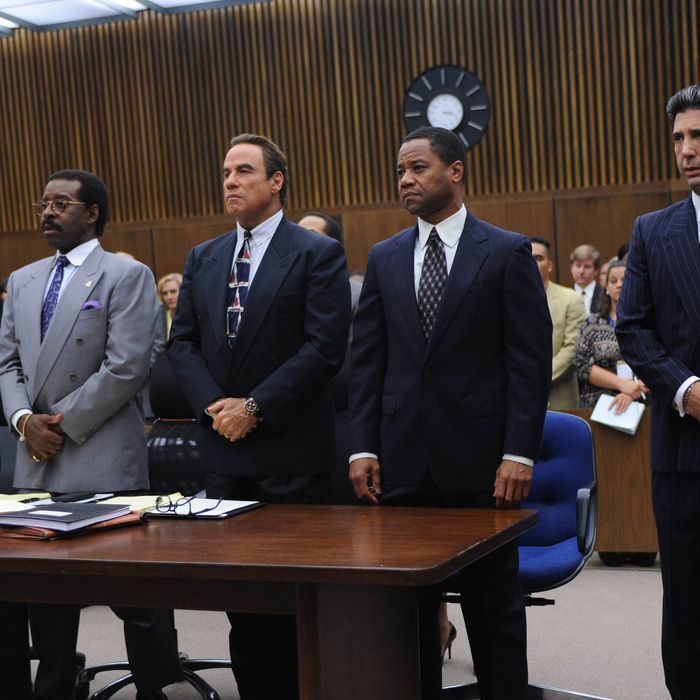 Nathan Lane as F. Lee Bailey, Courtney B. Vance as Johnnie Cochran, John Travolta as Robert Shapiro, Cuba Gooding Jr. as O.J. Simpson, David Schwimmer as Robert Kardashian.
Photo: Ray Mickshaw/FOX
"100% Not Guilty" covers a lot: the preliminary hearing, the plea hearing, and the selection and swearing-in of the O.J. Simpson trial jury, which brings the show up to early November, 1994. The trial itself would begin the following year, on January 24, and end with the verdict on October 3. For the viewers at home — and I was one of them, watching after I worked hourly job shifts in the limbo between undergrad and grad school — it cannot be emphasized enough how long this eight-month trial felt, how numbing it was to experience day after day. This was surely true of the jury, too, who were sequestered for an absurd amount of time and asked to sort through an endless series of exhibits and witnesses, each larded with objections sustained and overruled.
In other words, it was boring. And that was favorable to Simpson's defense, which aggressively sought to muddle and obfuscate.
As the months wore on, it became all too easy to forget that Simpson was being tried for double murder — or at least it was difficult to imagine the inciting event as a bloody crime of passion. And it was particularly easy to forget about Ron Goldman, who didn't fit into anyone's narrative about the fraught relationship between O.J. and Nicole Brown Simpson, other than being in the wrong place at the wrong time. The one reminder came from Fred Goldman, whose anguish and fury over his son's marginalized death burned through the verdict, the successful civil trial, and even the production of this mini-series, which he anticipated with great dread. His face red behind an ash-gray handlebar mustache, Goldman's emotions ran so hot that he approached a kind of apparent derangement, like a real-life version of Ray Wise's character on Twin Peaks.
The appearance of Fred Goldman and his daughter Kim in tonight's episode of The People v. O.J. Simpson does for the series what the Goldmans did for the trial when it happened. For a few minutes in this hour-long episode, the Goldmans offer a brief but bracing reminder that two people were murdered — a fact that had already been engulfed by the cultural phenomena swirling around the case. Joseph Siravo overplays Fred Goldman's rage, if only slightly, when he answers Marcia Clark's hushed "I know what you're going through" with a face-peeling blast of "Do you?! Do you have a son who was murdered?!" Sarah Paulson's reaction tells a story in itself: Clark's emotional engagement in the case has been total from the start, but the meeting is still a splash of cold water. Beyond the strategy and politics of pursuing a case against Simpson — which in this episode includes details from the number of hairs available for sampling to the 294 questions posed to prospective jurors — she has the burden of carrying the grief of the victims' families. (And also the shame of their disappointment should she fail.)
The Goldman scene stands out because much of "100% Not Guilty" is about understanding the larger forces that will soon hijack the case. Among them: Faye Resnick (Connie Britton, in wondrous form), the cash-for-trash legend who briefly derailed the trial with her quickie book and made the rotation of Larry King's nightly guests; Johnnie Cochran, whose power plays made him the face of the prosecution and brought the issue of race to the fore; a jury-selection process that scored a critical early victory for the defense; the introduction of Lance Ito, celebrity judge; and the reality that presumptions of innocence or guilt were split sharply along racial lines.
Of any figure on either side, Cochran had the best feel for the cultural dynamics at play and how he could marshal them to his client's favor. One of the many great things about The People v. O.J. Simpson is how much generosity its writers extend to the lead attorneys. Tonight's episode offers a taste of the sexist treatment Clark would receive, but since the sixth episode ("Marcia, Marcia, Marcia") will presumably cover that in detail, let's focus on Cochran, who becomes a fully dimensional character here. If you believe O.J. is guilty, then you might remember Cochran as a talented flimflam artist, cynically pressing a race-based defense for a client with little connection to the black community. ("I'm not black. I'm O.J.") And it's this Cochran whom Clark underestimates.
Cochran's gifts as a storyteller come through in the extraordinary scene where he gives a despondent O.J. a pep talk in prison. Cochran explains how, in 1978, O.J.'s gritty performance in a game against the Atlanta Falcons inspired him to pick himself up during a low point in his life. The story may be bullshit, but O.J. believes it, and so do we. While warning Clark of Cochran's abilities, Christopher Darden offers the most important insight: "He's real. He may be a showboat, but at the end of the day, he always fights for community. He talks like a preacher, but he goes to church every Sunday."
That's Courtney B. Vance's reading of the character, too. His Cochran is a man not only of immense charisma, but of equally significant charisma. He's appalled when Shapiro opens a meeting with the question, "Who thinks O.J. did it?" and he's appalled again by Shapiro's blinkered refusal to "play the race card." Racism is both central to Cochran's experience as an African-American and to his understanding of this case — it's unfathomable to him that the defense wouldn't recognize that. And for now, the value of The People v. O.J. Simpson lies in his dismay: We can learn more about the preacher on TV, and we can still go to church.
Dancing Itos:
The show keeps the period-music cues coming this week, with O.J. partying to C&C Music Factory's "Everybody Dance Now" and a blast of LL Cool J's "Mama Said Knock You Out" after the plea hearing. In both cases, we get our only visions so far of O.J. (and Cuba Gooding Jr.) as a confident, powerful man.
Of the major cast members, John Travolta is still the only weak link, but he does get better when his blood pressure rises. Shapiro's fury at F. Lee Bailey's slyly diminishing remarks on Larry King Live reached "get the shot" levels.
"There's no good time to find out your best friend has been murdered, but particularly not three days into cocaine treatment." Britton's take on Resnick as a casually devastating blue-blood gossip is so good. The more she gets shoehorned into the action, the better.
There's something almost poignant about Clark's blindness to the cultural realities of the case, from the impossible pursuit of the death penalty to her denial of focus-group data. She has a great case against Simpson. The "mountain of evidence" is real. She assumes justice is blind, but she is.
After Shapiro mentioned those "particular developing circumstances in the downtown area" last week, Gil Garcetti offers his own pained euphemism for being black by taking about the need to "balance out our ticket, stir in a little added flavor." Enter Chris Darden.
Once again, O.J. asserts his innocence by saying, "I couldn't have done it," rather than "I didn't do it." Perhaps the defense team can persuade him, too.