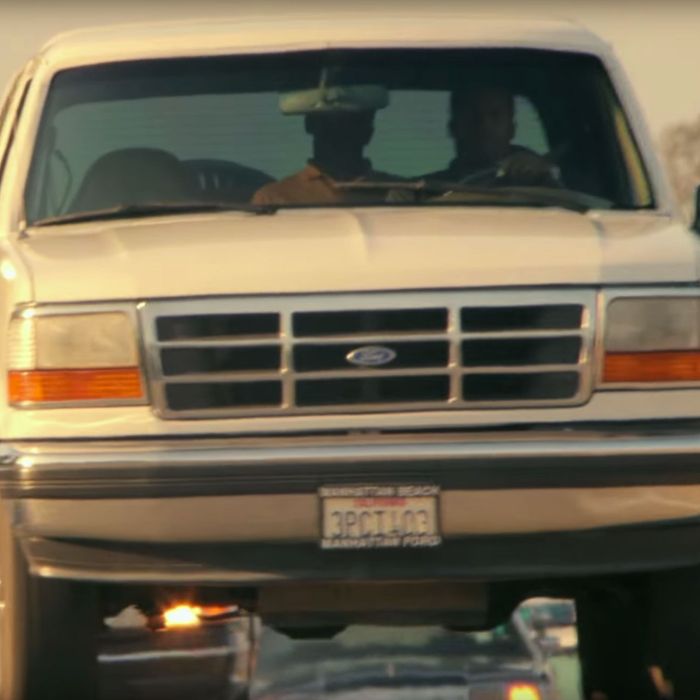 Malcolm-Jamal Warner (right) and Cuba Gooding Jr. in the Bronco-car-chase scene.
Photo: FX
For two days last May, Cuba Gooding Jr. and Malcolm-Jamal Warner journeyed up and down a Los Angeles freeway in a white Ford Bronco, re-creating one of the most bizarre days in modern American history — the 1994 summer afternoon that 95 million Americans stopped what they were doing to watch as fallen hero and suspected murderer O.J. Simpson appeared to flee justice, on live television.
By the end of it, Gooding Jr., who stars as Simpson on FX's The People v. O.J. Simpson: American Crime Story, felt like he was "having a nervous breakdown," and Warner, who plays Simpson's devoted lifelong friend Al "A.C." Cowlings, the man driving the Bronco in tonight's episode, was "very drained."
For Los Angeles motorists, it was disturbing moment of déjà vu. Officials allowed the closing of a mile-long southbound section of the 710 freeway near California State University, Los Angeles, but the northbound lanes remained open. Four car accidents happened as a result. "People didn't know what the fuck they were seeing," Gooding Jr. said. "Even though there were some camera cranes, [the cameras] were mainly inside the Bronco. People were like, 'Look! What's happening?'"
The production team spent a weekend filming the Bronco, which was tailed by a dozen police cars traveling about 40 mph on an otherwise deserted highway. "There's something eerie about looking in the rearview mirror and seeing [a bunch] of cop cars with their lights flashing behind you," said Warner, who did all of his own driving. An estimated 170 crew members and 200 extras worked to pull off the emotionally charged scene, while director Ryan Murphy spent the two-day shoot inside a follow van alongside executive producers Brad Simpson and Nina Jacobson, an assistant director, a cinematographer, a cameraman, and a sound tech, all watching the action from inside the Bronco on small monitors.
"It was quite harrowing. Ryan couldn't wait to get out of the van," said Brad Simpson (World War Z), who distracted Murphy by playing '90s hits, including TLC's "Waterfalls" and Ace of Base's "The Sign."
"It's a very peculiar sensation because you're right behind [the Bronco], but all you can see is what's on the camera," said Jacobson (The Hunger Games). "You're all crammed in together. You're not going to, but it feels at times as though you're going to crash. It's a little bit like when you're driving in a garage with a low ceiling and you feel like you have to duck."
Murphy used walkie-talkies to tell the actors what he needed from them. By then, production was a month into filming, and Gooding Jr. said he and Murphy had developed a shorthand communication. The intense scenes, which called for the actor to cry, point a gun at his head, and portray utter anguish, turned out to be the toughest of the series, Gooding Jr. said. "Two days of crying with a gun in your mouth was brutal," Gooding Jr. said.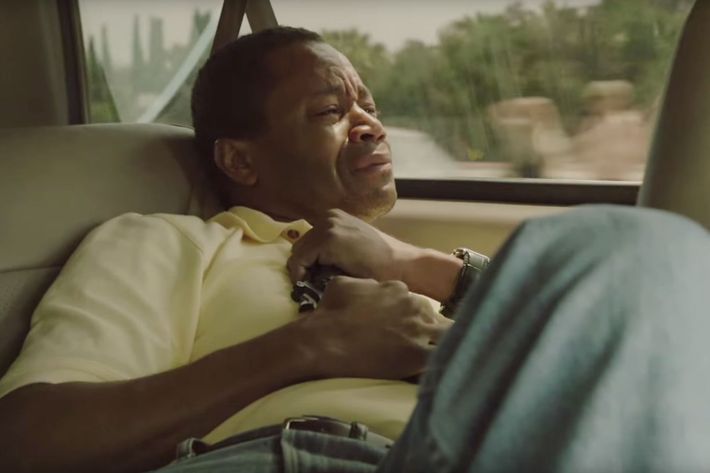 "'This take, I need you emotional because you might have done it,'" Gooding recalled Murphy saying. "Or, 'This take, I want you frustrated because you think your son did it.' It would send me into an emotional state. I was ready to go anywhere he wanted me or needed me to go at any time. It was one of the things where, as I walked towards the Bronco, I almost started to shake. I think of it now and it puts me in a frame of mind. When I see the backseat, that leather."
The series creators relied on recorded conversations between Simpson and Cowlings and the police during the eight-hour law-enforcement debacle to frame the events in the episode. For the rest, they and the actors used their imaginations to craft Simpson's unraveling and Cowlings' panicked state.
"Culturally, we were all so obsessed with [the chase] at such a superficial level, and yet the idea of what was actually happening inside the car went well beyond anything that anyone might have imagined at the time," Jacobson said. "To have that emotional access to those characters and get beyond the spectacle was the goal."
Even from inside the follow van, Jacobson was struck by what she was seeing on the monitors. "The way Cuba plays it, you're just so aware this is a guy who knows that no matter what happens, the life he had is over. He loved being the Juice," she explained. "In that scene, Cuba really captured the enormous sense of loss and tragedy, and the suicidal component."
Some of the action in the car, especially the actor close-ups, were filmed at a nearby lot at Cal State with the aid of a "process trailer," a stationary platform that is pulled by another vehicle, which did not require Warner to drive. When they were on the freeway, Warner drove the Bronco back and forth as they tried to land the scene where Simpson breaks down crying, "I should die … I don't know what is happening … why is this happening to me? I don't understand … I had such a beautiful family, Nicole and Sydney and Justin." Camera cranes were used to capture overhead and sweeping shots. "We did it over and over and over again, so I knew they'd have plenty of footage to choose from," Warner laughed.
"We wanted to shoot it in one piece so you get the performance and [don't] break it up," Jacobson said. "But we only had one mile of freeway to work with, so we had to get the timing right. It took a symphony of logistics and craft and artistry of the entire crew and both actors. It was so grueling for both Cuba and Malcolm. They just gave it their all."
But the conclusion of the two-day shoot didn't mark the end of Gooding Jr. and Warner's time with the Bronco. They spent another couple of days filming the Bronco's arrival at Simpson's Rockingham mansion and the scenes in the driveway.
"Cuba and I would see the truck and we'd be like, 'Not the Bronco again'," Warner said. "'Not the Bronco again!' We spent way too much time in that truck."