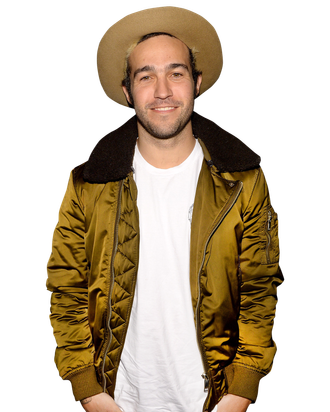 Photo: Michael Kovac/Getty Images
Early last month, Fall Out Boy caused a frenzy within the (very large) part of the internet that lives and breathes 2000s nostalgia when they resurrected a 16-year-old 'N Sync video. FOB treated the video for "Irresistible," featuring Demi Lovato, as an update to 2000's meme-bait "It's Gonna Be Me," going as far as working with original director Wayne Isham on a spiritual successor that gives voice to all of the other toys not nearly as beloved by tween girls. (Joey Fatone and Chris Kirkpatrick even cameo!) It's peak Fall Out Boy, and just the latest entry in the band's decadelong history of doing the unexpected and having a helluva time.
Before Fall Out Boy hit the stage Friday night in San Francisco for a livestreamed performance ahead of Sunday's Super Bowl, Vulture caught up with Pete Wentz about the band's insane 'N Sync sequel, how his band has managed to stay so popular, and the team he wants to win the Super Bowl.
How long has Fall Out Boy been wanting to make a sequel to 'N Sync's "It's Gonna Be Me" music video? The internet's still squealing over all that nostalgia porn.
The thing I really liked about it was that at the time [2000], 'N Sync were so big, they could've just made any videos. It just didn't really matter. But when you're younger and seeing videos on MTV, you're like, That's inspiring. That was one of the first videos [that made me feel that way]. And I was listening to Green Day at the time; I wasn't into 'N Sync. But I saw that video and thought it was great. So we've been trying to make this video for a while.
It's crazy because that video's now 16 years old. How did you convince Joey Fatone and Chris Kirkpatrick to make cameos?
I knew Chris a little bit; he was into punk bands. I think he let us stay at his house when we used to tour in a van back in the day. But we just reached out to them and explained that it wasn't a parody — it's an homage — [and] that we wanted to show this other side to the misfit toys, like the dollar-store-bin toys. They both thought it was cool, and they were in the area, so it was pretty easy to do.
Where did you even find those old 'N Sync marionette dolls? They're considered serious collectibles now. Pretty sure I have mine under lock and key in my old bedroom somewhere.
Man, I think Wayne Isham, the guy who directed both the original and ours, had a few of those dolls left over. And he still has them in the box, I believe.
The original version of "Irresistible" didn't feature Demi Lovato. How did you get her involved?
When we first wrote the song, it seemed like there could be a female perspective in there. We even toyed around with it on the demo; we just never really got it right. But then when we were putting it together as a single, we reached out to Demi. She's honestly just super-talented, and it took her, like, half an hour to do it.
So, as a Green Day fan who was never really into the boy bands of that era, where do you stand on the age-old debate: 'N Sync or Backstreet Boys? You can only pick one.
[Laughs.] I would say, uhhhh … [pauses for a few seconds] Boyz II Men? Can I say that?
Hey, you've performed with them, why the hell not? Moving along: At the end of last year, Fall Out Boy put out a remix album for American Beauty/American Psycho called Make America Psycho Again. How did you choose which rappers you wanted to put verses on your songs? You've got Wiz Khalifa, Migos, Azealia Banks, and more on there.
When we started up Fall Out Boy again a few years ago, we knew we had to do things that are just fun for us — things that aren't just stuff for the label or management. And we all listen to a lot of hip-hop, so we wanted to take rappers who are maybe well-known in the hip-hop community but, to our fans, are maybe a little more underground. We gave everyone the songs and were like, "You do the remix. We don't want this to be in any way like Fall Out Boy mixing it again." So all those remixes were individually done by each rapper and their producer.
Will you get any of them to perform their verses on Fall Out Boy's upcoming tour? Like a Taylor Swift–esque parade of rap guests.
That'd be awesome. We went on tour with Wiz Khalifa last summer, and he did his verse on "Uma Thurman" pretty much every night. We toyed with the idea of DJing and doing a showcase night, but, honestly, everyone's just got crazy-busy schedules. But there's an open invitation for any of those emcees. If we're in or near your city, come by!
As rock continues to become this strange outlier to the rest of the mainstream, how has Fall Out Boy managed to stay so relevant, to both the industry and to fans? You've all been doing this for 15 years, save for a brief hiatus, and your popularity hasn't really waned.
The idea of music and art, and popular art in general, is you have to adapt. You adapt with technology, you adapt with taste, you adapt with culture. Rock and roll used to do that, you know — it was really cutting edge. You look at early black American musicians and guitar players, or you look at the Stones, Zeppelin, Guns N' Roses, whoever. And then at some point it feels like that just stopped. Like, "This is rock and roll, anything else is not rock and roll." To me, I look at artists like Skrillex, and that guy is rock and roll.
Oh, totally, and that's where he started.
Yeah, and even a lot of the stuff Kanye does is pushing boundaries. The thing that I loved when I was growing up was there were some bands that were just so pervasive. Like when Metallica put out the Black Album, it was cool because it was like, "Hey, this one's my band, and they don't look like every other band. They don't necessarily fit in." That's the kind of role we've always been interested in taking on, and maybe we'll be a gateway to other bands that people can discover. I think it's always been about adapting and experimenting. Everything you do could have the potential to be like the first step on the moon, or [sinking like] the Titanic. You need that fearlessness in order to push the boundaries of what you do.
You mentioned Skrillex, who you're about to perform with in downtown San Francisco for a livestreamed concert series before the Super Bowl. Is this your first time being part of the big game?
We've gone to a couple other Super Bowls for parties and just to go, like the one in Indianapolis, but I'm pretty excited about this. I got way more into football this season, so I think have more interest.
Who are you rooting for?
I was just reading an article about how people dislike the Panthers, but I feel like that's not true. I have a 7-year-old, and when I take him to school, I see a lot of Cam Newton jerseys on the the fifth- and sixth-graders. Cam looks like he's having the time of his life. Growing up in Chicago, it reminds me of the '85 Bears; they were celebratory, braggy, but they just believed in themselves. But at the same time, I did watch the Broncos-Patriots game with my friends from Denver — what a way to go out. I don't really have a dog in this fight, but what a way to go out for Peyton Manning, winning the Super Bowl.
Do you think he'll retire after it?
I don't really know enough about it. But one of the things people always say is, "Why do athletes always go too long?" Clearly, with people who have such a competitive streak — and they're the ones who throw the impossible pass or just do the impossible — how can you tell them to turn that off? You just can't. But if he wins the Super Bowl, he should because that means he'll go out on top.
If Cam does win, though, and he hits his "controversial" dab, will you be in the stands dabbing with him?
[Laughs.] I haven't dabbed that often, but, sure, why not?