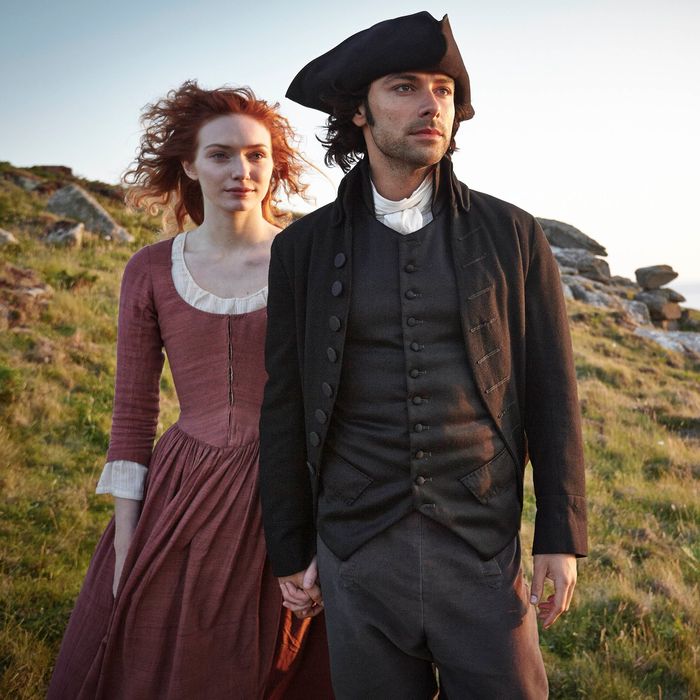 Eleanor Tomlinson (left) and Aidan Turner in Poldark.
Photo: BBC
Poldark first aired on PBS in the U.S. last summer to muted applause, but proved a huge hit in the U.K. — the final episode of the period drama attracted 10 million viewers to the BBC. Put in context, that's roughly one in six people in the country checking out a series based on a series of novels by Winston Graham. You normally have to bake a really good cake to make that many British people watch you on TV.
What was it about this series that made it such a success? The show arrived on Amazon Prime this week, so here's your spoiler-free introduction.
It's got a great story. Ross Poldark, our hero, returns to his beloved Cornwall in 1783 after fighting in the American war of independence. He comes home to find his father has died, the woman he loves is marrying his cousin, and both his family estate and the local area in the grips of a recession. Betrayed and desolate, Poldark begins a new business, tries to find love, and ends up making enemies along the way as he rebuilds his life from the ground up.
It's all about the (arms and abs of) leading man Aidan Turner. Brits love a period drama, but it takes more than rigorous displays of the class system to pull in the big viewers. Let's not pretend that Poldark's popularity lies anywhere but firmly at the arms-and-abs combo of its leading man. Come for the lesson in post–Revolutionary War life, sure, but stay for scenes of Aidan Turner topless as he scythes down crops or takes a naked bath in a nearby lake. Turner, who previously starred in Being Human and The Hobbit, was banned from enjoying the local food while shooting in order to keep him in shape. "I wasn't allowed any Cornish pasties, 'cos I'd get fat," he said in an interview before the series began. "And I have to take my top off so much." That's commitment.
The supporting cast is also strong. Poldark may be named after Ross Poldark, but the supporting players are just as interesting. Heida Reed leads a powerful female cast as his first love, Elizabeth Poldark, née Chynoweth, who is now married to drunken cousin Francis. Eleanor Tomlinson is Demelza Carne, the show's romantic lead, who enjoys a slow-burning romance with Ross. Poldark's family rounds out an impressive ensemble.
It's basically a soap. There are corsets and horses and talk of war, but let's be honest: Poldark is a soap, and that's not a bad thing. The series manages to tackle personal growth, redemption, men struggling to handle their masculinity and follow in their father's footsteps, the class system, and financial hardship in a way that is both straightforward and entertaining.
The scenery is incredible. Cornwall isn't the most glamorous place in the world — it's most famous former resident is arguably Mick Fleetwood from Fleetwood Mac — but Poldark transformed it into a stunning rush of scenery porn. Bodmin Moor, Porthgwarra, and other areas of the county make for a beautiful backdrop while the sandy beach at Church Cove provides the setting for a dramatic late-night shipwreck scene. If you can ignore the fact that it rains all the time (factually pretty accurate), then this quaint corner of the British isles will jump up your to visit list quickly.
It's short. This being the product of a thrifty British TV industry, Poldark is a cost-effective eight episodes long. This makes it ideal for binge-watching, and you'll be racing through episodes faster than Poldark races across the fields of Cornwall.
The second series is already on the way. You won't have to wait long to find out what happens next. A new series was commissioned straight away and began filming in September. Plus, season one ends on a proper cliff-hanger (they're literally on a cliff), and you're going to want answers.
* A previous version of this piece misidentified Aidan Turner as Aidan Lewis.