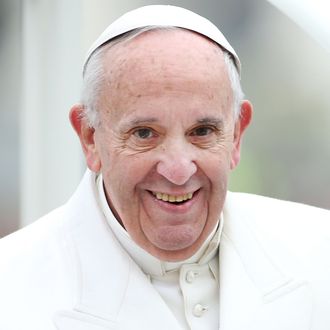 How do you say "I'd like to thank the Academy" in Latin?
Photo: Franco Origlia/Getty Images
Did you know that, in the 1,983-year history of the papacy, no sitting pope has ever been awarded an Emmy, Grammy, Oscar, and a Tony? It's true — not even Boniface VI could manage it. But now Pope Francis is out to break that trend: Months after His Holiness made a brazen ploy for the Best Contemporary Christian Music Album Grammy with Wake Up!, Variety reports that the Cool Pope is about to make his acting debut in the upcoming Christian family film Beyond the Sun. Francis will play himself in the film; if he wins an Oscar for the role, he would become the first person to ever win an Academy Award for playing himself. (Though Harold Russell won for playing a fictionalized version of himself in The Best Years of Our Lives.) If this cameo goes well, expect Francis'a boldfaced pursuit of an EGOT to continue with a starring role in Fiddler on the Roof.