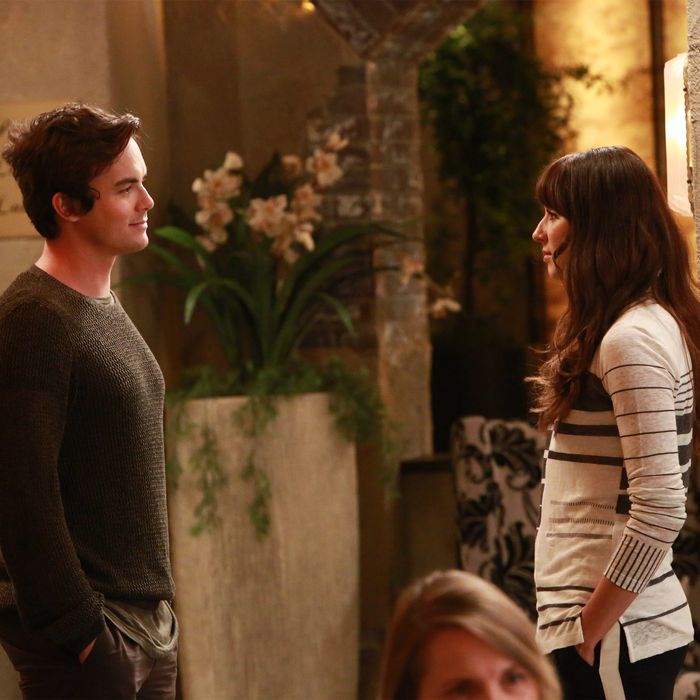 Tyler Blackburn and Troian Bellisario as Caleb and Spencer.
Photo: Ron Tom/Disney Enterprises
The five-year time-jump on Pretty Little Liars was bound to produce many unexpected and thrilling story lines (yep, there's an Über-A now), but perhaps the most surprising development of all involves matters of the heart. The breakup of Rosewood's years-long resident power couple, Caleb Rivers (Tyler Blackburn) and Hanna Marin (Ashley Benson), was revealed in the mid-season premiere, followed soon after by a romance between Caleb and Spencer Hastings (Troian Bellisario). As expected, viewers went into a frenzy at the abrupt change in narrative — Hanna is now engaged to an Australian man — but Blackburn was ready for the shift.
"Obviously, I love working with Ashley [Benson], but as an actor, I love working with Troian," Blackburn told us over the phone last week. "She has a good, specific approach that I really respect, so anytime she and I were able to work together previously, we've really enjoyed it. We would actually joke around together and be like, 'So, how do we get more time together onscreen?' And then all of a sudden [the showrunners] were like, 'Oh, you guys are actually just going to be in a relationship.' I was like, 'What!' There was a running joke that we could hear the screams of the fans hating every moment during all of our scenes."
When the cast received the initial scripts that outlined "Spaleb"'s romance, emotions were mixed. "The only two reactions that mean anything were from Ashley and Keegan [Allen]," Blackburn says. (Allen portrayed Spencer's boyfriend, Toby, on the show for many seasons. Toby is also friends with Caleb.) "Ashley was really upset. Keegan was a little more stoic about it, but I think he was pretty upset as well. They have to go with the flow, though, right?"
The differences in Caleb's compatibility with Hanna and Spencer was also intriguing to Blackburn. "The idea originally with Caleb and Hanna was that they were almost opposites, very 'opposites attract.' I think that Caleb and Spencer have a lot in common," he says. "They have an innate sense of what's going on around them. They're very inquisitive, they're very sharp. Especially after five years, they're now adults, and they have their specialties, and they work toward them in the same vein. I feel like there's a spark. In previous seasons, there was a little bit of a spark in certain scenes because of those similarities." Through flashbacks in the upcoming episodes, we'll also see how their relationship slowly evolved. "It's not as much as fireworks as it was with Caleb and Hanna, but it's really beautiful," he continues. "So you'll actually get to see a little more of that and how it developed."
Don't mess this up for them, Über-A.