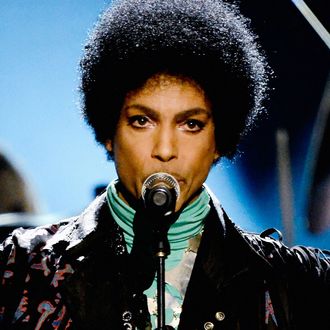 Prince.
Photo: Kevin Mazur/Getty Images
Denise Matthews, better known as Vanity, the protégé of Prince and lead singer of Vanity 6, died on Monday at the age of 57. During his
Piano and a Microphone solo-tour concert in Melbourne, Australia, on Tuesday night, Prince repurposed several of his songs as tributes to his onetime love. "I just found out a little while ago that someone dear to us has passed away," Prince said early in the set, "So I'm gonna dedicate this song to her." After that, he performed a slowed-down rendition of "Little Red Corvette" with a segue into "Dirty Mind," both of which were written when the two were together. The tributes continued as Prince performed "The Ladder" with the name "Vanity" exchanged for "Electra," with the new lyrics, "This Prince, he had a subject named Vanity, who loved him with a passion uncontested." Later he made similar adjustments to Purple Rain's "The Beautiful Ones," shifting "I'm begging down on my knees" to "I'm begging Denise, Denise." 
Prince continued to go off-script throughout the night, launching into an extended anecdote about about the musician, actress, and model between songs:
Can I tell you a story about Vanity? Or should I tell you a story about Denise? Her and I used to love each other deeply. She loved me for the artist I was, I loved her for the artist she was trying to be. She and I would fight. She was very headstrong 'cause she knew she was the finest woman in the world. She never missed an opportunity to tell you that.
Prince explained that he once threatened to throw Vanity into a pool during a fight. "You can't throw me in the pool, you're too little," Vanity responded. After which Prince had a bodyguard do the dirty work. "I probably shouldn't be telling this story," he said, "but she'd want us to celebrate her life and not mourn her."