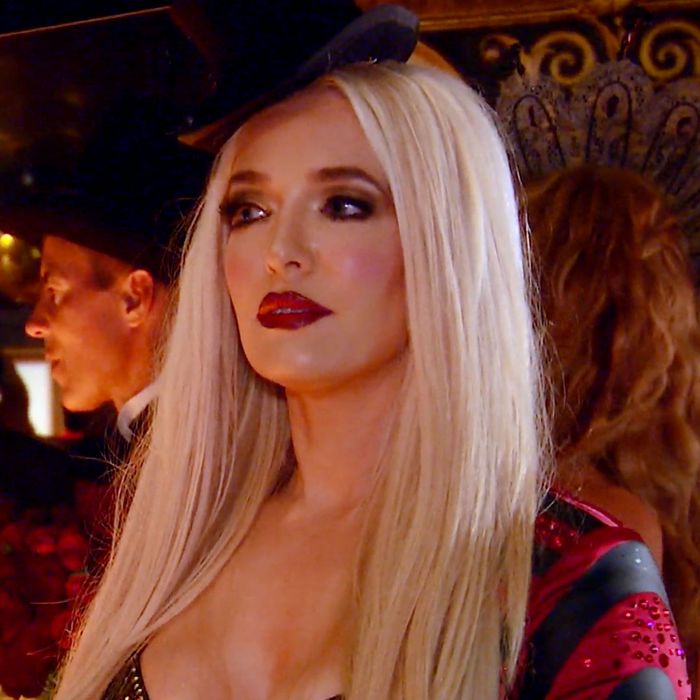 Erika Girardi.
Photo: Bravo
I usually hate a Housewives theme party, mostly because every time the Real Housewives have a theme party a fight breaks out where at least one of the women humiliates herself into a screaming, quivering mess of $240 worth of pudding. The only thing more embarrassing than that is when she does it in a costume. Remember Vicki Gunvalson screeching at Slade Smiley in crimped hair and an off-the-shoulder Flashdance sweatshirt at the '80s-themed Bunco Party (whatever that was) on Real Party City Addicts of Schmorange County? That's what I think of every time there is a theme party, just the absolute crushing humiliation of it all.
Some people have nightmares about being naked in school or having to perform a play but not knowing the lines. Not me. No. I have nightmares about being invited to a Real Housewives theme party.
That said, Kyle and Lisa's Moulin Rouge–themed joint anniversary party wasn't so awful. But before we get into that, let me first thank Ben Rimalower, executive vice-president of gift-shop sales and LGBTQI outreach for the Real Housewives Institute, for filling in for me last week while I was at Sundance spending eight hours in an Egyptian-themed movie theater, watching a documentary about the O.J. Simpson trial. It was actually research for the Faye Resnick Memorial Wing of the Institute, which was generously pledged by the creator of The People vs. O.J. Simpson.
Housewives in stupid outfits usually scare me, but all of the women looked absolutely amazing at the event. All of the guys just wore tuxes, except for Ken, who never met a fancy-dress party or a tiny pony he didn't like. They all looked good — especially Eileen's husband, Vince, who looked so damn handsome in his penguin suit that I was actually like, "Who is that guy? He can get it."
And while we're talking about Househusbands, we need to pause a moment to honor the seed that I spilled for Donnie Edwards. What sort of living Ken doll is this man and how can I get one of my own? He seems sweet, attentive, and absolutely winning. And he's got football-player money. Kathryn roped herself a damn unicorn, and she better not ever let go because who in their right mind wouldn't try to take that steed for a ride? If I rubbed a bottle and got three wishes, the first one would be to come back in my next life as Aaron Tveit's short-shorts, but the second one would be to just get a glimpse, a single momentary glance that lasts no longer than a fairy's flatulence, of a naked Donnie Edwards.
Kathryn: If you're listening and have a Snapchat account, please get at me at BrianJMoylan. (For the record, my third wish would be to have the creativity, uniqueness, nerve, and talent to win RuPaul's Drag Race. That is three.)
What were we talking about? Oh yes, the women's outfits. Kyle looks way skinnier in a pink corset and fishnets than her usual muumuus would lead you to believe. It is perhaps the best I have ever seen Kyle look, except for every time she stands next to her sister, Kim. Lisar was almost unrecognizable in her getup — and so skinny that every Italian grandmother watching threw a wet ball of mozzarella at her television screen. Eileen … well, she looked like a picture frame that was in her house. Erika, the currently reigning My Favorite Housewife of All Time and the only one who didn't have to go shopping especially for this party, looked like the ring leader of some sort of burlesque circus where a guy only wearing a pair of jeans does an aerial act with a bathtub. Lisa Vanderpump looked like a lamp from the set of a Hello Dolly! revival produced at a gay retirement home. (That's a compliment.)
The guests of the Housewives were a mixed bag. St. Camille of Grammer looked flawless as ever, smacking her knees, shrugging her shoulders, and shimmying on the dance floor in that good old Club MTV way. The Widow Armstrong, however, looked like the ghost of Housewives Scandals Past. Or maybe she just looked like that creature from The Ring when she tried to give herself a makeover with a drugstore tiara and half a compact of Mary Kaye rouge that she found on a curb.
The most divisive guest of all, though, was the Morally Corrupt Faye Resnick. (Well, Lance Bass was also divisive because when I see him and his sexy husband, I can't decide whether I want to have sex with them or cut off my genitals and throw them into a black hole.) But yes, Faye. Oh Faye. One million sighs and ten million tears. The funny thing about being friends with Faye, as Kyle can attest, is constantly having to apologize for Faye and rationalize why you're still friends with her. We all have that friend. The one who everyone thinks is awful or horrible or annoying or won't shut the hell up about how she just really needs you all to go to South Carolina for her bachelorette, and you have to be like, "Whatever, she's my sister. She's a good girl." That is Faye for Kyle.
Speaking of which, what does Lisa call Faye that Kyle won't let her say on television because it's too disgusting? It can't be "cunt," can it? I doubt it. Lisa is British and they have a whole different definition of that word. What about "Little Baby Bunyon?" Or "Princess Pustule?" Maybe "Sphincterina?" I would pay $29.75 to know what Lisa calls Faye Resnick when the cameras aren't on.
The most telling thing at dinner in the last episode was that Faye said, "If I have done anything to offend anyone at this table, I'm sorry." That's because Faye had done something to offend at least three of the people there. Faye is just walking around apologizing all the time. She wears "sorry" like it's a perfume that wafts whenever she enters the room and you never quite believe the smell of it.
Considering the O.J. Simpson trial is back in a big way, both on FX and an amazing ESPN documentary that comes out this summer, Faye is going to have a whole lot of apologizing and revisiting the past to do. I'm not sure that neither she nor Kyle are ready to get into that all over again.
Speaking of which, the whole Kathryn and Kyle and Faye thing is super odd. So, Faye goes up to Lisa and they're civil and everything is cool. And then Faye goes up to Kyle and Kyle asks if everything is okay and Faye says yes. When Kyle and Lisa sit down next to Kathryn — who has old school O.J.–related beef with Faye — Kyle asks Lisa about Faye. Now, Kyle knows that things are cool with Lisa and Faye because she just talked to Faye. But then she brings it up next to Kathryn. That's sort of like sitting Faye and Kathryn across the dinner table from each other and expecting anything but hair-pulling and eye-gouging. Kathryn is all like, "Ugh, Faye. Gag me with a chainsaw." And then Kyle is all like, "Why did Kathryn bring up Faye at my party?" Holy Mary, mother of God, pray for us sinners (but not Faye Resnick) now and at the hour of our death. Amen.
I don't think that going off on a party host's best friend is really what is known in most living rooms in America as tactful. No. But Kyle brought that on herself. That's like going to dinner at Lindsay Lohan's house and then being pissed off when someone rummaged through your handbag while you were in the ladies' room. You were asking for that. Of course, Kyle can't fixate on the wrongs that Faye has done in the past and how valid they might be. No, she's only thinking about herself and her party and doing the splits and wearing fishnets. I swear that sometimes Kyle has the memory of a GIF. She just sees two-second bursts of her own face, on repeat forever and ever, her mind lodged in a loop of her own face.
The best thing about the party is just how in love Lisa and Ken and Kyle and Mmmm are after so many years together. Seriously. They're both still hot for each other, or they're all hot for each other. I don't know how to say this without sounding like Bob & Carol & Ted & Alice, but maybe that's what they're into. Who knows. It's very sweet to think that even a Ringwraith with Grecian sleeves can find happiness with someone.
There were a few other things in this episode I don't really want to talk about. Mostly Yolanda's illness and whether or not it's real. I would like to close the book on that one and consider it settled. It's sort of like arguing about abortion: Some people want to debate a woman's right to choose, but those who do are assholes who don't deserve to be listened to. I do think it was big of Lisar to go to Yolanda's house and admit that she was gossiping and that it was wrong. If there was more of that, though, we wouldn't really have a show.
I'm also glossing over Erika's house because I don't want to believe it exists. I don't want to believe that she lives in Pasadena or has a living room that is decorated like a funeral home in Danbury, Connecticut. That is not, as Lisar says, "Old money done right." I want to believe her chapel. I want to believe that she goes in there and does her "pat the puss" dance over the Shroud of Turin when no one is looking, but the rest of the house I would rather forget.
But there's one person we can't forget: Witchiepoo. Did you hear her name, when Kyle uttered it in Lisa's kitchen? Did you hear Lisa repeat it, twice? Yes, that means that Witchiepoo's name was uttered three times and she appeared, like the smoke from three red candles, in her firmament high upon the hill, her sanctum sanctorum. She emerged from the Void of Forgetfulness naked, her body only clad with tattoos that kept her corporeal form whole while she floated in the nexus of all things. From the center of the large empty room where she crouched after her long, eldritch journey, she stalked over to the armoire in the corner, walking like a puma with heartburn. She opened up the chest and put on a red flowing robe.
She returned to the pentagram painted on the creaking, reclaimed floorboards and sat cross-legged, with her robe hanging open and her breasts perking in the breeze. Now that she was back, she would get her revenge. "Forsan et haec olim meminisse iuvabit," she chanted, closing her eyes and feeling the pull of cosmic energy through her chakras. "Alea iacta est," she muttered, with the invisible sparks rising all around her. "Semper ubi sub ubi," she sounded like the reverberating gong of a bowl.
"Agricola est puella," she screamed, wrenching her head back and opening her mouth wide as a stream of steam came rushing out with a whistle, like a readied kettle. It was her soul, floating up from the body, up from the floor, up from the house, up into the air, up over everything, molecule by tiny molecule, her energy sapping itself into every little thing, filling up the spaces between atoms with her evil essence. She is now in everything we do, everything we say, everything we think. Witchiepoo has become part of the universe. She will never be forgotten again.