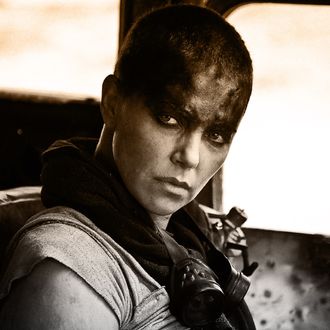 Charlize Theron in Mad Max: Fury Road.
Photo: Jasin Boland/Warner Bros. Entertainment Inc
When it comes time to hand out its annual awards for making movies look cool, the Art Directors Guild divides up its prizes by genre, which explains why, at this year's ceremony on Sunday, the guild was forced to hand out awards to movies that were not Mad Max: Fury Road. After all, even though Mad Max sheds an uncomfortable light on contemporary issues like rape culture and water conservation, it is not technically a "contemporary" film, which left that category free to be taken by The Martian. And likewise, though Mad Max takes place in a certain historical period (that period being the time after the apocalypse, when all the world has been divided into warring desert fiefdoms), it is not technically a "period" piece, which means that The Revenant was able to win that category. Mad Max did take home the award for best production design in a "fantasy film," because that's the only genre large enough to contain the brain-crushing magnificence of the Doof Warrior.
The Art Directors Guild also handed out awards for television shows, none of which went to Mad Max: Fury Road. The full winners are below:
PERIOD FILM
The Revenant (production designer Jack Fisk)
FANTASY FILM
Mad Max: Fury Road (production designer Colin Gibson)
CONTEMPORARY FILM
The Martian (production designer Arthur Max)
ONE-HOUR PERIOD OR FANTASY SINGLE-CAMERA SERIES
Game of Thrones, "High Sparrow," "Unbowed, Unbent, Unbroken," "Hardhome" (production designer Deborah Riley)
ONE-HOUR CONTEMPORARY SINGLE-CAMERA SERIES
House of Cards, "Chapter 29," "Chapter 36" (production designer Steve Arnold)
TELEVISION MOVIE OR LIMITED SERIES
American Horror Story: Hotel, "Checking In" (production designer Mark Worthington)
HALF HOUR SINGLE-CAMERA SERIES
The Muppets, "The Ex-Factor," "Pig's in a Blanket" (production designer Denise Pizzini)
MULTI-CAMERA SERIES
The Big Bang Theory, "The Skywalker Incursion," "The Mystery Date Observation," "The Platonic Permutation" (production designer John Shaffner)
AWARDS OR EVENT SPECIAL
The Oscars: 2015 (production designer Derek McLane)
SHORT FORMAT: WEB SERIES, MUSIC VIDEO OR COMMERCIAL
Apple Music, "The History of Sound" (production designer Jess Gonchor)
VARIETY, REALITY OR COMPETITION SERIES
Key & Peele, "Ya'll Ready for This?" "The End" (production designer Gary Kordan)