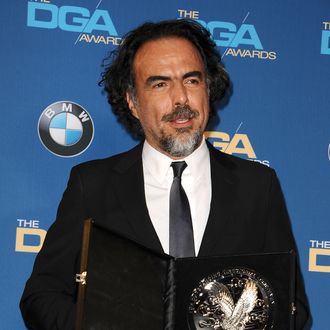 Alejandro González Iñarritu.
Photo: Jason LaVeris/2016 Jason LaVeris
The Revenant might have been left out in the cold by a few initial Oscar predictors, but ever since that Globe win, it's been slowly crawling its way back into the race. Alejandro González Iñárritu won his second consecutive Directors Guild of America Award for Feature Film for his work on The Revenant last night, pushing the snowy revenge picture into the heart of the Oscars race, in a mirror of Birdman's slow flight to Oscar certainty. Still, we're far from unanimity, even among the usually predictive guild categories. With Spotlight's win at the SAG Awards, and The Big Short's win at the Producers Guild, this race could go in any direction. Meanwhile, the Directors Guild highlighted work from HBO on television, with awards for Bessie, Game of Thrones, and Veep, while the first-ever Best First-Time Feature Film Director award went to Alex Garland of the mind-bending Ex Machina.
Read the full list of winners below:
Feature Film
Alejandro González Iñárritu – The Revenant
Tom McCarthy – Spotlight
Adam McKay – The Big Short
George Miller – Mad Max: Fury Road
Ridley Scott – The Martian
Documentary
Jimmy Chin and Elizabeth Chai Vasarhelyi — Meru
Liz Garbus – What Happened, Miss Simone?
Alex Gibney – Going Clear: Scientology and the Prison of Belief
Matthew Heineman – Cartel Land
Asif Kapadia – Amy
First-Time Feature Film Director
Fernando Coimbra – A Wolf at the Door
Joel Edgerton – The Gift
Alex Garland – Ex Machina
Marielle Heller – The Diary of a Teenage Girl
Laszlo Nemes – Son of Saul
Dramatic Series
Michael Engler – Downton Abbey, "Episode 8"
Leslie Linka Glatter – Homeland, "The Tradition of Hospitality"
David Nutter – Game of Thrones, "Mother's Mercy"
Steven Soderbergh – The Knick, "Williams and Walker"
Matthew Weiner – Mad Men, "Person to Person"
Comedy Series
Chris Addison – Veep, "Election Night"
Louis C.K. – Louie, "Sleepover"
Mike Judge – Silicon Valley, "Binding Arbitration"
Gail Mancuso – Modern Family, "White Christmas"
Jill Soloway – Transparent, "Kino Hora"
Movies for TV and Miniseries
Angela Bassett – Whitney
Laurie Collyer – The Secret Life of Marilyn Monroe
Paul Haggis – Show Me a Hero
Kenny Leon, Matthew Diamond – The Wiz Live!
Dee Rees – Bessie
Variety/Talk/News/Sports – Regularly Scheduled Programming
Paul G. Casey – Real Time with Bill Maher, "#1334"
Dave Diomedi – The Tonight Show Starring Jimmy Fallon, "Episode #325"
Don Roy King – Saturday Night Live, "Host: Tracy Morgan/Musical Guest: Demi Lovato"
Ryan McFaul and Amy Schumer – Inside Amy Schumer, "12 Angry Men Inside Amy Schumer"
Chuck O'Neil – The Daily Show with Jon Stewart, "Episode #20142"
Variety/Talk/News/Sports — Specials
Sofia Coppola – A Very Murray Christmas
Hamish Hamilton – The 87th Academy Awards
Don Roy King – Saturday Night Live 40th Anniversary Special
Beth McCarthy Miller – Adele Live in New York City
Chris Rock – Amy Schumer: Live at the Apollo
Reality Programs
Brady Connell — The Great Christmas Light Fight, "Episode 304"
Ken Fuchs – Shark Tank, "702"
Steve Hryniewicz — Cutthroat Kitchen, "Superstar Sabotage Finale: It's Raining Ramen"
Bertram Van Munster – The Amazing Race, "Bring the Fun, Baby"
Adam Vetri – Steve Austin's Broken Skull Challenge, "Gods of War"
Children's Programs
Paul Hoen – Invisible Skull
Joseph Mazzarino – Sesame Street, "The Cookie Thief"
Kenny Ortega – Descendants
Amy Schatz – Saving My Tomorrow, "Part 3"
Sasie Sealy — Gortimer Gibbon's Life on Normal Street, "Gortimer and the Vengeful Violinist"
Commercials
Juan Cabral, MJZ
Miles Jay, Smuggler
Tom Kuntz, MJZ
Andreas Nilsson, Biscuit Filmworks
Steve Rogers, Biscuit Filmworks