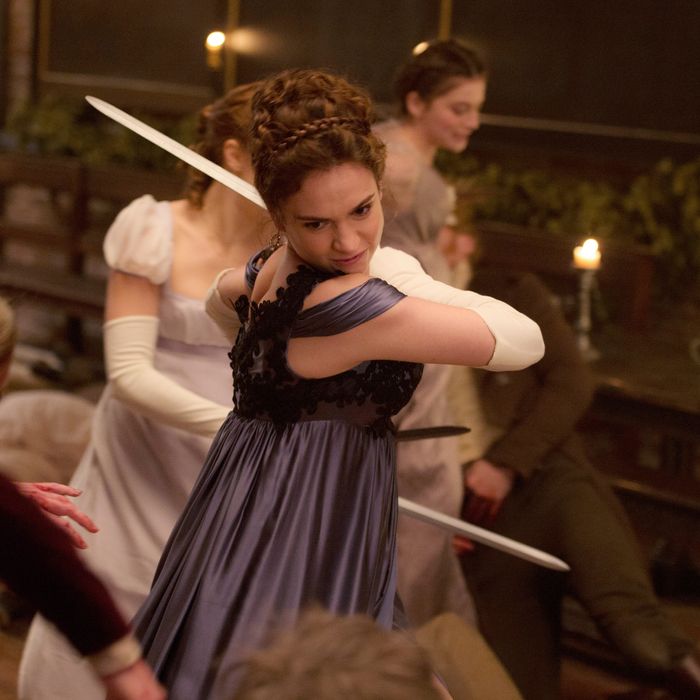 Manslaughter Park.
Photo: Jay Maidment/Lionsgate
The film Pride and Prejudice and Zombies is the rare case of a movie that's better than the book — at least I'm guessing it is, since I only lasted 15 pages into the novel before tossing it into the can with the rest of the trash. Seth Grahame-Smith (who went on to pen the terrible screenplays forAbe Lincoln, Vampire Hunter and the Tim Burton–helmed Dark Shadows) had a notion that might have inspired a good sketch on the old SCTV series, which made high comic art out of violently yoking together mismatched elements. To Jane Austen's shapely prose, he appended lines in which the Bennett sisters or Mr. Darcy pause to hack or blow off the heads of marauding flesh-eaters before resuming their uneasy English mating rituals. The best thing about the movie is that you don't have to invest a lot of time into seeing Austen's prose manhandled. You can enjoy the film — well, parts of it — as a middling stock production with flurries of gore to break the monotony.
Burr Steers — writer-director of the splendidly caustic Igby Goes Down — has wisely eschewed camp, staging the film as if it were, indeed a straight adaptation, teeming with elegant balls and halting courtships and scenes of the overbearing Mrs. Bennett (Sally Phillips) pushing her five daughters into matrimony. The score is romantic, heavy on the strings. The interiors are opulent (too much so in the case of the Bennett house, which should show at least traces of economic hardship), the female costumes wittily modified to allow for swivel-kicks and long knives slid into garters.
It's a second-rate P&P, though, compared to Simon Langton's 1995 BBC mini-series (with Colin Firth and Jennifer Ehle) or Joe Wright's effective, relatively rough-hewn 2005 film with Keira Knightley and Donald Sutherland as a quietly sardonic Mr. Bennett. Lily James of Cinderella is a fine if too-agreeable Elizabeth Bennett, who, following a plague of brain-munching zombies that threaten to overrun her country, was sent not to finishing school but the Shaolin Monastery in China to learn martial arts. Drawing-room rituals and class distinctions remain firmly in place. Not only are the Bennetts on a lower tier than many of their neighbors, but Elizabeth is mocked for training in China instead of Japan. While she watches her radiant sister Jane (Bella Heathcoate, whose soft face recalls Heather Graham) fall for the wealthy, equally pretty Bingley (Douglas Booth), she finds herself magnetized by the dour Darcy (Sam Riley) — who has a habit of interrupting parties to open a jar of carrion flies that will congregate on dead flesh, thus revealing the still-nascent zombies.
Riley is an odd fellow, with an early Beatles mop-top, a rounded chin that recalls the late Roger Rees, and the raspy quack of Carol Channing. The oddness somehow works: His Darcy would never quite fit in anywhere. He only comes into his own when drawing out his gun and exploding zombie heads — the violence wet but swiftly edited, lacking after-splash presumably to earn a PG-13 rating. The more intimate battles are choppy but nicely framed to bring out the zombie-slayers' high manners.
Lena Headey makes a ferociously good entrance as a one-eyed Lady Catherine de Bourgh — reputedly England's most fearsome zombie-killer — and then remains disappointingly remote from the carnage. A calculatingly earnest Jack Huston would make an excellent Wickham in the best P&P, but only one performance transcends the material: Matt Smith (of Dr. Who) as an ebulliently clueless Parson Collins, holding forth with a serene confidence in his nonexistent erudition while managing to scurry to the sidelines whenever the zombies crash in.
Smith is so good that it's almost worth seeing Pride and Prejudice and Zombies (or "Pee-Peez," as an acquaintance called it) for him. Almost; not quite. Just when we're thinking the movie is not as bad as all that, it builds to a battle for England that never comes. There we sit, primed for martial splatter on a scale that will test those high manners — and the production seems to have run out of time and/or money. The dispatching of the ultimate villain made me sad for the editor, who must have had scraps to work with. And an epilogue inserted into the closing credits only reminds us what was missing from the movie proper. There are good as well as bad kinds of pride, and the filmmakers don't have enough of it.