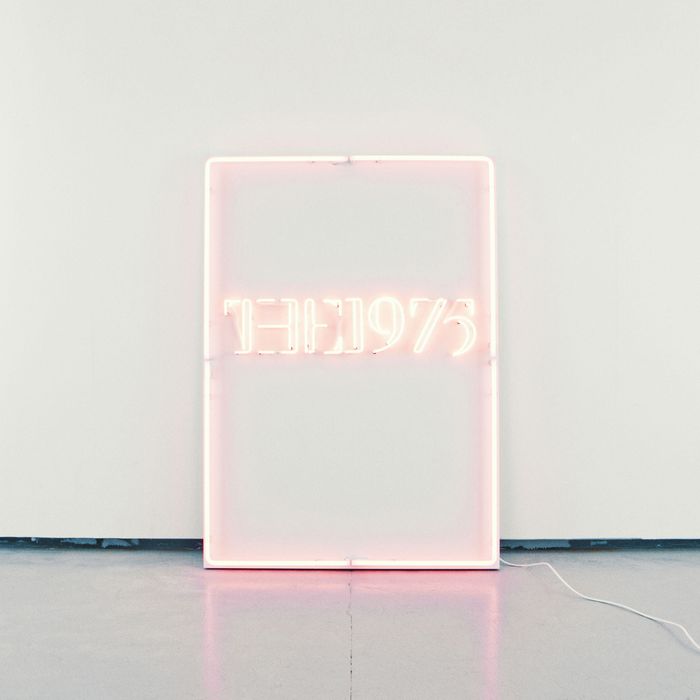 Matt Healy, the impish, broccoli-haired front man of the British rock band the 1975, was born 14 years after the date from which his band takes its name. That was him on SNL a few weeks ago, slithering around the stage like Jim Morrison's millennial grandson, punctuating his lyrics with theatrical pouts and mugging his way through "Love Me," a jaunty pop song that gently skewers the cult of modern celebrity and imagines a beautiful alternate universe in which Michael Hutchence had lived long enough to feel really bored with the internet. "Karcrashian panache," Healy sings amid blurt-y guitars and squiggling synths, "you've got a beautiful face but got nothing to say." He directs these words either to the listener, into the mirror, or most likely some winking combination of the two.
It was one of those boldly polarizing, who-do-they-think-they-are performances that was bound to ruffle some feathers. A popular 1975 fan account summed up the Twitter reaction thus:
The provocation is clear. The 1975 are one of the most popular young acts to adopt the old signifiers of a (cue the Bobby Cannavale voice-over) rock-and-roll band, baby, and yet they blend this aesthetic with a pop sound so soaring and earnest that it occasionally borders on adult-contemporary schmaltz. But in 2016, this is its own kind of rebellion. "What are these jokers doing aligning themselves with the year of Horses and Blood on the Tracks, the year of Physical Graffiti and 'Bohemian Rhapsody'?" you might be asking. For some people, plenty of whom were watching SNL that night, "the 1975" is the most offensive name for an alt-rock band since the Butthole Surfers.
But those two glossy, radio-ready singles that the 1975 played on SNL don't prepare you for the strange and magnificent sprawl of their sophomore album, which I admittedly must check my cringe-reflex to tell you is called I Like It When You Sleep, for You Are So Beautiful Yet So Unaware of It. And yet it's a pretty perfect title for this 74-minute, 17-track collection of songs, which in itself is kind of the sonic equivalent of a run-on sentence. The grammar of a proper pop album doesn't apply here: Glistening neo-throwbacks reminiscent of Taylor Swift's 1989 are followed by long and surprisingly capable digressions into ambient music and shoegaze; big singles ("The Sound") are buried somewhere beyond a thicket of glitchy, six-plus-minute instrumentals. The 1975 are all about excess, for better and for worse. I Like It When You Sleep shoots for the moon, and when you go that big it's impossible to have perfect aim. But in a moment when most upstart rock bands (like, to the extent that they exist at all) seem embalmed by the ethics of their predecessors, it's hard not to admire the ambition, the omnivorousness, and the iconoclastic curiosity of the 1975.
This record is light-years beyond anything they've done before. The 1975 began their lives as, more or less, an emo band; on their best-known song, Healy wailed the lyric "She's got a boyfriend anyway" like the end-of-times catastrophe that it most certainly is. That track, the succinctly titled "Sex," was the high point on their 2013 self-titled debut, which had its moments of sonic adventurousness but more often had that generic-anthem quality that made it sound like a collection of high-budget reality-show syncs waiting to happen. ("The City" would have sounded great on The City.) The sound of I Like It When You Sleep is at once more distinct and harder to pin down. In a previous incarnation, the 1975 had the legible, pigeonhole-able identity of a slick pop-punk band, but between albums they seemed to learn a lesson that so many of their peers already have: Labels and genre tags are just aesthetic limitations.
To borrow a phrase from James Murphy (as the 1975 did themselves, in the opening line of "Sex"), I Like It When You Sleep is full of nostalgia for the unremembered '80s. Which makes its sounds fresher, freer, and more limber than the historical-accuracy-obsessed stiffness of someone who actually was there. It's a work of pop imagination, retro-leaning synth rock refreshed for the digital age. "Love Me" and "UGH!" nod heavily to early INXS but are enlivened with modern flourishes. The pulsating, finnicky-minded ballad "Change of Heart" is like "Take My Breath Away" in the time of Tinder: "Your eyes were full of regret," Healy sings with a sigh, "and then you took a picture of your salad and put it on the internet." It's a funny line, and quietly sad.
Healy's good at capturing the disconnections and tiny heartbreaks of the digital age, and on these songs he often fashions himself as the guy jotting observations in a Moleskine while everybody else is staring at their phones. (Which, he seems to acknowledge in his post-ironic way, is its own kind of cliché.) As a lyricist, he's witty, verbose, self-deprecating ("if she says I gotta fix my teeth, then she's so American"), and occasionally overwrought. Which makes him a perfect fit in this band, because you could say much of the same about the atmosphere of these songs, largely constructed by the band's co-writer and instrumentalist George Daniel. The production is smart and sharp but sometimes overreaches; the chirpy title track veers into gooey Postal Service territory, and a few of these songs (like the otherwise lovely "Change of Heart") sound like somebody scrolling through all of the Casio presets they haven't had a chance to use before. But I'd prefer to hear any band doing that instead of sticking with the ones they go to instinctively. On the exploratory I Like It When You Sleep, you can hear the 1975's universe expanding in real time.
Because this is 2016, the 1975 are currently embroiled in a Twitter feud with a rival band. "That 1975 lad does my cake in," tweeted the front man of British rock group Reverend and the Makers the other day. "Ur in boyzone mate. Ya not Cobain. Pipe the fuck down." But doesn't that tweet say it all? If rock music is to exist at all anymore, it needs to find ways to rebel against the current moment, and in an odd way, their sacrilegious mixture of past and hyperpresent rock and pop, "Cobain and Boyzone," is the most provocative thing about them.
Love them or hate them, the 1975 are finding modern ways to piss people off. And that's rock and roll, baby.