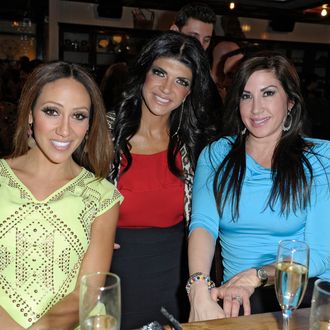 No prostitution whores here.
Photo: Dave Kotinsky/Getty Images
Out of one Panopticon and into another! The realest New Jersey housewife, Teresa Giudice, is out of prison and back on reality television. Bravo announced that the seventh season of The Real Housewives of New Jersey would of course return with Giudice; Jacqueline Laurita, who took a brief hiatus as a "friend" last season; and Melissa Gorga. "I am very excited to be back," Teresa told the Daily Dish. "For me, this season is all about letting go of the past and embracing the future. People are calling me Teresa 2.0." Teresa will be dealing with single parenthood this season, as her husband, Joe, readies himself to begin his prison sentence. The rest of the cast hasn't been announced, but "prostitution whore" Danielle Staub probably won't make it. She has a burn book to write.