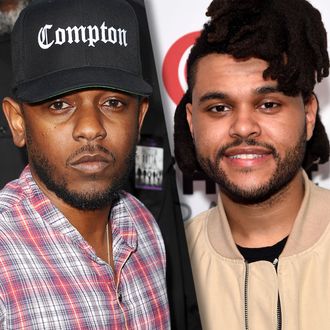 Call it the Anti effect, or just call it getting hip to the times. The Recording Industry Association of America just announced one of the biggest rule-changes in its history: As of Monday, the RIAA will now count streaming sales as part of its singles and albums certification process, making 17 albums automatically certified gold (500,000) or platinum (1 million) with the news. The rule change means both on-demand video and audio streams will be calculated in the RIAA's certifications, with 1,500 streams counting as the equivalent of ten track sales or one album sale. And now 150 streams will equal one download, rather than the previous 100. In accordance with the new rules, Kendrick Lamar's To Pimp a Butterfly has been recognized as having sold 1 million units, after setting a single-day Spotify record when it was released last March.
Five other albums — Big Sean's Dark Sky Paradise, Coldplay's Ghost Stories, Hozier's Hozier, Shawn Mendes's Handwritten, and Miranda Lambert's aptly named Platinum — have also all gone platinum. The Weeknd's Beauty Behind the Madness and Sam Hunt's Montevallo are now double platinum, while Romeo Santos's Fórmula Vol. 2 is 11 times platinum (as per RIAA's Latin G&P Program) and Michael Jackson's Thriller is now an astounding 32 times platinum.
The rule restructuring comes at a time when some artists are beginning to demand that streaming count toward their overall sales. Last year, Nicki Minaj argued that her latest album, The Pinkprint, would already be at least triple platinum were all her streaming numbers factored in. (She says a March court date has been set to hear her complaint.) Meanwhile, the RIAA has agreed to recognize Rihanna's latest album Anti as platinum based on the 1 million prepaid albums she sold courtesy of Samsung. Billboard (which has recognized album equivalents since 2014), however, says it will not count those sales toward her chart placement — even tweeting, "There are some trends that we just won't touch," seemingly in response to the controversy. So, one small step for streaming; still not as much reward for revamping older models.
See below for a list of all newly gold and platinum albums:
Alt-J, An Awesome Wave (Atlantic Records): Gold
Big Sean, Dark Sky Paradise (Def Jam Recordings): Platinum
Brett Eldredge, Bring You Back (Atlantic Nashville): Gold
Coldplay, Ghost Stories (Atlantic/Parlophone): Platinum
Elle King, Love Stuff (RCA): Gold
Fifth Harmony, Reflection (Epic): Gold
Halsey, Badlands (Astralwerks): Gold
Hozier, Hozier (Columbia): Platinum
Kendrick Lamar, To Pimp a Butterfly (Top Dawg Entertainment/Interscope): Platinum
Michael Jackson, Thriller (Epic/Legacy): 32X Multi-Platinum
Miranda Lambert, Platinum (RCA Nashville): Platinum
Romeo Santos, Fórmula Vol. 2 (Sony Latin): 11X Diamante/RIAA Latin G&P Program
Sam Hunt, Montevallo (MCA Nashville): 2X Multi-Platinum
Shawn Mendes, Handwritten (Island Records): Platinum
The Weeknd, Beauty Behind the Madness (XO/Republic Records): 2X Multi-Platinum
Vance Joy, Dream Your Life Away (Atlantic Records): Gold
Wale, Ambition (Atlantic Urban): Gold