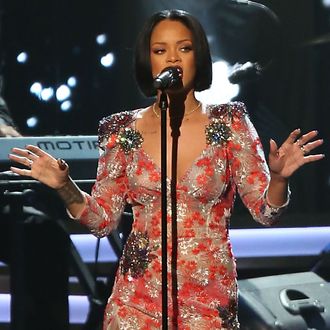 Sor-rih.
Photo: Joe Scarnici/FilmMagic
A moment of silence for the Rihanna performance that will never be: TMZ reports that Rih had to pull out of her 2016 Grammy performance due to bronchitis. She was scheduled to sing tonight — even rehearsing earlier in the day — but was reportedly advised that performing while sick would "permanently damage her vocal cords." Devastating as that news is, there's a silver lining! We know what song she was going to perform, and it's a good indicator of what might be Anti's second single. If only someone would go kiss Rih's vocals cords and make it better. Wink.
Update: Rihanna's reps have released the following statement backstage at the Grammys press room: "Based on Rihanna's examination after Grammy rehearsal, Rihanna's doctor put her on vocal rest for 48 hours because of a risk of hemorrhaging. The antibiotics did not kill the infection adequately, therefore she cannot perform safely." The Grammys have not announced who or what will replace her performance.
Additional reporting by Kelly Marino.