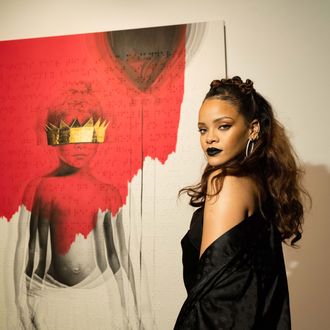 Rihanna.
Photo: Christopher Polk/Getty Images
Justin Bieber wasn't the only pop star with treats for L.A. this weekend: Rihanna dropped by Miguel's Wildheart Motel in a show of support, as well as karaoke domination, because what better way to celebrate a new album than with friends, strangers, and even more music? Forbes reports Rih surprised roughly two-dozen attendees at the invite-only Summit Motel art installation with Mary J. Blige's "Not Gon' Cry," promptly and rightfully causing everybody to go a little bit insane (and to thankfully record some of it):
The karaoke setup was one of 21 motel rooms there that had been transformed into an interactive piece for the immersive exhibition, tied to Miguel's latest record, Wildheart. He and artist Willo Perron created a polygraph room, a sex-therapy room, a body-part-cushion room, and a booze room, among others, according to Instagram Music, to show off the album's themes "in a living, breathing environment."
"Every room here is intended to give people something to talk about," Miguel told the social-media platform. "I just wanted to create a space that gave people a moment — to just forget all of the reality-based walls that we built for ourselves and just have a good time." Rihanna — by many accounts one of the biggest, most unexpected gems of the whole thing — reportedly bounced between quite a few of those rooms, giving another group of visitors yet another highlight when she joined Miguel for a cover of the Temptations' "My Girl":
Wildheart Motel unfortunately closed at the end of the weekend, but for more of the project and Rihanna's contributions, scope out pics here and Forbes's full event recap here.