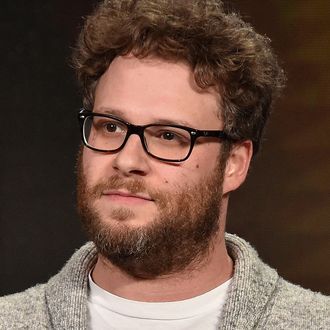 Seth Rogen.
Photo: Mike Windle/2016 Getty Images
Maybe this'll be something like Dr. Malocchio, the Green Hornet, and the Between Two Ferns host teaming up to create the ultimate space-traveling super squad, or maybe it'll be something else entirely, but Bill Hader, Seth Rogen, and Zach Galifianakis are for sure teaming up for something called The Something. THR reports the movie is a sci-fi comedy about three male space voyagers who stumble upon another ship while stuck on their journey. Point Grey Pictures and Good Universe are producing, with Universal distributing.
The trade adds that Rodney Rothman wrote the script and will make his directorial debut with the project, which, if nothing major has changed since 2010, will likely also involve another crew of all female astronauts and will actually be a horror-comedy with some nods to Alien — also, maybe a triple serving of Under the Skin. "It's the first time they've seen women in five years," Rothman, who also wrote Grudge Match and 22 Jump Street, told Collider of the project back then. "And then shit just goes crazy." No other logistical or story details for the project have been released, but hopefully the group gets crazy enough to find Matt Kowalski while they're out there, too.