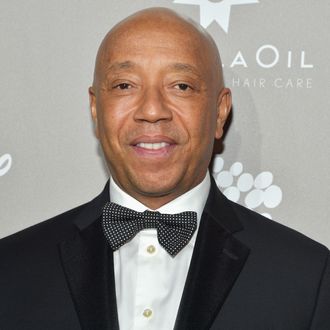 Like the White BET Awards, but better.
Photo: Charley Gallay/Getty Images
In the midst of the controversy over the lack of diversity at the Academy Awards this year, Russell Simmons has found a solution: Create your own awards show. Simmons is launching the All Def Movie Awards on February 24, just four days before the Oscars at the TCL Chinese Theatre in Hollywood — just down the street from the Dolby. Additionally, the awards will be hosted by Tony Rock, brother of Oscars host Chris Rock. The awards are run through Simmons's All Def Digital YouTube channel. Nominees for Best Picture include Beasts of No Nation, Chi-Raq, Concussion, Creed, Dope, and Straight Outta Compton. Other All Def categories include Best Actor and Actress, as well as Best Bad Muh F*cka, Best Helpful White Person, and Best Black Survivor in a Movie.
According to Simmons, the awards are meant to combat some of Hollywood's institutional racism. "In 2016 there continues to be a stunning lack of diversity in the studios, in the green light process, in the decisions of what films and television series get made, and what stars get chosen. This needs to be addressed institutionally," the Def Jam founder said in a statement. "The All Def Movie Awards are not the Black Oscars, but they could be." Currently, admission is by invitation only, though it's possible to enter to win seats in a fan lottery.