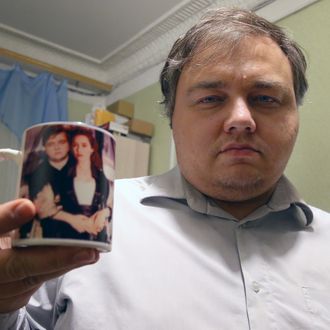 Burtsev with a Titantic mug.
Photo: Sergei Fadeichev
Roman Burtsev, a heretofore anonymous Russian man, became a social media sensation when people discovered that he looked a whole lot like the everyman version of Leonardo DiCaprio. And since DiCaprio enjoys immense popularity in Russia (some Russians are making him an Oscar), Burtsev has parlayed his resemblance to The Revenant actor into a local TV show, which is called Romance With DiCaprio. According to ABC News, the series is a makeover project that aims to turn the 33-year-old emergency services technician into something more like the the 41-year-old American actor.
In Romance With DiCaprio, Burtsev takes voice classes, sees a dietitian, and gets a new, classier look. In one episode, themed around Titantic, he learns how to sing Celine Dion's "My Heart Will Go On" and does the Kate and Leo pose with women at the local mall. The show also aims to find Burtsev a date and tries to accomplish this by giving him ice-skating and karaoke lessons.
In other episodes, Burtsev faces "psychological challenges," such as begging on the street in order to attract a Leo-like level of wealth, or trying to pass a Revenant-style endurance test (there's a lot of crawling on the snow, less bison liver eating).
Though he hasn't acknowledged his brother from another Mother (Russia), Dicaprio has shown his support for the country in the past, talking about his grandparents' Russian heritage and meeting with Vladimir Putin in 2010 over a tiger conservancy project. DiCaprio has even said that he'd like to play the Russian leader on film, so if Leo doesn't earn that coveted Oscar for The Revenant, maybe his next movie can be about Russian man who looks like Leo reenacting the movie that was meant to get him an Oscar, in order to finally get that Oscar. Script by Charlie Kaufman. Story by reality.