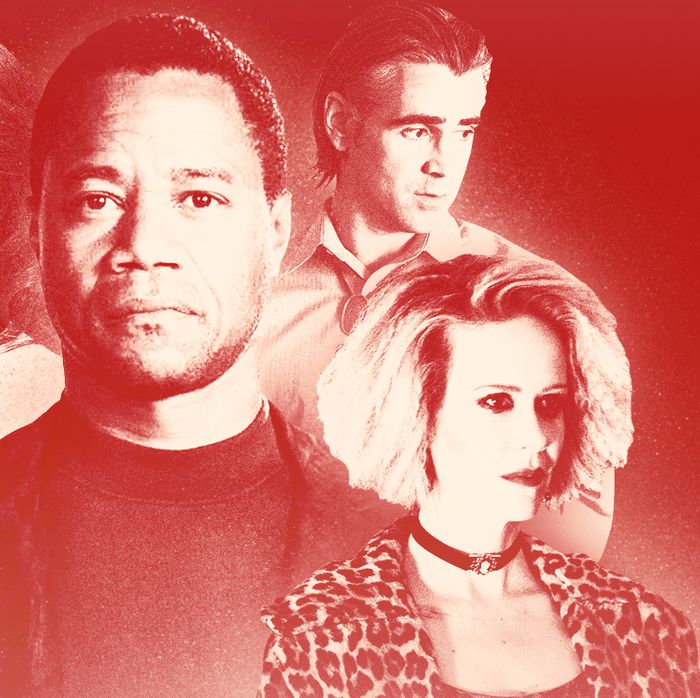 Photo-Illustration: Maya Robinson and Photos by FX, ABC and HBO
Growing up in the 1970s, Ryan Murphy didn't just watch the great TV mini-series of the day, epics such as Roots and The Winds of War: He was a superfan. "I had viewing parties for them when I was a child, which is insane, but I did," the megaproducer told Vulture recently via telephone, chuckling at the memory. "I really, really loved them. To me they felt very exciting, like movie stars were coming to the small screen. It was like a jolt of adrenaline." It seems appropriate, then, that while mini-series as they were once known have largely gone away, their spirit has been resurrected thanks to a programming form pioneered by Murphy with the 2011 launch of FX's American Horror Story: the season-long anthology series.
Rather than serving up story lines that continue for years, AHS and a flood of similar projects (True Detective, Fargo, Secrets & Lies, American Crime, and this week's Murphy-produced The People v. O.J. Simpson: American Crime Story) are thriving by offering audiences easily digestible, often-star-studded entertainments designed to be consumed over the course of a single season. By marrying the self-contained, finite storytelling of the old-school mini-series Murphy loved as a kid with the framework of a continuing franchise, Murphy and co-creator Brad Falchuk hit upon a new way to tell stories too big for a single movie — or an individual installment, as with episodic anthologies such as The Twilight Zone or Black Mirror — yet not expansive enough to run for seven years. Anthologies haven't replaced traditional dramas, but they've proven to be an effective way for creators and networks to stand out in the era of endless TV options.
The concept of a self-rebooting TV show wasn't born out of any desire on Murphy's part to reinvent the medium. In fact, as they hammered out the first draft of the AHS pilot, he and Falchuk approached it like any previous drama project (albeit one with lots of scares and screams). "When I was writing with Brad, we were working on the pilot episode — and a lot had happened in that pilot," Murphy remembers. "It was a very accelerated form of storytelling which, you know, I like to do … I didn't want to make it slow and studied. It was always about sex and violence, and with that came a certain degree of in-your-face-ness." But as they neared the end of writing, Murphy started to worry that perhaps the plot was moving too quickly. "We were talking it through, and I think I said to Brad, 'There's no way that a series could sustain this. We're going to burn through all of this plot [too quickly].'" Murphy and Falchuk realized they could head down one of two paths: Slow down the pacing of the pilot (and subsequent episodes), or, as Murphy recalls, "speed it up and tell an entire story in a season. And that's what we decided to do."
Where Murphy was in his career circa 2011 may have also pushed him toward the notion of a series more limited in scope than the average drama. The anthology idea "was a little bit in response to Ryan working for several seasons on Glee, a show that doesn't have an easy storytelling engine," explains Fox TV Group chairman Dana Walden, who at the time headed up 20th Century Fox TV, which produces AHS through its Fox 21 subsidiary. The Fox musical required Murphy and his team "to just keep reinventing what was happening with the characters every season, and it was really hard. They did a fantastic job, but trying to crack season-long stories that appropriately picked up where the last season ended, and thinking about that going forward, was kind of limiting. And Ryan's a big thinker. He likes to think his biggest ideas and execute them quickly. It's very hard to pursue his love of being an auteur when you're in the context of doing 22 episodes, and as you go into arcing out the last five, know that they have to be teeing up what's going to happen in the following season."
Excited by the prospect of turning American Horror Story into a series that would start from scratch each season, Murphy and Falchuk pitched the concept to Walden and FX chief John Landgraf. While neither exec flat-out rejected the idea, some red flags immediately went up. "It was a little bit of an eyebrow-raiser because, at first glance, it seemed sort of insane from a financial point of view," Murphy recalls. "The first thing John said to me was, 'Wait, at the end of the first season, we're taking down those sets?' And I said, 'Yeah, we're going to burn the set,s and we're going to start over.' And then Dana and John were like, 'How are you going to make that work?'"
Indeed, in addition to the potential higher upfront costs, Walden wasn't immediately sure how her studio would be able to make a long-term profit on AHS. "The whole model in our business for a successful lucrative series was based on a show being able to build enough episodes to become part of our library," she says, referring to the money studios make when a series is on the air long enough to have its past episodes sold into syndication. Murphy and Falchuk seemed to be pitching something more finite. "We were all a little bit concerned that it would be a piece of business that would be very challenging," Walden says. And with good reason: The inability of studios and networks to effectively monetize mini-series is often cited by industry insiders as the chief reason why the form largely disappeared from network TV by the late 1990s.
Walden says Murphy listened to these concerns and quickly addressed them. "The project evolved a bit as it went into development," she says. A milestone moment came when Murphy figured out he could maintain some continuity between seasons by having a handful of actors return from year to year — but in completely different roles. "It's something I'd grown up with with certain filmmakers, from [Robert] Altman to Orson Welles," Murphy says. "They had a repertoire of people they went to time and time again. That was sort of a movie approach that I really loved. I always liked seeing the relationship of an actor to a certain auteur. I don't take any credit for that; it's been done time and time before. But putting it in the television model was something that was sort of a little fresh at the time." Having a less-than-permanent cast also helped the long-term budget for AHS (and future anthologies) make more sense. As Landgraf notes, while an anthology can be "more expensive in areas, sometimes it's not more expensive from an acting standpoint. Typically, when actors are with a series for seven years, they make more money each year than they did the prior year. In this particular [kind of] series, the actors tend to change every year."
In the end, 20th and FX both decided the idea of AHS was strong enough to justify taking a financial risk. "We just said, 'Yeah, it may be a little more expensive," Landgraf remembers. "But on the other hand, in this kind of competitive environment, where it's so hard to make something extraordinary, from a qualitative or commercial standpoint, that stands out … I'd rather put the resources into something I think has the ability to be extraordinary." And while Landgraf and Walden probably didn't know it when they green-lit AHS, the economic equation of TV was about to be upended by Netflix, Amazon, and other streaming services. Because these new players were ramping up and hungry for fresh content, they were willing to spend literally tens of millions to land rerun rights to shows immediately, rather than waiting until a show had amassed enough episodes to air five nights a week in syndication. Producer 20th could start making back its investment in AHS right away, and with a show whose easily digested format made it perfect for binge-watching.
Five years later, Murphy and his production partners have seen their bet on a new kind of TV pay off, and handsomely. With the debut of American Crime Story, Murphy will now have three different anthology series in production. (His second such project, Fox's Scream Queens, was recently renewed for season two.) FX also has three anthologies on the air (Murphy's two projects, plus Fargo.) Traditional dramas have hardly gone away — they're still the dominant form in TV — but Murphy's model of self-contained storytelling has become increasingly common. Landgraf believes the format is one particularly well-suited to TV's current creative renaissance. "For me, the great innovation of the so-called golden age of television, starting with The Sopranos, was this notion that we can experiment with the form and find forms that are more optimal for telling certain kinds of stories. This is just an extension of that," he says. "There were so many stories whose optimal execution lay somewhere between a two- or three-hour movie and a five-, six-, seven-year series. We in Hollywood were ignoring those stories because they didn't fit a business model."
The anthology, like the mini-series of the past, has also proven to be incredibly attractive to stars who wouldn't normally be all that interested in doing television on a regular basis, even in this age of ten-episode seasons. "It gives actors amazing flexibility because there isn't the same contractual obligation as with a regular series," Walden says. Murphy notes he was only able to land Jessica Lange for AHS by offering her a one-season deal. "I was never going to get someone like her to sign on the dotted line and do seven seasons of a show. There was no way," he says. "So when I went to get her, I remember telling her, 'Don't worry; if you don't like it after a year, I'll kill you off. She took me at my word. She didn't want to do a long contract and play the same character time after time."
Lange ultimately signed on for more seasons, mostly because she "was very intrigued," Murphy says, by the idea of playing a completely new character each year.  "That, to me, has always been the great advantage of [anthology series]," the producer says. "I can go to these amazing people, who I love, and get them to play in the television sandbox even though it's not their natural inclination. In the case of [American Crime Story star] John Travolta and Jessica Lange, that's something I hear all the time: 'The reason I don't want to do television is I don't want to feel trapped.'" The short-term commitment of an anthology series solves that problem. "It's almost like having an open marriage with an actor," Murphy quips. "It's like, 'Well, okay, you can go. You can go do your thing. I'll still love you if you fuck around on me. There's always a place for you here in our home.'"
Anthologies also seem to be a kind of programming perfectly suited for the era of Peak TV and viewing on demand. Much the same way some actors are fearful of long-term commitments to a project, audiences overwhelmed by the literally hundreds of scripted series being cranked out each year seem to be warming to the option of a TV show whose beginning, middle, and end all happen within the course of two to three months (or a two-day binge). "You have so many different things flying at you," Murphy says. "I even see it in myself … Half the time I don't start a new show because I'm like, 'I can't make that commitment.' We live in an ADD world, and in some way, this addresses that."
With additional reporting from Maria Elena Fernandez.