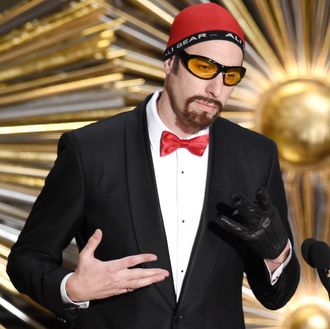 That explains it.
Photo: Kevin Winter/Getty Images
Sacha Baron Cohen probably isn't allowed to do a lot of things, but when has that ever stopped any of his alter egos? SBC presented at last night's Oscars not as himself, but as the racially confused Ali G, beside a very-embarrassed-for-him Olivia Wilde. As Cohen revealed to Good Morning Britain, it was a bit he had to sneak by Oscars producers who forbade him from dressing up as any of his characters. "The truth is we actually had to sneak it in," he explained. "The Oscars sat me down beforehand and said they didn't want me to do anything out of order; they wanted me to actually just present it as myself." Naturally, he turned to his partner-in-Oscars-crime, wife Isla Fisher, to help him fake food poisoning and slap on the beard: "But luckily my wife put on the Ali G beard in the disabled toilets and I managed to get away with it. What would I do without her?" Proving once again that the couple who crashes the Oscars together, stays together.
And yes, Cohen was aware you might find his transparently racist Minions joke terribly racist. But because he got the approval of Chris Rock (himself guilty of another racist Asian joke last night), Cohen went ahead it with anyway: "I was a bit worried how they'd react to the first gag but I bumped into Chris Rock on the way on and pitched him the gig and he gave me the thumbs up, so I went for it."
Update: Olivia Wilde said she's fine with the stunt.
Update No. 2: Here's SBC explaining how his wife snuck Ali G's beard into the show, via her underwear, as you do.
Update No. 3: And here's Fisher giving her very stressful side of the story, which includes her favorite Eddie Redmayne joke from the evening.