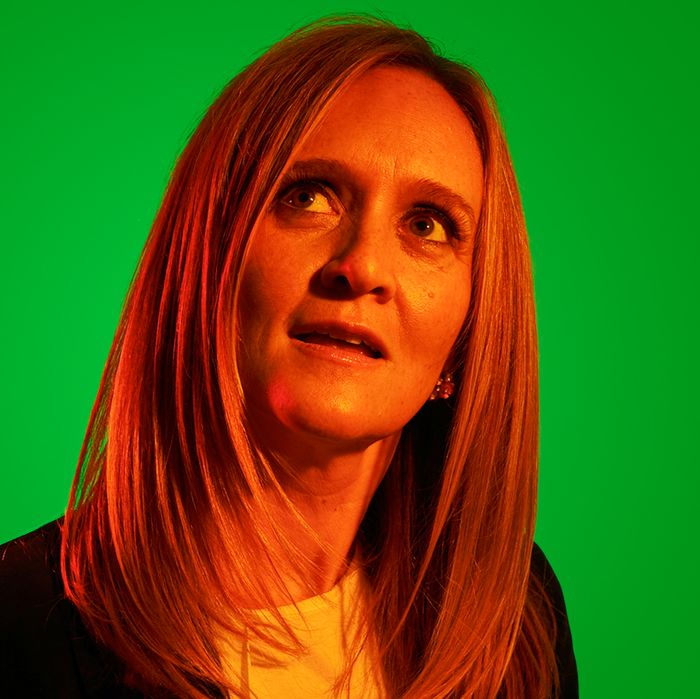 Photo: Ahmed Klink/for Vulture
Samantha Bee, a tattooed centaur with heat vision in a room full of men, is about to become the only female late-night host currently on television. If you're familiar with Bee's work, you're well acquainted with the Canadian-American's 12-year tenure as a correspondent on The Daily Show, though there are lot of smaller, important steps she took that brought her to this moment. Ahead of tonight's premiere of TBS's Full Frontal With Samantha Bee, let's remember how she got here.
Mid '90s: Samantha Bee attended McGill University for one year, eventually leaving for the George Brown theater school in Toronto. As she struggled to make it as an actor, Bee did a series of commercial spots for Pillsbury and Kraft while also working in a Canadian children's theater troupe. At one point she played Sailor Moon in a live-action production of which there is no video evidence. It was there she met her husband, Jason Jones, in the "B cast" role of Tuxedo Mask.
1999–2002: In 1999, Bee co-founded the Atomic Fireballs, an all-lady comedy troupe, which she's referred to as "the warm womb that I came from." Now Toronto calls the group "one of the fastest-rising comedy troupes in the city," and ranked it among the top-ten Toronto comedy acts in 2001. "We filled a niche," one creator, Fiona Carver, told Bishop University's paper the next year. "Comedy was male-dominated, and people wanted to see a female group." (Bee has since stayed in touch the Fireballs. Former member Allana Harkin is currently on her staff at Full Frontal.)
2003: Bee's agent asked if she'd heard of The Daily Show With Jon Stewart, and if she might want to go in for an audition. She temporarily left Jones behind in Canada to move to New York and pursue a part as a correspondent. (He would later join the cast and work alongside Bee for the next nine and a half years). "I trained for it like I was an Olympian," she said on AOL's Makers video series, noting that The Daily Show was already her favorite show at the time. She was the first, and, for a long time, only woman on the show.

2004: Bee landed her first starring role in the independent film Ham & Cheese (not to be confused with her part in the 2001 TV movie Ham I Am), for which she later won the Canadian comedy award for "Pretty Funny Female Performance."
2005: During December of 2005, Bee had a breakout moment when Bill O'Reilly used a clip of her from The Daily Show as further evidence of the "War on Christmas." "Christmas is the only religious holiday that's also a federal holiday," Bee says in the clip, which was a year old by the time O'Reilly resuscitated it. "That way, Christians can go to their services, and everyone else can stay home and reflect on the true meaning of separation of church and state." (Stewart responded by calling Bee out to see if she could remember filing the report. She emerged on set extremely pregnant and said the segment must be from the previous year because her highlights were different.)
2008: Some of Bee's best work began with the 2008 election, including but not limited to her visit to the Republican National Convention, where she worked tirelessly to get Sarah Palin supporters to say the word choice. "Everybody got the memo," she said later in the segment. "We're not going to talk about choice anymore. … the C-word used to be something else. Now it's choice."
2009: The nonsense "Are women funny?" debate began in 2007 with Christopher Hitchens's controversial essay for Vanity Fair, and Bee became a vocal part of the escalating conversation. In 2009, she joined a panel with Seinfeld's Jason Alexander and Daily Show then–head writer and executive producer David Javerbaum to confront the lack of female voices in writers' rooms. "Almost invariably, when I tell [women] what the requirements are, they don't believe that they're capable of doing it, and I encourage them to do it," she told moderator Randy Cohen. "But I don't think that they do … I think in many ways it has to do with their own sort of self-esteem."
2010: Bee published a collection of humorous essays, I Know I Am, But What Are You? in 2010 that focuses on her journey from childhood to The Daily Show. (Read an excerpt about gift-giving etiquette here.) The memoir, which explores her younger years in great detail — from her parents' divorce to her teenage tendency to steal cars — gives a particularly memorable recounting of her experience in the Sailor Moon children's show. The book was met with mostly positive reviews.
2012: Bee appeared in Good God!, a satirical HBO Canada series by Ken Finkleman that follows a right-wing news organization. Bee's deadpan delivery as anchor Shandy Sommers was the perfect fit for the role, and she gained recognition for highlighting how religion and politics don't mix. 'When I first immersed myself in all of that stuff, I couldn't believe politicians were talking about [religion]," Bee told the Huffington Post. "It's not so much newsmakers who are talking about it, it's more so the politicians. And then it becomes part of the news. It's just so routine, now, to talk about your faith and the specifics of what you believe. [Faith] informs so many public policy issues, which is fascinating."
2013: As The Daily Show's "Most Senior Correspondent," Bee aired a sketch with tips for busy moms. Bee has always been open about being a working mother: She founded and co-wrote Eating Over the Sink, a popular parenting-advice blog, which was profiled by NPR back in 2011. She's also the most prominent parent figure to attend Tina Fey and Amy Poehler's house party in 2015's Sisters.
2015: When she left The Daily Show in May 2015, Bee was, as Jon Stewart put it, "the longest-serving member of America's greatest f**king news team." Many lobbied for Bee to replace Stewart when he left later that year. "I loved The Daily Show," she told the New York Times in January of this year. "But it is a machine that's already running. And it could run with me — it could run without me. This is a much better experience and a much better fit."
2016: According to Bee, she and Jones were planning on leaving The Daily Show before Stewart announced his departure, and had already pitched a sitcom, The Detour, to TBS. "We did not know in advance [that Stewart was leaving]. When he announced, that was the week that they greenlit ["The Detour"]," she told the Los Angeles Times. "It all kind of happened at the same time. We knew we'd leave just because it was time for us to leave anyway." As for Full Frontal, the timing felt right. "I think everybody acknowledged that it was time to have a woman hosting a late-night show," she told New York last month. "That was in the ether, for sure, and was definitely part of why TBS did such a great job of grabbing me."