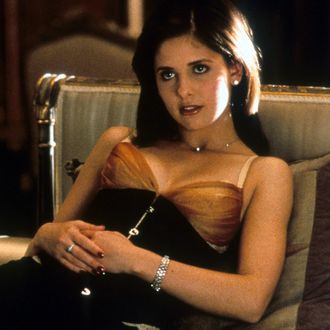 Everybody loves SMG, and she intends to keep it that way.
Photo: Archive Photos/2012 Getty Images
Last fall, NBC announced it was developing a Cruel Intentions TV series, which would be a sequel to the iconic 1999 prep-school sex drama. Now Sarah Michelle Gellar, who played the devilish and eminently quotable Kathryn Merteuil, has announced that she and Kathryn are back. The script — from the original film's writer and director Roger Kumble, producer Neal H. Moritz, and Unauthorized Musical Parody of Cruel Intentions creators Jordan Ross and Lindsey Rosin — follows the 16-year-old Bash Casey (Taylor John Smith), son of Annette Hargrove (Reese Witherspoon) and Sebastian Valmont (Ryan Phillippe) (neither Witherspoon or Phillippe are involved, though give this a season or two). After discovering the truth about his father in a hidden journal, Bash moves from small-town Kansas to San Francisco, where he joins a swanky prep school and has to reckon with his step-aunt Kathryn, who is fighting for control of a big corporation. Sophina Brown (who will play the ex-wife of Kathryn's husband) and Samantha Logan (Brown's daughter) are also in the pilot.