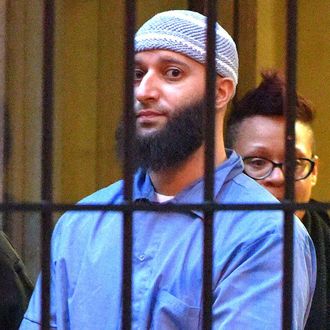 Adnan Syed at his 2016 hearing.
Photo: Karl Merton Ferron/Baltimore Sun/TNS via Getty Images
Adnan Syed is back in court this week for three days of hearings related to his appeal for post-conviction relief in the murder of his ex-girlfriend Hae Min Lee. Fittingly, season one of Serial, which brought Syed's case to international attention, is back, too: Sarah Koenig is attending the hearings and offering a series of short updates about what goes down each day in court. Here's what she learned on Wednesday:
Adnan's lawyer really was declining in health.
Syed's original attorney, the late Cristina Gutierrez, was diagnosed with multiple sclerosis around the time of his original trial, and, as part of his argument that she provided incompetent legal counsel, Syed's camp has long claimed that the illness left her unable to give him the defense he needed. The first day of the hearings saw defense witnesses take the stand to bolster this point, as Gutierrez's former colleagues testified that she was in constant pain and frequently had to hand off work to other attorneys.
Asia McClain finally testified.
One of Adnan's strongest arguments for a new trial has been the fact that Gutierrez never investigated the testimony of his friend Asia McClain, who wrote him a letter claiming she had been with him at the time of Lee's disappearance. On Tuesday, McClain finally took the stand in Syed's defense for the first time. When Koenig is finished marveling over McClain's looks, she describes her testimony as very forthright and exact — Asia has a lot of confidence in her recollection. "I felt for justice to be served," Koenig remembers her saying, "we should put all the information on the table." McClain also explained the sentence in her letter that seemed like she was offering to lie for Syed: She had heard from his family that he was struggling to account for his time on the day in question, so her phrasing the alibi as "help" was just meant to jog his memory.
But the defense is going to try to poke holes.
Despite McClain coming off "very well," Koenig says she gets a sense of the way the prosecution will try to question her story during cross-examination Thursday. The strategy seems to be to undercut McClain's memories — ask her to recall other details from the day of Lee's disappearance, and then, when she struggles, paint the impression that she is maybe getting her days confused. "I'm totally speculating here," Koenig admits, but the vibe seems to be "If you had gotten on the stand back at Adnan's trial, this testimony wouldn't have worked very well. It wouldn't have changed the course of the trial."