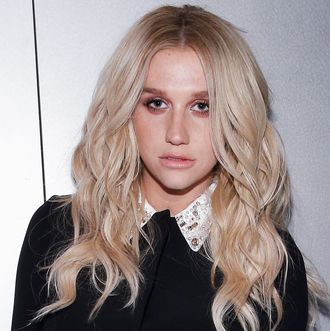 Kesha.
Photo: Brian Ach/Getty Images
On Friday morning, the #FreeKesha movement plans to protest Sony outside of its New York City headquarters, following a judge's decision not to free Kesha from her record contract. The only problem: Sony says it can't actually free Kesha, even if it wanted to. In a statement to the New York Times, Sony's lawyers maintain that Kesha is allowed to record outside Dr. Luke's involvement, but that the label isn't legally permitted to dissolve her contract: "Sony has made it possible for Kesha to record without any connection, involvement or interaction with Luke whatsoever, but Sony is not in a position to terminate the contractual relationship between Luke and Kesha. Sony is doing everything it can to support the artist in these circumstances, but is legally unable to terminate the contract to which it is not a party."
If that sounds confusing, it's because Kesha's case has placed a unique spotlight on a tangled mess of industry bureaucracy that's bound her career, and ostensibly her life, to Dr. Luke.
Kesha is technically signed to Dr. Luke's Kemosabe Records, a subsidiary of Sony, through a "furnishing agreement" with Luke's production companies Kasz Money Publishing and Prescription Songs. She originally entered into the deal when she was 18, and says she has been trying to get out of it ever since, for reasons similar to what she has alleged in her current lawsuit against Luke. In other words, Kesha's reported six-album contract does not actually belong to Sony; it belongs to Dr. Luke and his publishing companies and is therefore his to terminate. It's possible, then, that even if Sony were to ever cut all professional ties with Dr. Luke and Kemosabe Records, Kesha's career would still be in Dr. Luke's control because he owns both those other companies.
In her first statement since the decision, Kesha said she "would be willing to work with Sony if they do the right thing and break all ties that bind me to my abuser." But doing the right thing appears to be out of Sony's hands. Not-so-simply put: Despite the international and industry-wide outrage, Dr. Luke has more leverage at Sony than perhaps Sony ever imagined.
Even so, #FreeKesha says they are protesting Sony tomorrow to send a larger message: "Whether or not Kesha's music affected someone personally, this case represents the unfair treatment of sexual assault survivors around the globe. It is important for Sony to see the uproar they have caused, so protesters are bringing it right to their front door."