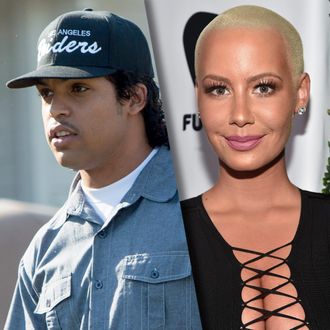 As it should be.
Photo: Universal Pictures, Getty Images
Before the White Oscars air this Sunday, Russell Simmons's inaugural #OscarsSoWhite corrective, the All Def Movie Awards (which "are not the Black Oscars, but could be"), recognized all the POC the Academy snubbed this year at a ceremony Wednesday night. Hosted by comedian Tony Rock (brother of Chris), the show named Straight Outta Compton Best Picture, and awarded Best Actor and Best Director to Creed's Michael B. Jordan and Ryan Coogler, respectively. Sanaa Lathan picked up Best Actress for The Perfect Guy, and Will Smith was presented with the Lifetime Achievement Award.
And while all those awards are nice additions to everyone's trophy collections, none of them is as braggable as the night's more creative categories. Imagine Denzel's Best Bad Muh Fucka Award standing proud on his mantel, like, "Oscar ain't got shit on me!" And Amber Rose can now put her Most Likely to Steal Your Girl Award right next to her Most Likely to Explain Consent to Your Man Award. Unlike the Oscars, the All Def awards don't discriminate: White people were winners, too! Christoph Waltz was the lucky recipient of Best Helpful White Person, accepted by Robin Thicke on both Waltz's behalf and "on behalf of all white people" — presumably because Macklemore was unavailable.
The show will air on Fusion on February 28, at the same time as the Oscars. See the full list of winners below.
Best Picture
Straight Outta Compton
Accepted by Ice Cube and O'Shea Jackson Jr.

Best Actress
Sanaa Lathan, The Perfect Guy

Best Actor
Michael B. Jordan, Creed

Best Director
Ryan Coogler, Creed

Lifetime Achievement Award
Will Smith
Presented by Tyrese Gibson

Vanguard Award
Norman Lear
Presented by Jerrod Carmichael

Best Helpful White Person
Christoph Waltz
(Accepted by Robin Thicke, who accepted "on behalf of all white people")

Best Bad Muh Fucka Award
Denzel Washington

Most Quoted Movie
Friday
Presented to Ice Cube

Best Black Survivor in a Movie
Ice Cube as Danny Rich, Anaconda
presented by Gary Owen

Most Likely to Steal Your Girl Award
Amber Rose