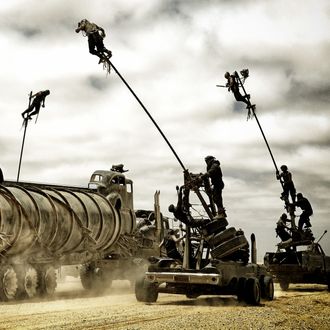 Mad Max: Fury Road won Outstanding Action Performance by a Stunt Ensemble at the SAG Awards.
Photo: Jasin Boland/Warner Bros. Entertainment
Over 100 stunt performers rallied outside of the offices of the Academy of Motion Picture Arts and Sciences Wednesday to demand inclusion in the ceremony, reports Deadline. The protesters collected over 50,000 signatures in support via an online petition. "For almost 90 years, the Film Academy has blatantly discriminated against stunt people and their contribution to the medium we all love and literally bleed for. There are no color lines or gender lines here," Jeff Wolfe, president of the Stuntmen's Association of Motion Pictures, said in a statement.
The protest is part of a 25-year campaign where stunt performers have asked for recognition for their work in the form of a stunt-coordinator Oscar. The Academy considered their request in 2011, only to vote it down. In contrast, the Screen Actors Guild Awards added Outstanding Action by a Stunt Ensemble for film and television in 2008. This year, Mad Max: Fury Road and Game of Thrones won.